如果你对疫情期间的宿舍生活感到厌倦了,为何不尝试下和朋友一起在校园湖边BBQ?很多人可能会说我异想天开,校园湖边这么美丽的地方,怎么会允许我们搞BBQ?吃着火锅唱个歌?可是在萨里大学,我们的答案就是YES!!!在我们萨里校园内的湖畔,你不仅能够碳烤食物,而且能边吃边边欣赏美丽的湖畔景观,还可以与朋友在旁边的草地踢球,或和湖边不怕人的水鸟们亲密互动。

If you are getting tired of dorm life during pandemic lockdown, why not try BBQ with friends by the campus lake? Many people may say that I am crazy, how can such a beautiful place by the campus lake allow us to engage in BBQ? But at the University of Surrey, our answer is YES! ! ! On the lakeside of our Surrey campus, you can not only grill food, but also enjoy the beautiful lakeshore landscape while eating. You can also play football with friends on the grass next to it, or interact intimately with the waterfowls on the lakeside.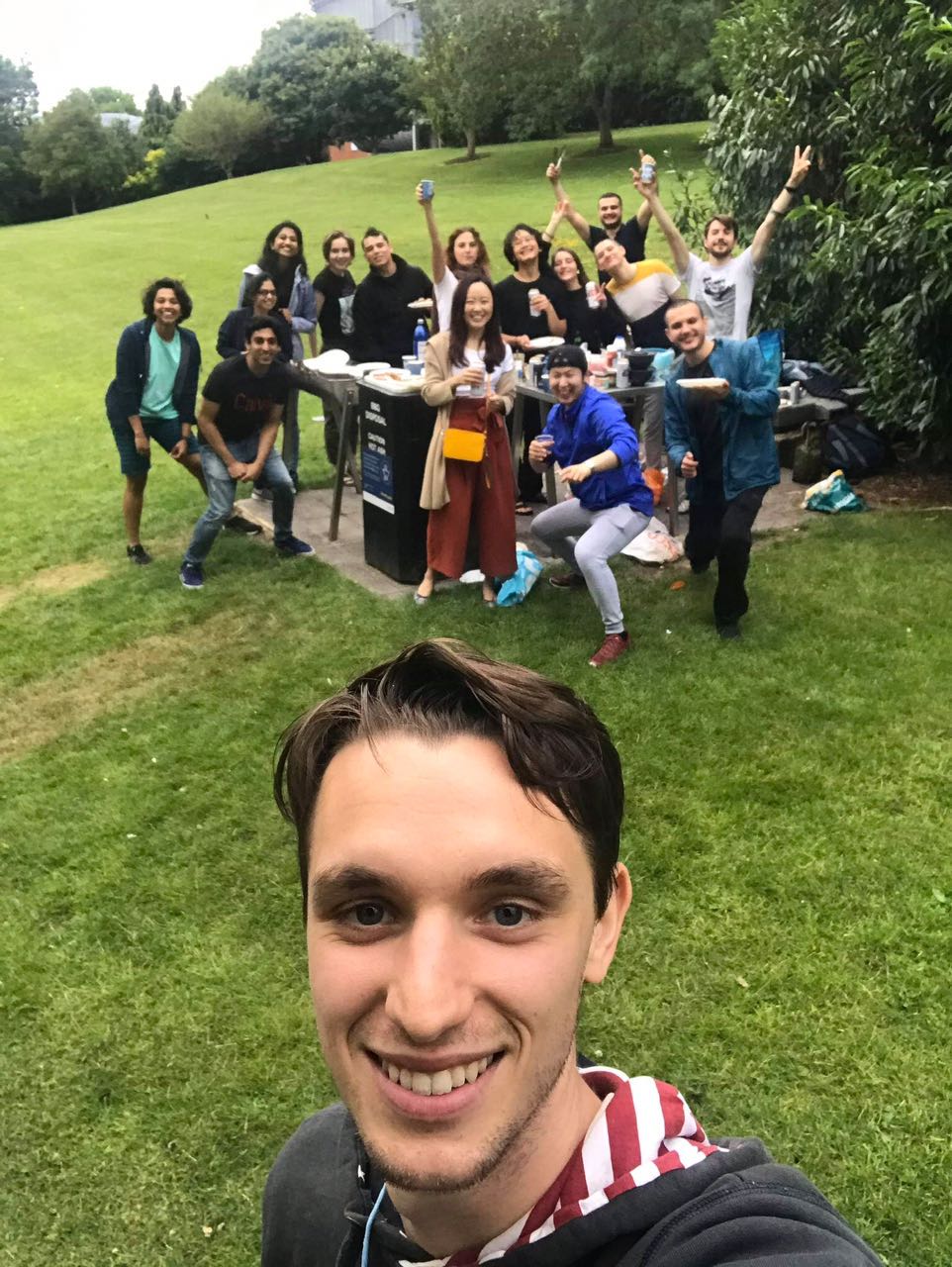 上个月月初,在疫情趋缓,吉尔福德已经零确诊的情况下,我和朋友们在校园湖边开始了我们计划许久的烧烤了。如我之前一直所说的,萨里大学是一个很开放包容的校园,在很多宿舍区和公共区域都会有烧烤架供学生们使用,比如在Stag Hill主校区的湖边,Cathedral Hill宿舍区,Stag Hill宿舍区都有烧烤架;在Manor Park校区,甚至在最远的Hazel Farm宿舍区都配备有这样的户外烧烤设备,用来给学生提供放松休闲的场所,调剂枯燥的学习生活。在每一处烧烤设施,都会有烧烤架,以及带有灭火功能的垃圾收集罐。当然,我们在使用过程中也有义务保持场地的有序整洁和安全防火,我们在享用这些学校免费设施的同时,也有义务保护学校的环境和公共财产安全。
At the beginning of last month, when the epidemic slowed down and Guildford's confirmed cases decreased to zero, my friends and I started our long-planned barbecue by the campus lake. As I have always said before, the University of Surrey is a very open and inclusive campus. There are barbecue grills in many dormitory areas and public areas for students to use, such as the lakeside of the main campus of Stag Hill, Cathedral Hill dormitory area, There are barbecue grills in the Stag Hill dormitory area; in the Manor Park campus, even in the farthest Hazel Farm dormitory area, such outdoor barbecue equipment are installed to provide students with a relaxing place to adjust the boring study life. In every barbecue facility, there will be a barbecue grill and a garbage collection tank with fire extinguishing function. Of course, we are also obligated to keep the site orderly, clean and fire-proof during use. While enjoying these free uni facilities, we are also obligated to protect the university's environment and public property.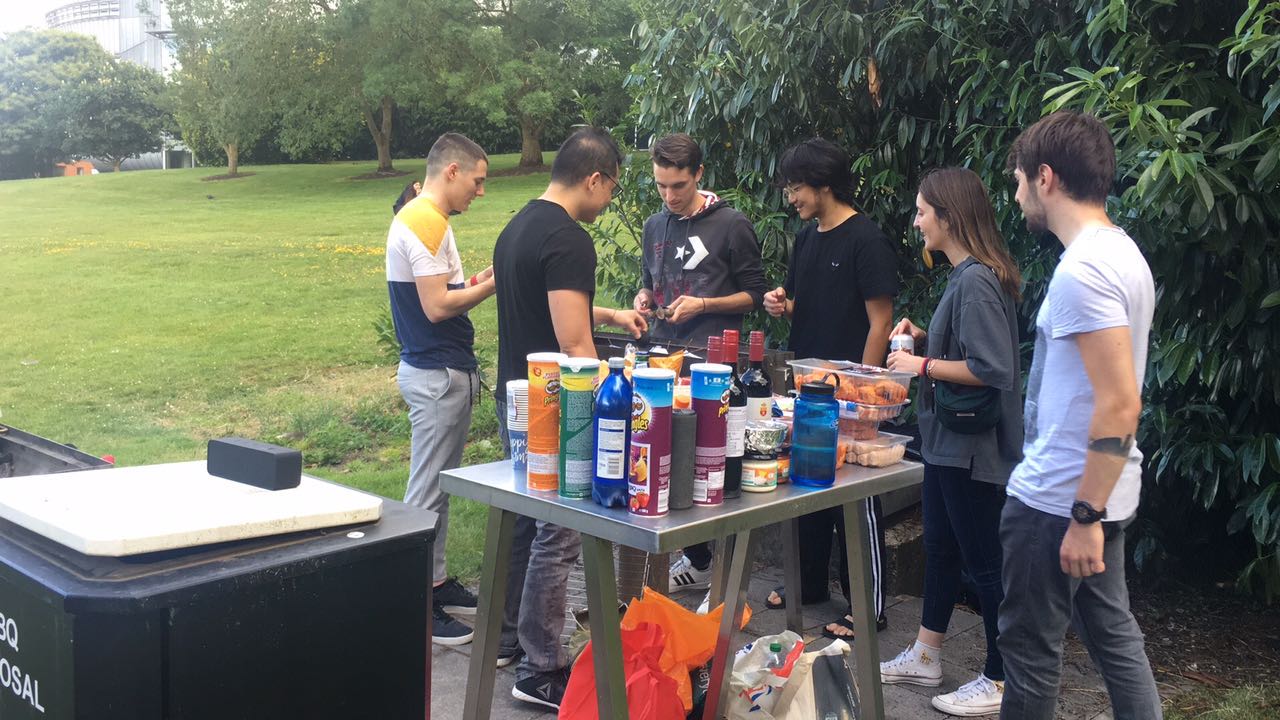 在BBQ之前一周我们就已经做好了计划,包括食品、饮料、烧炭的采购。说到烧烤,我们有两位来自土耳其的朋友Serkan和Mustafa当然是当仁不让,土耳其美食的精华就可以说是烧烤了,所以他们自告奋勇来做烧烤师傅。我们在距离学校不远的大Tesco超市采购了各种肉类蔬菜和饮品,然后径直来到了湖边的烧烤架。
A week before the BBQ, we had already made plans, including the purchase of food, beverages, and charcoal. Speaking of barbecue, our two friends from Turkey, Serkan and Mustafa, of course willing to do their part because the essence of Turkish cuisine can be said to be barbecue, so they volunteered to be barbecue chefs. We purchased a variety of meat, vegetables and drinks at the big Tesco supermarket not far from the school, and then went straight to the barbecue grill by the lake.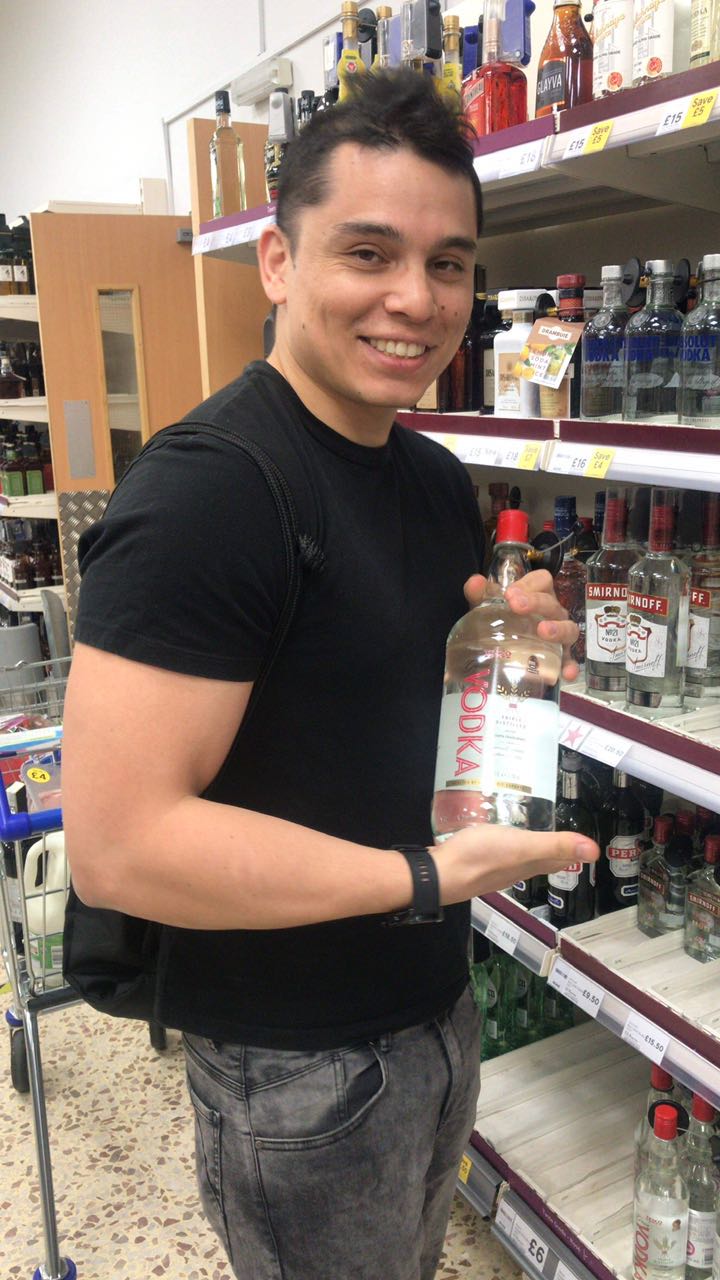 生火是烧烤最有技术含量的一部分,英国气候潮湿多雨,被浸湿的烧烤架和部分烧炭让生火变得很困难,在一开始意大利朋友Macro和Luca围着烤炉忙了半个小时可火还是没有烧起来,直到土耳其朋友来帮我们解决了难题。大约过了一小时,火越烧越旺,可以往架子上放食物了,我们依次把香肠、鸡翅鸡腿、和猪肉饼,以及诸如彩椒、黄瓜、茄子等蔬菜铺在架子烧烤,其中猪肉饼配上蔬菜叶和提前准备好的面包以及酱料被制作成汉堡,份量很大,足够每个人吃饱了。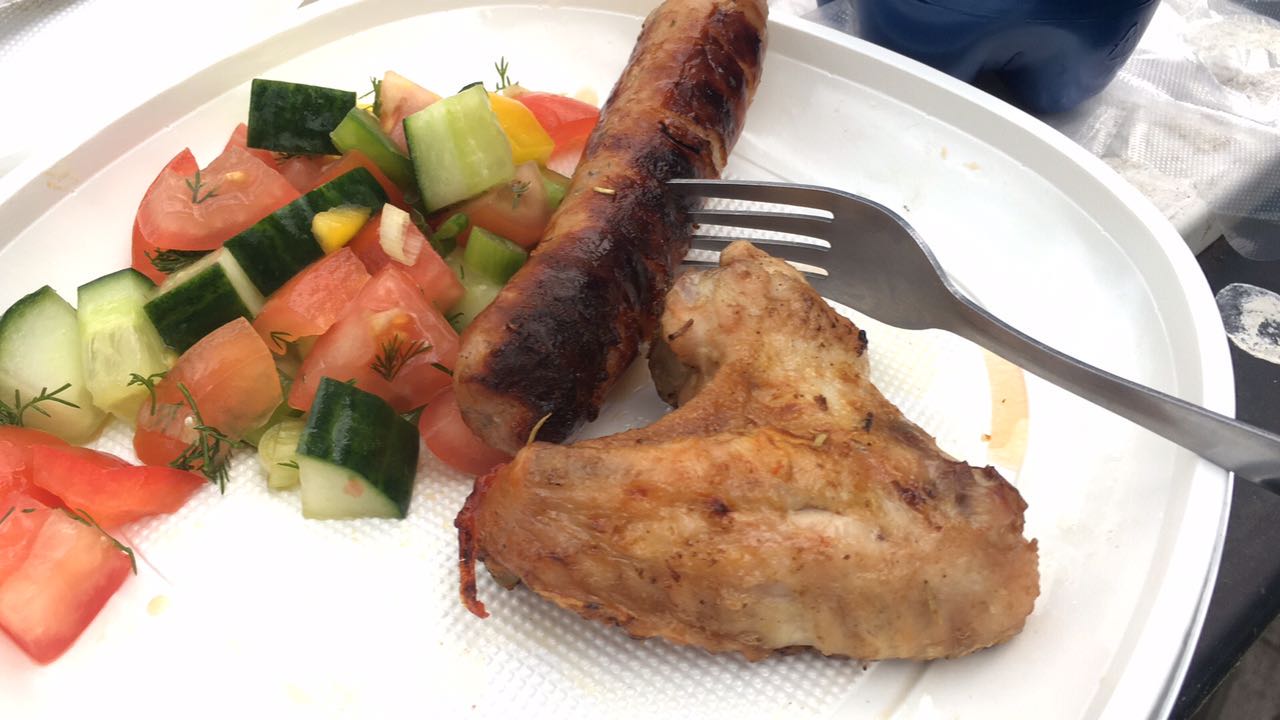 Fire is the most technical part of barbecue. The British climate is very rainy and make the soaked barbecue grill and part of the charcoal very difficult to be fired. At first, Italian friends Macro and Luca spent half an hour around the oven. The fire still didn't burn until Turkish friends came to help us solve the problem. After about an hour, the fire grew stronger, and food was ready to be placed on the shelves. We put sausages, chicken wings, and pork patties, as well as vegetables such as peppers, cucumbers, and eggplants, all sequentially placed on the shelf for barbecue. It is made into a burger with vegetable leaves, bread and sauce prepared in advance. The portion is large enough for everyone to eat.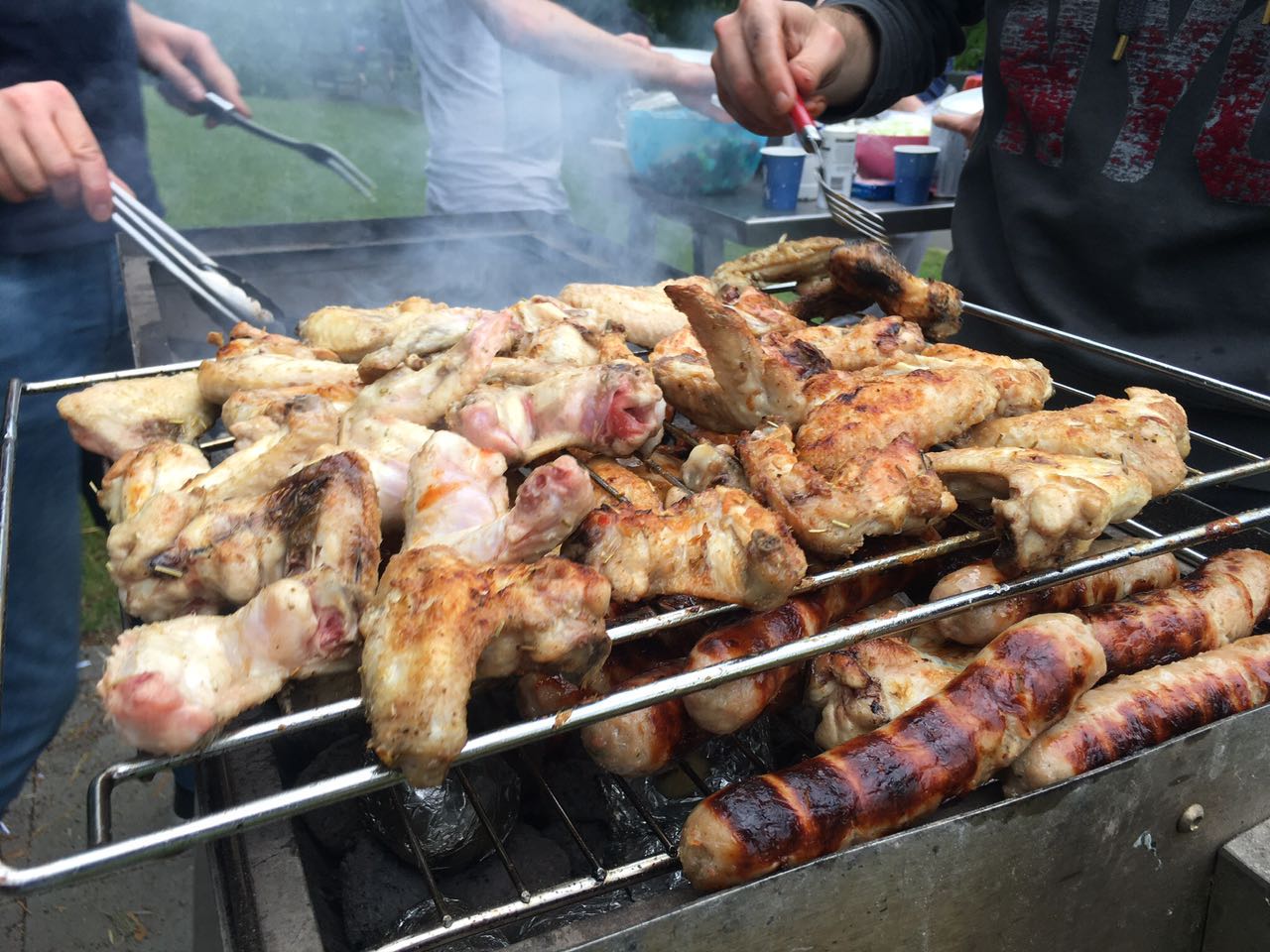 在烧烤的同时,参加的朋友越聚越多,大家互相交流各自的学业和生活,充满了欢快轻松的氛围,甚至湖边的小动物们,如天鹅、黑鸭、小猫、兔子都闻到香味来要吃的,非常可爱。伴随着音乐,我们的湖边BBQ像一个party,大家忘却各自的烦恼,一起融入聚会,唱歌跳舞。其中,来自土耳其和白俄罗斯的朋友还表演了他们的民族舞,生动活泼,让我们开了眼界。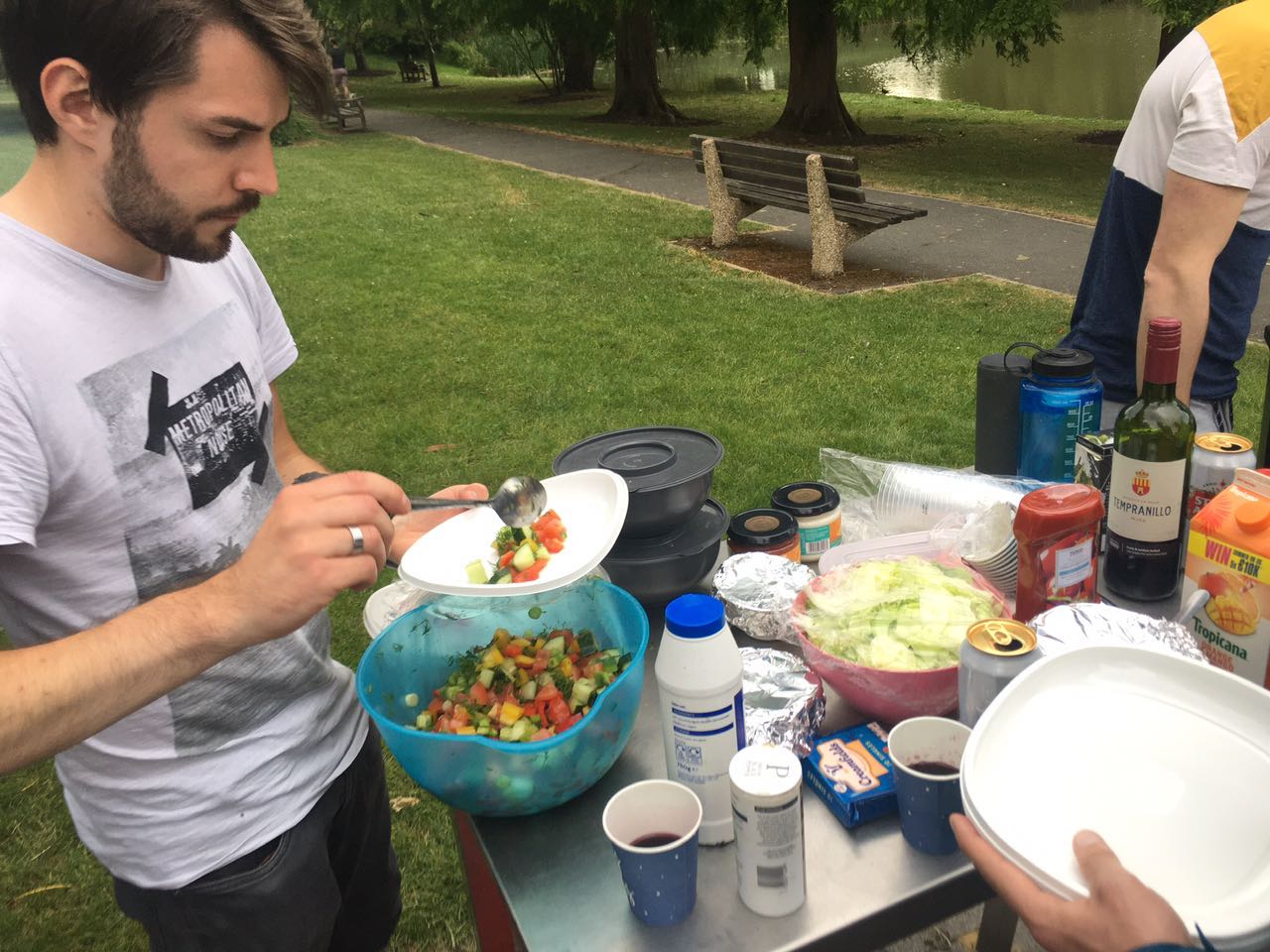 At the same time as the barbecue, more and more friends gathered together. Everyone was chatting about their studies and life with each other. It was filled with a cheerful and relaxed atmosphere. Even the small animals by the lake, such as swans, black ducks, kittens, and rabbits, could smell it, and many of them comes to beg the food from us! Looks very cute! Accompanied by music, our lakeside BBQ is like a big outdoor party, everyone forgets their worries, joins the party, sings and dances. Among them, friends from Turkey and Belarus also performed their folk dances, which was lively and vivid, which opened our eyes.