Hello everyone! My name is Cemsu and I am one of the newest additions to the International Student Ambassador Team. To start a bit about me, I am from a small town in Cyprus, Morphou and I am a Turkish-speaking Cypriot. I went to high school in Nicosia at TMK (Turk Maarif Koleji).
I am doing BSc Business Economics at University of Surrey and am in the second year of my undergraduate studies. I am currently looking for summer internships and I am planning on doing a master's degree also at the University of Surrey. I want to study my master's here as this university is my second home!
From a young age I knew I was going to study abroad as I loved the idea of moving to a new country full of opportunities. I started travelling with my family to different countries in Europe every February and the first country I travelled to was England. I was mind-blown by how different it was from my little country, Cyprus. My travels, so far, have included England, Scotland, Germany, France, Sweden, Austria, Israel, Palestine, and Turkey. I guess I would say one of my favourite parts about travelling has always been airports. I always get so excited while waiting for my flight to fly away. I love watching people getting off their flights with all the excitement and sometimes sadness because they may be leaving behind, their homes, family, friends, pets.
When I first came to the UK, I am not going lie I cried a lot on the plane because of the fear of adjusting to a new place, fear of not being able to make new friends and fear of what if something happens to my family when I am away. However, those fears were wiped away by my excitement of moving to Surrey. As my family couldn't travel with me to my new home because of Covid restrictions and quarantine rules when they went back to Cyprus, I travelled alone. When I first arrived, I went to London to my Dad's friend's house. They welcomed me and his wife helped me a lot to get ready for university. We went to shopping for my the essentials before I moved in. Thanks to University of Surrey's checklist for accommodation we finished shopping completely in two days and then finally it was time for me to travel to my accommodation.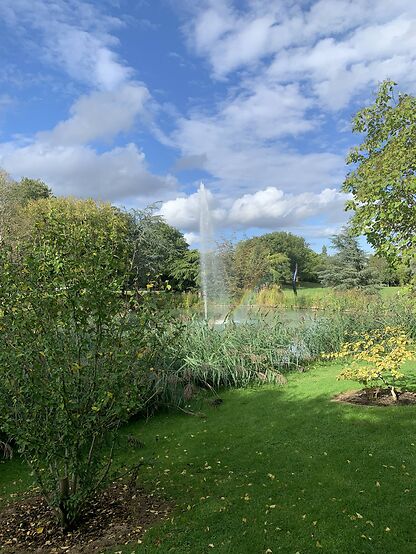 I watched videos on YouTube about Surrey and took a look at the University of Surrey's official Instagram before coming. The university looked like it was a postal card which was unbelievable. It wouldn't look just like it did on Instagram, right? I thought they were probably only sharing the best spots of the university; however, it was exactly how it was portrayed, even better as I fell in love with this big, beautiful campus.
When I first arrived, I stayed in the Daphne Jackson accommodation on Manor Park which was the newest university accommodation. Oh my gosh it was so modern! Students who welcomed us was very friendly and I felt very mirthful for my fresh start. Guildford, where University of Surrey is based is also a very humble town with the spectacular architecture and history. I absolutely love living in Guildford. It is 35 minutes away from London but is still rural with so much green space. Being placed close to London was one of the main attractions of coming to Guildford but still not living in London as it gets tiring to live in London with so much crowd and noise. Guildford is the perfect place to live as it is the in between rural and urban life.
Another reason why I wanted to come to Surrey was the success of Surrey in Economics. The Surrey School of Economics has ranked 8th in the UK and 61st in the world for business and economics in Times Higher Education World University Rankings 2021, so what is the better place to study Economics than Surrey? Moreover, the Career Centre in Surrey is very successful with helping you with your applications for internships, placements, and even graduate jobs so I knew there was a future for me at this beautiful University.
In addition, I would like to stress how important it is to move into a new country by yourself for your personal development. In Cypriot culture, parents do everything for their children no matter what their age is. So, coming to Surrey was a big change for me as I knew no-one would be there for me to do my responsibilities for me. It can be scary at first, but I can't stress enough how much I have improved myself as a responsible independent individual.
Till next time,
XOXO
Cemsu