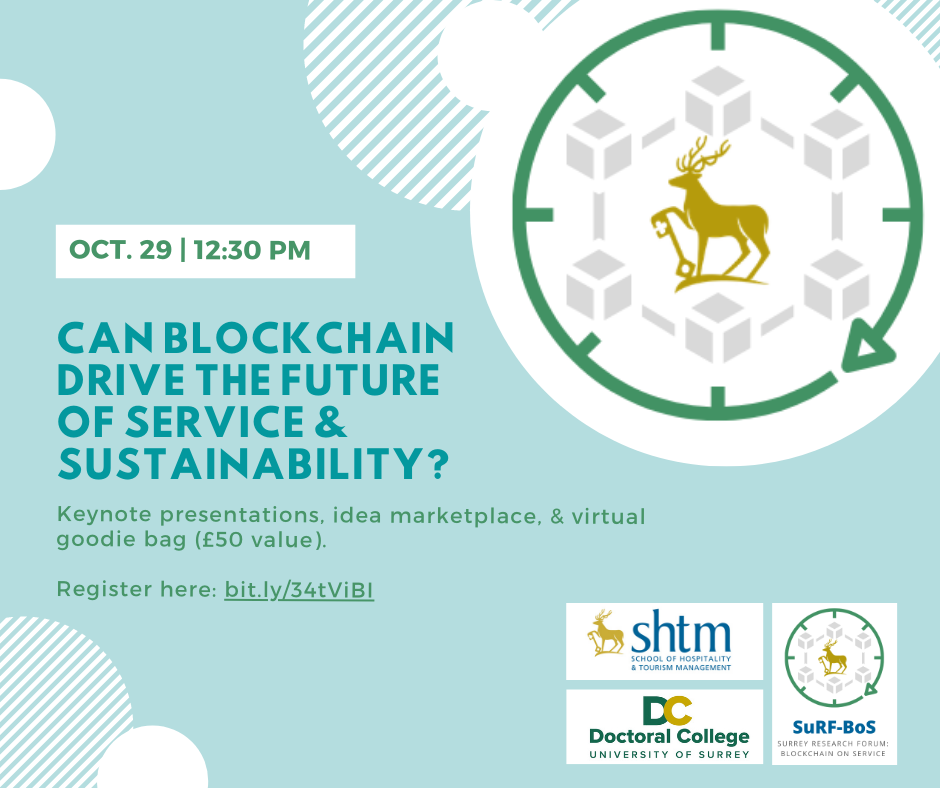 We would like to draw your attention to an event we are organising as part of the Surrey Research Forum: Blockchain on Service (SuRF-BoS), sponsored by the Doctoral College under their Building Research Culture and Innovation grant awarded to Penny Chen and Ikram Nur Muharam. 
Taking place online on 29 October from 12:30 – 15:30, the event will focus on "Can Blockchain Drive the Future of Service and Sustainability?" and feature keynote presentations, idea marketplace, and networking activities. Keynote speakers: Michael Rogerson (University of Bath) and Cesar Serrano (British Blockchain Association and Furthorc Systems).
We welcome contributions, especially from PGRs and ECRs, from a wide range of disciplines and service aspects. Should you be interested in contributing to the event, please review the attached call and register here: https://bit.ly/33xrULV.
Feel free to contact me and Ikram for more information and share the call with anyone in the University who might be interested.
Many thanks,
Penny, Ikram, and Iis 
Yujia (Penny) Chen
PhD Researcher
School of Hospitality and Tourism Management
University of Surrey, GU27XH
+44(0)7596 494993 | yujia.chen@surrey.ac.uk | @pennyychen