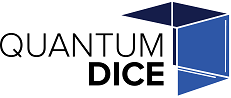 This placement is available through the Locus-UoS Placement Scheme. Opportunities available through this scheme are only open to University of Surrey postgraduate researchers. The aim of the scheme is to fund opportunities for postgraduate researchers to create connections between academia and industry. Further details about the Locus-UoS Project can be found here.
Organisation: Quantum Dice Ltd
Role: Quantum Photonics Engineer
Business Sector: Technology & Telecoms
No of Employees: 1-10
Website: www.quantum-dice.com
Company Overview:
Quantum Dice is a University of Oxford hardware spin-out developing quantum and optical integrated photonics products. The business is based in Oxford. Quantum Dice focuses on science-based R&D in photonics (chips that use light to perform functions that traditionally fell within the typical domain of electronics) and the commercialisation of these high-tech products.
Quantum Dice is a member of SETsquared.
Key Duties/tasks:
Perform research into the state of the art of hardware devices performing quantum walk computations.
Simulate how large these devices can be made and how noise affects this scaling.
Explore potential of monolithic integration of photonic computing units dedicated for quantum walks with design partner firm.
Knowledge & Skills required:
Basic understanding of modelling of photonic processes using quantum physics (single photon behaviour in array of beam splitters).
Knowledge of photonic integrated circuits.
Knowledge of theory of quantum walks would be preferable but not strictly necessary.
Skills post graduate researcher will have an opportunity to develop:
The PGR will gain insight into developing a cutting edge and deep science technology for commercialisation in one of the fastest growing industries globally (quantum technologies).
Developing a strategic project and initial technical validation that will enable Quantum Dice to seed a major new development line.
Quantum Dice is on a high growth trajectory with opportunities for follow on engagement upon a successful placement outcome.
Knowledge of photonic integrated circuits.
Knowledge of theory of quantum walks would be preferable but not strictly necessary.
Dates of placement: To start prior to March 2022
Duration of opportunity: 12 weeks if full-time, up to 20 weeks if part-time, depending on PGR availability
Hours per week: Up to 35 hours per week, flexible depending on PGR availability
Location: Virtual with the opportunity of approx. 1 day per month to join company opportunities in Oxford or at other locations.
IT requirements: PC or laptop for deskwork
Deadline for applications: 5th November 2021
INTERESTED?
Apply for this opportunity by:
and
Sending your CV and covering letter, addressed to the company, to j.pango@surrey.ac.uk. Applications will be forwarded on once the opportunity has closed.
If you would like an informal chat about the role and to learn more about the work of the company before submitting your application, please contact George Dunlop, Director of Partnerships & Co-Founder, george.dunlop@quantum-dice.com
If you would like 1:1 support with your CV or preparing for interview, please book an appointment with a Careers Consultant via this link or by emailing rdp@surrey.ac.uk
Please ensure you have your supervisor's agreement for undertaking a placement prior to applying.
Successful candidates will be paid by the University a maximum of £315 per week for full-time (pro-rata for part-time opportunities) to cover living expenses. Preference will be given to those PGRs who are not in receipt of UKRI funding.