Guest post – Catherine Batson, Content and Faculty Librarian Manager, Library and Learning Services, University of Surrey

Library and Learning Services have been working to improve the discoverability of journal articles via our subscriptions and to open access articles and we'd like to let you know of a new feature you can use for free.
LibKey Nomad is a web browser extension that can link you directly to articles subscribed to by the University of Surrey as you research on the internet.
LibKey Nomad checks the Library's holdings information – and open access alternatives – to determine the best place to source the article and will automatically take you to the full-text if available.
How do I install LibKey Nomad?
We are working to get LibKey Nomad automatically installed on University managed machines so that is available as a browser extension on Edge and Chrome browsers.
Whilst this work is happening you can still download LibKey Nomad, for free via libkeynomad.com choosing your preferred browser and selecting the 'University of Surrey'.
You only have to do this once and the extension stays on your browser.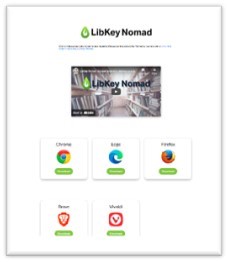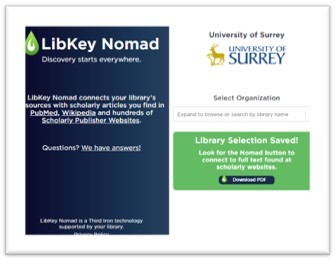 Using LibKey Nomad
If you are browsing for an article online, LibKey Nomad will appear in the bottom left corner of compatible websites, if the Library has access to the article or if there is an open access copy available.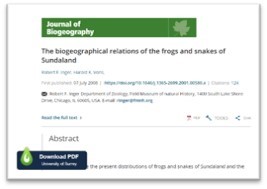 Clicking on 'Download PDF' or 'Article Link' will take you directly to the article. Accessing the article off campus may direct you to sign in with your University credentials.
You will see open access alternatives if the article isn't available via a University of Surrey subscription.
LibKey Nomad also brings increased and easier functionality to PubMed, Web of Science and Scopus.
With LibKey Nomad installed for instance PubMed will display an in-line "Download PDF" link as well as a link to the issue's table of contents where the article appears.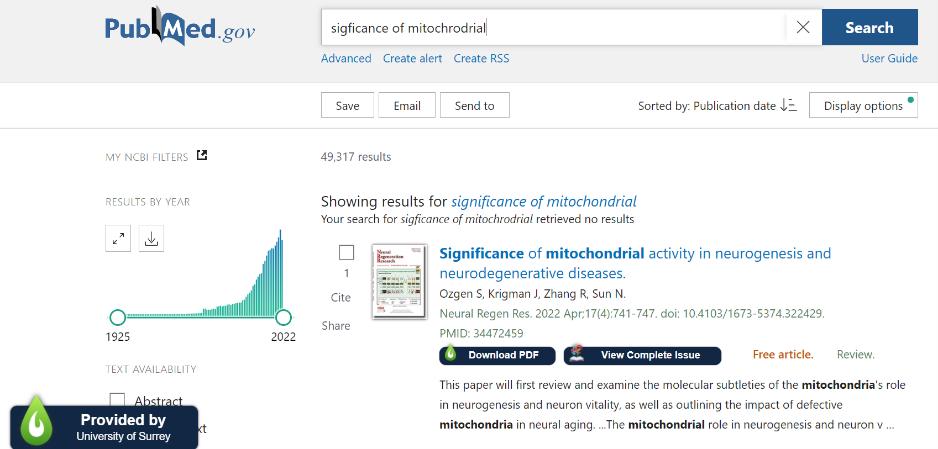 Which publisher sites does LibKey Nomad work with?
For the full list of supported publishers see the following page: What publishers do you support?
For further support with LibKey Nomad please email library@surrey.ac.uk