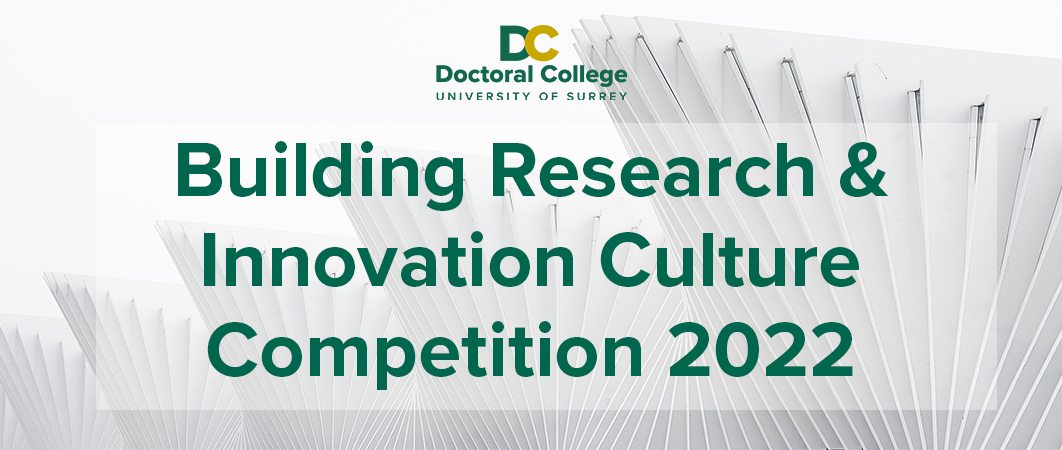 The Doctoral College is pleased to announce that applications are now open for the Building Research & Innovation Culture Competition (BRICC) for 2022.
Proposals are welcomed from postgraduate researchers (PGRs) and early career researchers (ECRs) at any level. We encourage collaborative projects where both PGRs and ECRs work together, but this is not essential.
You are invited to bid for amounts of up to £2,000 to support innovative and creative proposals that strengthen research and innovation culture, and promote interdisciplinarity in the PGR and ECR community.
There will be a dedicated training workshop on Fri 21 Jan 15:00-16:30 to go through the process of applying for funding and putting a proposal together. Click here to join the Zoom.
Proposals
Proposals must answer the following 7 questions (150 words maximum per question).
How much funding you are bidding for?
Description of the activities and/or events.
How will you facilitate interactions across different groups of researchers and/or different disciplinary boundaries?
How will your proposal support future research culture and/or innovation activity?
Financial justification and estimated breakdown of budget requested.
Who will support the administrative and financial processing side of your event/project?
How will the event impact on your current research project and other responsibilities?
Proposals must be submitted via the following link:
https://surrey.onlinesurveys.ac.uk/bricc2022
Your proposal will be judged by a panel of representatives from the Doctoral College against the following criteria:
Coherence: Does the proposal include a clear description of activities and/or events that will help to strengthen the research environment for PGRs and/or ECRs?
Interdisciplinarity: Does the proposal facilitate interactions across different groups of researchers and/or different disciplinary boundaries?
Future orientation: How will the proposal support continued research culture strengthening activity once the competition is over?
Financial Justification: Is a justifiable estimate of the costs for planned activities included? Is there a clear understanding of how much budget will be spent on each requirement (e.g. catering, printing, resources, speaker fees etc.)?
Administration & Time Management: Has the work/time required to run the project been taken into consideration and been met positively by supervisors or line managers? Has contact been made with staff who can support with financial processing and administrative support in the faculty/department? (N.B. Some administrative support is available from the Doctoral College but this will not be enough to cover all your needs).
Budget
You will need to submit an approximate budget as part of your proposal. If your proposal is approved by the panel then you will need to create an itemised budget with quotes from providers to demonstrate exactly how much you will spend before any money can be claimed.
In previous years the most expensive elements have been catering, speaker fees, and equipment hire. You may also want to consider resources for participants and online platform costs.
Reporting
If your bid is successful you will be required to write a report on your event(s) and gather feedback from participants. A best practice example of what is expected from your report will be provided.
Timeframes
The deadline for submission of proposals is Monday 31st January 2022 (23:59GMT). Successful applicants will be notified by Friday 11th February.
Any funds awarded must be spent within the financial year (by 31st July 2022).
For any queries, please contact Beau Bell.