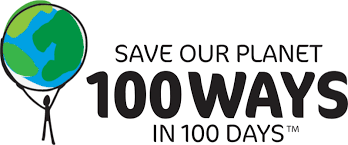 Gilang Majid, PGR in Surrey's School of Hospitality, Tourism, and Events recently completed a placement with 100 Ways in 100 Days™ a new e-learning programme that empowers people to work, live and think more sustainably, fast.  As such it's vital to ensure all sustainability stats and claims we make are as up to date and robust as they can be.
We spoke to Gilang about his placement, and also to Sue Skeats, the founder of the company.
What was your motivation for undertaking a work placement?
My motivation is to learn more about sustainability issues, gain international working experience and prepare myself for life after my PhD. When I read about the opportunity offered by 100 Ways in 100 Days Ltd, I knew that doing a placement there was precisely the answer to what I wished. I have finished my placement and will always be thankful to anyone helping me provide this opportunity as it immensely contributes to my personal development.
Can you outline what you did and what skills and experience you have gained through the placement?
My role was as Sustainability Researcher at 100 Ways in 100 Days Ltd. Essentially, as a start-up, the company needs to ensure that the programme it offers has robust research evidence to support any claims made. Also, I am responsible for ensuring that all recommendations we offer are well linked to the Sustainable Development Goals and psychology literature. The latter is more critical since 100 Ways in 100 Days Ltd deals with behaviour change mechanisms; thus, the programme's success lies in how effectively we deliver our messages. That's what I learned during my placement: to focus on how we can make an immediate impact on society with our research in a language easily accessible to the public.
What was your experience of working within an SME?
Working in a small team allows me to have intensive communication with the company's founder. In that way, I can directly learn how to manage a business and the team, broaden professional networks, set up goals, and, in short, become a leader taking responsibility for the organisation's success—learning how to transfer one's "Why" into a business idea is also fascinating. Working within an SME teaches me a lot about resilience and perseverance, something I would not get at large, established organisations.
What impact has the placement had on your career plans?
It is twofold. First, as someone who dreams of setting up my own business in the future, doing a placement at 100 Ways in 100 Days Ltd shows me the essential skills I need to master once I start the venture. It's how leadership, business skills and strong mentality that I should keep developing from now on. Second, as someone who wishes to work in international organisations right after the PhD, having broad exposure to wide-ranging sustainability issues gives me a confidence boost about my chance of landing my dream job later. The added versatility in my CV definitely helps me better prepare for the next chapter of my life.
Sue said:
Working with our (frankly brilliant) sustainability researcher made it possible to investigate, collate and curate the massive body of thoroughly checked evidence we needed within a short period of time.  And, as a start-up, to have such an intelligent, enthusiastic self-starter on the team has helped supercharge the programme's development.  To have him fully funded via the University of Surrey has been the icing on the cake.  He's actually become a firm friend now too.  All in all, a superb partnership.  A big thank you to the Doctoral College.
If you are interested in a work placement as part of your doctorate you can find out about current opportunities here.