Guest post by the Faculty Librarian Team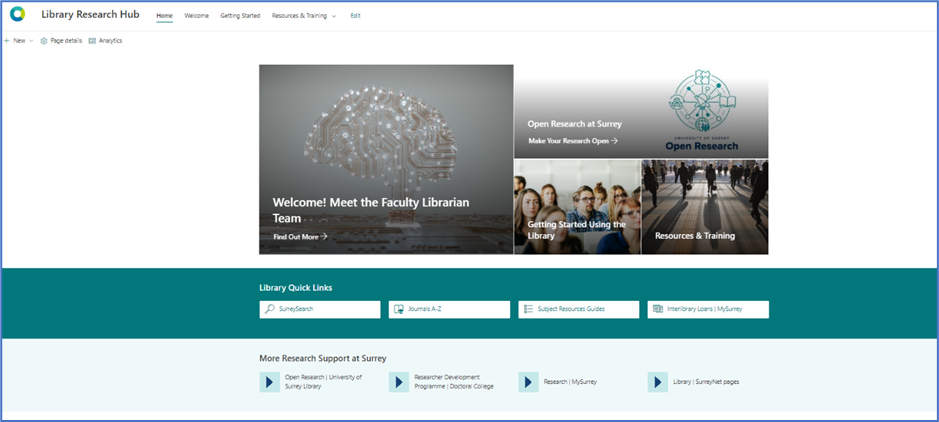 The Library Research Hub (SharePoint site) is your window into the services and support available to researchers from Library and Learning Services.
You will find key contact details, such as those of your dedicated Faculty Librarian and members of the Open Research Team.
We've provided information on how to use the Library services on our Getting Started page and details on the workshops we run and guidance available under Resources & Training.
We encourage you to bookmark the page and check back regularly for new events and content, and to look out for the accompanying email newsletters we'll be sending out regularly.
You can also follow the page by clicking the star in the upper right corner to pin it to your own SharePoint landing page.
Using the Library Research Hub you will discover resources that are great for ACWriMo!
SAGE Research Methods supports researchers by providing material to guide you through every step of the research process with thousands of results for academic writing. You'll be able to choose from many different formats and content types, including: Books, Journal Articles, Case studies, Videos, Podcasts, Expert Insights and How-to Guides.
You may also wish to activate your University LinkedIn Learning account. Follow the link and instructions from the 'Getting Started' page on the Library Research Hub to set this up (or email pci@surrey.ac.uk who will send you the link to join directly). LinkedIn Learning is an online learning provider, providing expert-led content and video courses, and again there are lots on academic writing or writing in general for you to view amongst loads of other useful learning content too.