Blog post by Dr Mike Rose Researcher Development Training Officer, Doctoral College
Last week we were celebrating the delights of this year's Your Project as a Poem competition. The judging panel met to discuss their favourites and award fabulous prizes. We were extremely impressed by the quality and variety of entries, including perspectives from many disciplines, different styles of writing, and poems that ranged across the comic, the political, the technical, the passionate and the personal. Every poem had something interesting to say about cutting edge research, or the experience of academic work. We extend huge thanks and congratulations to all our entrants.
It was good to see this scheme attract so many submissions from across the University, engaging with the invitation in a variety of imaginative ways.
– Judge Ian Heames, University of Surrey Poet-in-Residence
It was noticeable that many entrants used poetry to find new ways to communicate their research, showing the importance of their work for science and society. We had space-time sonnets, badger-movement haiku, the thrills of programming and the challenges of telemedicine; some poems would appeal to younger readers, some to fellow researchers, others to lovers of modern poetry.
Choosing the best was incredibly hard, as the judges looked for originality, lyric quality, technical skill and clarity of communication. We filled an hour in our discussions and could have filled many more. Ultimately, we decided on a winner, three runners up, and a number of highly commended entries.
It was such a great opportunity to read a variety of poems, experimenting various techniques from different academic backgrounds. It was not easy to choose a winner because poetry is always beyond the borders of assessment. I would like to congratulate all participants for being such marvellous poets.
– Judge Dr Hajar Mahfoodh, Lecturer at University of Bahrain and Surrey PhD graduate (SLL)
Our Winner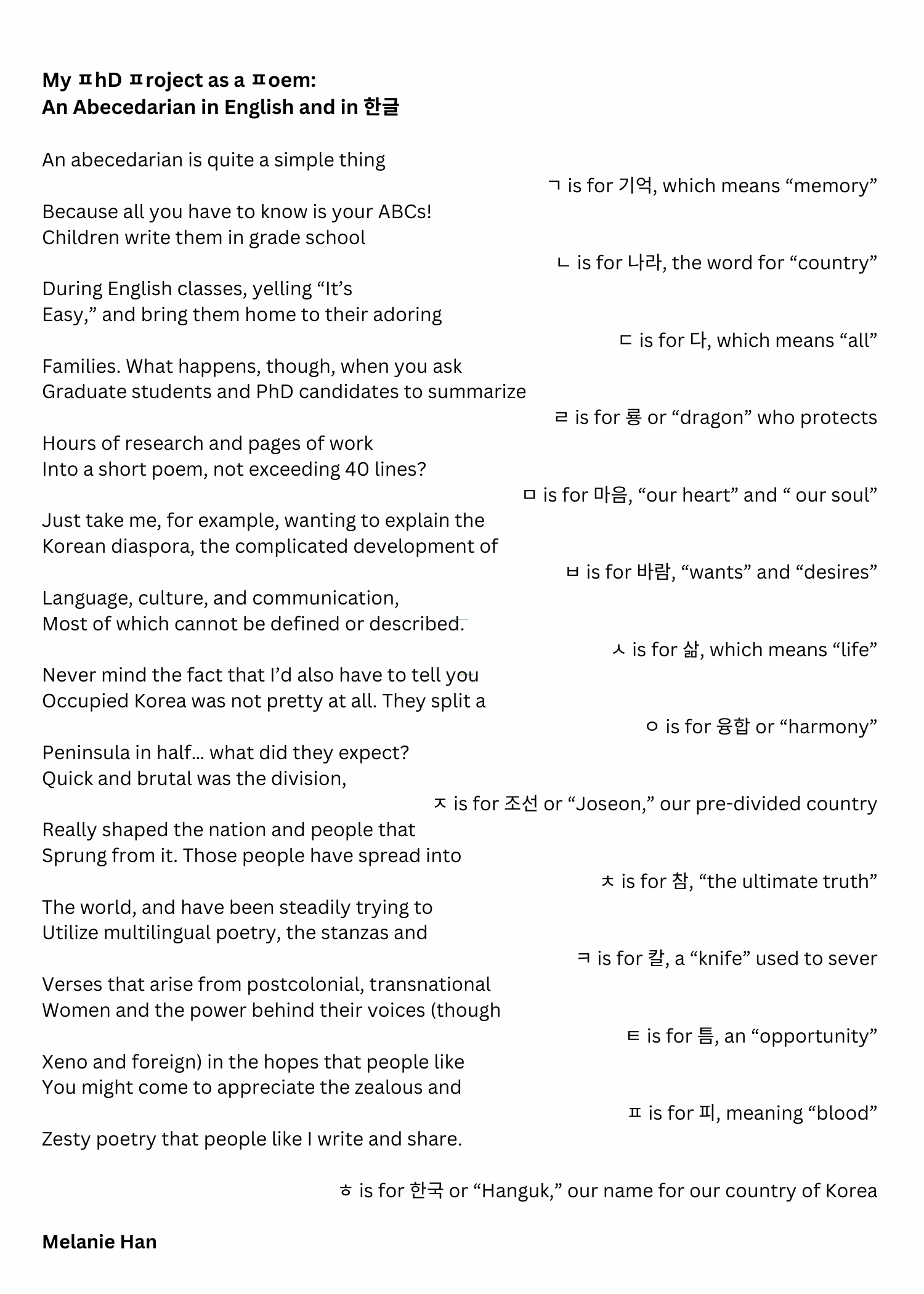 This poem by Melanie Han was formally innovative and did a wonderful job of communicating research in a way that is intriguing, accessible, but also detailed. The poem caught the eye and stayed in the mind. We particularly enjoyed the skilful management of two languages and the development of the tone, from the light-hearted opening to the urgency and passion ending, with the Korean interpolations mirroring the roving thought and building intensity. A fantastic effort, well done!
Runners-up
There were also several strong favourites among the entrants that all the judges enjoyed for their high quality of writing and the insights they gave us into different research world. Many images will stay with us for a long time to come, and we congratulate you all, and are delighted to present you with runners-up prizes.
Laetitia Canete  for "Aluminium twenty six sleeping on the ground"
Anietie Aliu for "Do your really want to die?"
Ines Ilić for "Singy-songy"
Highly Commended
Finally, we want to acknowledge a selection of further poems that exhibited intriguing poetic invention, pointed humour, and often a poignant emotional edge:
Wafik Doss for "To think, or not to write?"
Gloria Yoshkova for "Bridge between worlds"
Chris Jeynes for "A Shakesperean sonnet concerning the elusive nature of reality"
Silfana Nasri for "The shades of loneliness"
I was very excited about the entries we've received this year, displaying a variety of topics, forms and approaches. I am always touched by the passion that drives our researchers in their efforts to make a difference, and this passion, determination and commitment shine through this year's submissions.
– Judge Dr Nadya Yakovchuk, Lecturer in Academic Writing, Doctoral College, Surrey
We thank all our entrants, and Ian Heames has kindly offered to talk to any participants further if they would like feedback on their poems:
If anyone would like to talk further about their entry, or their writing in general, they would be very welcome to attend the free open poetry workshops that will be held on campus next term (dates tbc, time slot likely 6-8pm). Alternatively, they can email me to arrange to meet another time (ih0012@surrey.ac.uk). The workshops are open to all (even if you didn't manage to enter the competition this year).
All our entries can be found on Twitter, via @SurreyDocCol and the hashtag #surreyacwrimo. We hope you have enjoyed reading this year's very diverse entries, and wish everyone all the best for the Christmas break. Happy writing!
Dr Mike Rose, Researcher Development Training Officer, Doctoral College