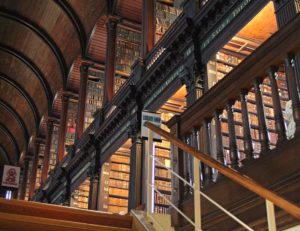 The Long Room, Trinity College, Dublin. Credit: Nic McPhee
My new research project, funded by a Leverhulme Trust Major Research Fellowship, will explore the literary culture of women in early medieval England, examining both the conditions that enabled a rich and varied culture to thrive, and the reasons why that remarkable culture is almost invisible today.
Histories of English Literature, including women's literary histories, have tended to exclude or to marginalize the contributions of early medieval women, focusing instead on a small group of women from the twelfth to fifteenth-century, notably the courtly writer, Marie de France, and the visionaries Julian of Norwich and Margery Kempe. My project will analyse new material to provide a better understanding of English literary history. It will demonstrate that late medieval women writers and visionaries, who are often viewed as exceptional, are part of a much longer tradition.
The project, with its focus on the pre-Conquest period, offers a major intervention in the fields of English literary history and women's literary history. It also takes my research on medieval women's literary culture in a new direction in terms of historical period (moving back half a millennium).
My 2007 study, Medieval Women's Writing: Works by and for Women in England, 1100-1500, examined a range of texts and genres written in England in Latin, French and Middle-English, authored by women, by women and men together, and by men for women patrons or readers.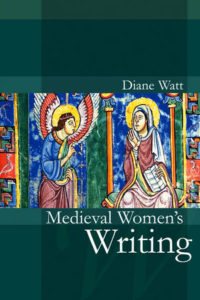 Having explored networks of textual production, reception and exchange, I concluded there that only by recognising the collaborative nature of literary culture can the extent and nature of women's engagement with it be understood.
The 2012 volume, The History of British Women's Writing, 700-1500, which I co-edited with Liz Herbert McAvoy, sought to extend significantly the scope of enquiry by placing a greater emphasis on the reception and influence in England of works by continental women, and by giving consideration to writers in other parts of the British Isles, and to Anglo-Saxon women.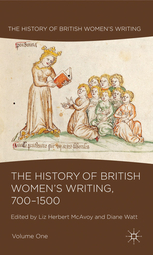 Anglo-Saxon women have also been the focus of my own 2012 chapter on 'the relics of early women's writing' in The Cambridge History of Early Medieval Literature, 500-1150, edited by Clare A. Lees, and of most of my recent journal articles.
This project seeks, then, to bring to fruition an ambitious project that I have been working on for almost a decade. I have undertaken the groundwork for the project, but much substantial work, including archival research, remains to be done, and in the course of the fellowship I will be visiting libraries in Cambridge, Dublin, Karlsruhe, London, Munich, Oxford, St Gallen and Vienna.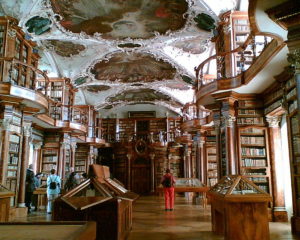 Stiftsbibliothek St. Gallen, Switzerland. Credit: chippee
The project is connected to, but quite distinct from, the Leverhulme Trust-funded International Network project which I currently lead on Women's Literary Culture and the Medieval English Canon (which ends in 2017), which focuses on the late fourteenth and early fifteenth centuries, and which has already resulted in a co-edited Special Issue of The Chaucer Review (published in January 2016).
With its focus on a much earlier historical period, Women's Literary Culture Before the Conquest presents a major new challenge as a result of the fragmentary and elusive nature of the surviving evidence.
There is a clear element of risk in this project. For example, in examining the evidence for lost texts, or in reconsidering the attribution of anonymous texts and in positing the possibility of female authorship, there has to be an element of speculation and subjectivity that may seem to be opposed to scholarly expectations of analysis and objectivity. It will be crucial to develop a balanced and reasoned approach, without being over cautious.
At the same time, it is important to ask why so few women-authored texts are seen to have survived, examining the deliberate destruction or suppression of women's texts and considering women's exclusion from medieval definitions of authority, their more limited access to formal education and libraries, their reliance on readers, secretaries, and scribes, and their more 'indirect' engagement with writing (from a modern perspective at least) as visionaries, translators and compilers.
In contrast to Medieval Women's Writing, it is not possible to adopt a predominantly author-based approach to the analysis of the centuries leading up to 1100. This is because the body of texts that is generally recognised as being women-authored in this period is insubstantial. Instead, although detailed textual analysis will remain a cornerstone of my methodology, from the outset I will focus on the wider contexts of early medieval women's literary culture, and specifically on the communities, monastic and lay, in which it existed and even blossomed.
Inevitably, there is an element of detective or reconstructive work involved in this project (more or less absent from Medieval Women's Writing), in so far as this project involves reexamining the historical records for references to women as authors, scribes, patrons and readers in cases where the texts themselves have disappeared. Often the evidence is ambiguous and can be interpreted in conflicting ways. I will be concerned not only with identifying the traces of the earliest women's writing in the surviving record, but also with thinking about the processes of suppression or acts of effacement that took place.
This project will rethink women's literary history, pushing back its temporal boundaries by several centuries. It will also offer a new perspective on Anglo-Saxon literary production that places women at its very centre.