If you want to get to know a country, talk with a local taxi driver.
In this first blog of 2018, I want to tell about Barry, the taxi driver who took me from Heuston station to the American Embassy in Dublin.
But first something about the city I find myself in for this phase of my sabbatical.
Cork
After catching up with family, friends, colleagues and students in Surrey, I travelled to University College Cork to work alongside Dr Joan McCarthy and colleagues. This week I will be giving a talk to staff and students on 'writing for publication' and interviewing experts on the theme of 'ethics and elder care'.
This is a big year for Ireland and for Cork. 2018 marks the 100th anniversary of women getting the vote in Ireland and is the year Irish citizens will vote in another abortion referendum. This could result in repeal of Article 40.3.3 of the Irish Constitution (https://www.theguardian.com/world/2018/jan/29/ireland-to-greenlight-referendum-on-abortion-law-reform ). Our annual nursing/care ethics conference will be hosted by University College Cork in September on the theme of 'Gender, Justice and Care' (see http://inec2018.ucc.ie/ ).
Cork people are proud of their city and they have good reason.
Many celebrities hail from here, for example, writers William Trevor and Frank O'Connor, actress Fiona Shaw and athlete, Sonia O'Sullivan. The city also claims musician, Rory Gallagher, as one of its own (but I have to point out that he was born in Donegal!)
Cork has an abundance of historical, cultural and culinary riches including some of the best vegetarian restaurants. And, of course, there is no shortage of pubs.
Three Monkeys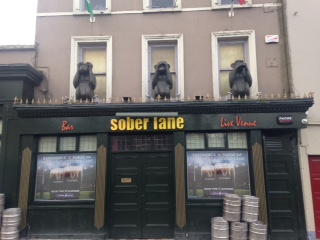 This pub on Sullivan's Quay caught my eye and curiosity, both for its memorable name and the 3 wise monkeys over the entrance: Mizaru (see no evil) who covers his eyes; Kikazaru (hear no evil) who covers his ears; and Iwazaru (speak no evil) who covers his mouth. This image will be familiar to many of you. But did you know that it comes from a 17th century carving over the door of a Japanese shrine in Nikko, Japan, and is believed to contain elements of Confucian ethics?
The 3 monkeys could stimulate a lively discussion in an ethics class. You could ask if 'hear no evil, see no evil, speak no evil' would provide adequate guidance for the moral life? What might the limitations of these 3 rules be? Given the Cork context, however. the take home message may merely be 'what happens in Sober Lane, stays in Sober Lane.'
So now back to Barry.
Taxi Tales
Barry did not hold back on coming forward about his views on the usefulness of the Irish language (I'd commented that train announcements were in Irish and English), on Brexit and the Northern Irish border, on the Irish economy and why it was doing so well, on the negative impact of the new Luas tramline on Dublin traffic and parallels between care and taxi driving.
Barry told me about the feisty 'pensioner' he met recently who used her free travel card 3 or 4 times a week for pleasurable city outings and to save on heating at home. He told me about his friend who declined a position as care-giver because he believed it was about 'changing nappies'. Barry said he thought care work  deserved more respect and that it was a bit like taxi-driving: you need to want to do it and there is no place for being grumpy.
Sadly, the Dublin traffic was not bad enough to delay our journey for long enough for me to check out Barry's views on the forthcoming abortion referendum. But I am confident he would have had views.
Next week I'll tell you about the Citizen's Assembly, which informed the forthcoming Irish abortion referendum, and why this could be a good model for public engagement in bioethics.
In the meantime, if you' d like some light reading I'd recommend this short story by Frank O'Connor – https://www2.bc.edu/john-g-boylan/files/first-confession.pdf.  You might also like to check out talented 12 year old Cork singer, Allie Sherlock – https://www.youtube.com/watch?v=aoFXqvRfBhI