This week I said goodbye to colleagues at University College Cork. Interviews with those expert in ageing and ethics were fruitful and our conference organisation is well in hand for September 2018. Thanks to the efforts of Dr Joan McCarthy and her colleagues careful thought is being given to the conference programme and social arrangements for international and local delegates to enjoy (see http://inec2018.ucc.ie/ ) . Plans are also in hand for the prestigious 2018 Nursing and Human Rights awards. One of the recipients will be from Ireland (for background to the annual awards see http://journals.sagepub.com/doi/pdf/10.1177/0969733017724677).
University College Cork is in the top 10 of the world's most sustainable universities (see https://uccexpress.ie/ucc-in-top-10-most-sustainable-universities-worldwide/ ). The university also has a very rich and interesting history. One of the ways to get an overview of this is by taking the daily campus tour.
University College Cork Campus Walking Tour
My campus tour guide – Therese – was knowledgeable and passionate about the wide range of interesting facts and superstitions relating to the campus. There is much to learn about the university's historical and cultural evolution.
Did you know for example that George Boole, who came to Cork from Lincoln, was the first Professor of Mathematics at UCC? His Boolean algebra is credited with underpinning the development of digital computer systems. Sadly, his wife's quirky health beliefs contributed to his early demise. The Tour Guide will tell you the story. There is much else to see and learn about, most significantly, the Honan Chapel, the Ogham Stones and the Crawford Observatory. You will also hear about the practices of some of the early university  presidents. One of the most controversial presidents, Alfred O'Rahilly (from 1943 to 54), had strong opinions about how women should dress. In a letter to the women's club president in 1947 he wrote:
'Dear Miss Mitchell, I want to make it clear that I am not withdrawing my official request to the women students to wear stockings […] Personally if I was lecturing I would not allow girls to come in without stockings nor do I think they should attend Church without stockings [..]' (see John A. Murphy's 1995 book 'The College: A History of Queen's/University College Cork' for a most engaging overview of the history of the university from 1845-1995). These days UCC is a beacon of good practice in the celebration of diversity.
If you take the tour you will also learn about some campus superstitions, for example: where not to step if don't want to fail your exams; and whose nose you should touch if you want to pass your exams. You will learn also about the statue of Queen Victoria which was taken down from the top of the university building in 1934 and replaced by a statue of St Finbarr. The Queen Victoria statue was first displayed in an office but proved too heavy for the floorboards. It was then buried in the President's garden and later dug up in 1994 and displayed in the staff common room. The story of the moving statue reminds us of the background religious and political context of the time.  I was reminded also of the debate about confederate memorials in the United States. What is a democratic country to do when a memorial harks back to a colonial, oppressive or discriminatory past? Preserve the piece as a work of art and as a reminder of historical events? Or destroy (or hide from view) as an artefact from a best-forgotten era?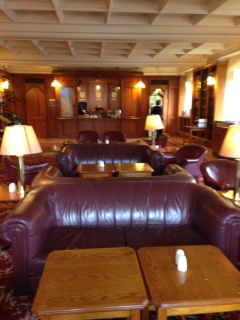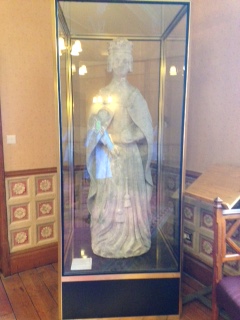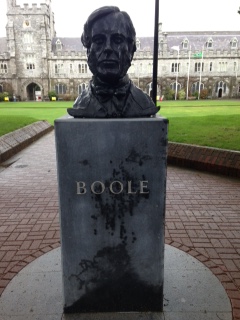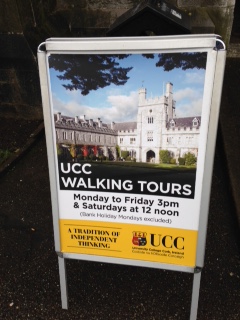 [UCC Staff Common Room, statue of Queen Victoria, bust of George Boole (affectionately known as 'Gorgeous George') & advert for walking tour]
A place to mingle and develop collaborations…
A take home message from UCC is the value of a Staff Common Room. At UCC, staff members make a small monthly contribution to use this very lovely facility. They come for coffee and lunch and take opportunities to mingle with colleagues from other disciplines and faculties. I've been told that you can rub shoulders with university historian, Dr John Murphy, who visits the staff restaurant for lunch. He is now in his nineties and a wonderful example of positive ageing.
I wonder how many of you have had access to such a facility? Might this be supportive of better balance at work? Perhaps even contribute to more fruitful and pleasurable working practices?
Next week I will be in Surrey and then soon after to University of California in San Francisco.