Okay so you have chosen Surrey to be your host university. All your papers are signed and submitted, your bags are packed, and your flight is booked. If you're anything like I was then you are super nervous because you have no idea what to expect once you arrive. Don't worry, I got you! Here are your tips and tricks to surviving your first few weeks at Surrey.
Exchange Meetings
You know how Freshman year of college most schools typically make you go through orientation, where you meet fellow first-year students, do activities, and get the basic information about school? Well that is pretty much what the first few days will be like. You will be asked to go to multiple exchange meetings so that you can meet other exchange students and learn about the school. Go to them! Seriously, you'll learn a lot of useful information and you'll meet some amazing friends. I've met some amazing people from all around the world, and some of them are my closest friends here. While you're at the meetings, be sure to talk to a lot of people and make plans to hang out outside of the exchange events. It's surprising how many people would love to join you on a day out.       
 Getting settled into accommodation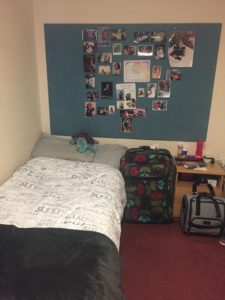 Okay, if you have not set aside a part of your budget for settling in, please do. One of things that surprised me the most was how quickly my money was going just in the first two weeks of school. I was honestly horrified. I would say set aside $100-$150 at least just to settling in, you may not use it all but offers you a nice cushion to really get everything you need. Speaking of which, remember when you get here, you're going to need to buy cookware, food, bedding, hangers, toilet paper, laundry detergent, cleaning supplies, and many other things that all add up pretty fast. Also, just a tip, when you first go grocery shopping, which will most likely be at Tesco's, check the expiration date. I've noticed here that a lot of things expire so much quicker than they would in the U.S. Instead of buying in bulk, consider buying in smaller quantities that you can eat in a week or two and just go grocery shopping more often- especially for fruits and vegetables.
Plan on Shipping                                                                                                  
If you have family or friends back home who are supportive of this journey, it may not be a bad idea to ship you a care package. For whatever reason, when I first got to the U.K, I had a crazy craving for Flamin Hot Cheetos. They used to be my favorite chips when I was younger but I hadn't eaten them as much when I got older. However, once I got here it was all I wanted but they do not sale them here. It was insane how badly I wanted them and it was making me a little homesick (crazy I know). Anyway, one day, my aunt messages me and asks me if I wanted her to send me anything. Of course, I jumped at the opportunity. She sent me a care package with Flamin Hot Cheetos, Doritos (the Nacho Cheese kind), Oreos, Grape Jelly, and Nutella. I know it was a really weird combination, but it made me so happy because besides Oreos and Nutella I could not find any of the above items in stores. Which by the way, if you need jelly do not go into the store and ask for jelly, they'll think you mean Jell-O, ask for jam instead (but remember they do not have the grape kind).
Well, the point of the story is that the little things from home can make all the difference. I know sometimes there isn't enough room to pack snacks or little trinkets from home, but I do think they are worth having. So, ask someone to ship them if you can. Trust me, when you get that email saying your package has arrived you'll be jumping for joy.
Okay, well I hope you have a good time settling in and feel a little more prepared. I'll try to add at least a couple of tips in each post to hopefully make this journey a little easier for anyone reading.