It's a Wednesday afternoon in the middle of March. You're done with classes for the day. All your assignments are turned in. Life is good. Except, there's one little problem… You're bored out of your mind. Crazy, right? You're in an entirely different country, you should be having the time of your life. What can you do though? Hop on a train and take a hour-long journey to London, just to turn right back around a few hours later so that you can make your 9am the next day? Nope, it's not worth it. Trust me, save the London trip for the weekend where you can spend days getting lost in the city.
Luckily, there are ways to pass the time other than staying in your room all afternoon day and dreaming of all the places you'll see in April. This is what you do.
Go join a club
I get it you're only here for a short while and you just want to have fun without committing to anything too serious. I completely understand, that's how I am, but Surrey offers an array of different clubs and societies that you can join, including social sports. These are the sports teams where you just drop in whenever you want to pick up a quick game and have some fun. No commitment at all, if you don't want to go one week then you don't have to and no one will care. At one of the exchange events, a representative from surrey sports park will come talk about the different sports clubs Surrey offers and will hand out the schedule and information on some of the teams. If anything catches your eye just show up to one of the practices or drop them an email expressing your interest, they're always looking for newcomers to join.
Grab a couple of friends and hit the gym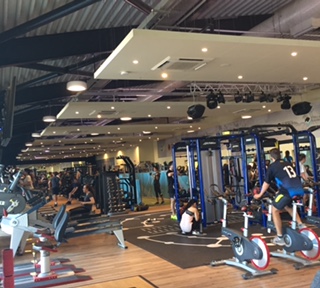 Seriously, and this is coming from a girl who back home only went to the gym around once a month (and this was only on a good month). Since I got here though, I've been going to the gym at least once a week and on a good week, I'd go around four times. Trust me, I am not an exercise girl, but I enjoy it a lot more when I go with friends. We support and encourage each other and I always end up having fun. I even recently just ran my first 5k, which five months ago I didn't think was possible but after only two months of consistently working out was not as bad as I thought it would be. If you don't want to buy a membership, you can always just book a class for around 5 pounds and just do that whenever you get bored or feel the need for some exercise.                                                         
Hit the town
You can take the bus to town from Surrey or you can walk there yourself (it's about a twenty-minute walk from campus). In town, you'll find so many different stores that you can shop in, from high end stores to more budget friendly stores. I typically go to Poundland when I'm in need of something for my apartment, everything in there is actually a pound. Not like the dollar stores back in the states, where everything is definitely above a dollar. There are also a lot of different food options, including a TGIF if you're feeling a little homesick. Personally, my friends and I tend to go to Wetherspoons (which everyone calls Spoons here) to grab a bite to eat, the food is pretty good and it's not expensive. After you eat, catch a movie at the local movie theater, the Odeon, in town. Bonus, you get a discount for being a student, just remember to bring your Surrey ID.
Party!
Last but definitely not least, let loose and go party. There is a club on campus, Rubix, which hosts parties every Wednesday (called Citrus) and Friday (called Flirt). Ticket prices are only a couple pounds and it's a great way to spend your night. If Rubix isn't your scene, try some of the clubs in town. Just make sure if you plan on taking the bus back that you know what time the last one leaves.