Hi everyone! It's Diana! Hope you all have had a lovely weekend.
I have just submitted my first assignment for this semester and I feel so relieved right now. In case you don't know, I am a Psychology student and I am currently in my second year. So if you have any questions about the course, please feel free to ask me.
This week is ThisGirlCan week, and the student union has arranged a couple of events to celebrate girl power! For those of you who are not familiar or have no idea what this is about, This Girl Can is a national campaign developed by Sport England and a wide range of partnership organisations. It is basically to celebrate girl's accomplishment in sports and their hard work and dedication!
You can find out more about the campaign here: This Girl Can: http://www.thisgirlcan.co.uk
This BUCS Girl Can – Surrey Sports Park

A couple of BUCS matches are taking place at the Surrey Sports Park on Wednesday (tomorrow). A lot of students compete both home and away every Wednesday, representing Team Surrey across the country so come along to this extra special week where we will be celebrating This Girl Can alongside our own successes.
The Bench Sports Bar will be open as usual so you can purchase food and drink whilst watching the matches! It's your opportunity to watch so many sports in one place! There will be photo booths, stamps and face paint too!
 Come along to Surrey Sports Park and watch fellow students partake in BUCS matches against other Universities on home ground.
Time: 12pm-7pm
Cost: Free
Venue: Surrey Sports Park
Source: https://www.facebook.com/events/200789690365202/ 
---

On Friday, the union has invited Emma from the Costless Crew to come in and talk about her experience in crossing the pacific ocean with her team. Embarking on an incredible journey, they travelled for 257 days, 8446 miles across the Pacific Ocean from California to Australia, without a Cox, and all to raise funds for Breast Cancer Care. They finally completed their journey in January earlier this year and arrived at Cairns.
Emma (one of the member) will be sharing about her trials and experiences during her voyage across the Pacific, she'll be explaining what it took for them to overcome their challenges, and how everyone can overcome their own with confidence and perseverance. Everyone is welcomed and there will also be a Q&A time for students to ask questions.
I know I am definitely going to this event!
Date: 11 November (Friday)
Time: 6:30pm- 7:30pm
Cost: Free
Venue: The Front Room
To learn more about the Coxless Crew and what their next project is: http://coxlesscrew.com
Source: https://www.facebook.com/events/236671013416718/
---

We are partnered with the Surrey Sports Park to organise a event for "This Girl Can" Week. On the evening of Saturday 12th November, Surrey Sports Park's doors will remain open after hours from 7pm – 9pm for all female Surrey students.
This is also a great opportunity for women of faith, as all sessions shall be run by female instructors only. Windows and doorways shall be covered so that the rooms are as private as they possibly can be. The main aim is to just have fun and feel confident whilst doing it. 
Sessions confirmed so far include activities such as self-defence by MMA & Karate, Marrow Society donations, Climbing Wall sessions, Swimming, exercises classes, Coppafeel society and much more!
It doesn't matter if you are not particularly interested in sports but it is about getting out of your comfort zone and trying something new. So I really encourage female students to participate and discover yourself!
Date: 12 November (Saturday)
Time: 7pm- 9pm
Cost: Free
Venue: Surrey Sports Park
Source: https://www.facebook.com/events/1289264027759160/
---

The Surrey International Women Society is holding a documentary screening this evening, as part of our efforts to raise awareness of the violence and disctimination against women. The society's aim is to to raise awareness for the mistreatment of women across the world.

The documentary they will be showing is "He Named Me Malala".
"He Named Me Malala" is an uplifting documentary based on a young girl's heroic battle for female education and empowerment. An outstanding tribute to the youngest ever Nobel Peace Prize winner, the documentary is a great contribution to the fight against female discrimination and suppression, through the struggles of the teenage girl Malala, who sparked international media attention and emerged as a leading campaigner for the rights of children and young people.
Date: 8 November 2016
Time: 6:30pm-9pm
Cost: Free
Venue: TB21
Source: https://www.facebook.com/events/1479491952064341/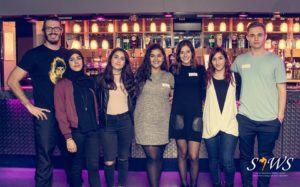 If you are also passionate about women's right and providing education for women, I would recommend you to join the Surrey International Women Society.
Check out their Facebook page and their events! https://www.facebook.com/SurreyInternationalWomensSociety/
---
As you can see, the student union is organising a range of different events to celebrate women's hard work and raise awareness for gender equality. We try our best to ensure that every student is happy and comfortable during their times here at the university by providing equal opportunities and eliminating discrimination. 🙂
Personally, I feel very privileged because I am able to pursue education in such a nice environment. And I am given a lot of opportunity to do the things that I like and to try other things as well. This semester, I took part in the Voluntary Research Assistant Scheme in Psychology and was able to work with current researchers on their projects and experiments. I have learnt a lot from the scheme and gained more experience in research. This is just one of the many examples of what the university can offer and how the university can support you throughout the academic years. No matter which course you are doing or which career you want to get into, there are many resources at the university that will help you to achieve your goals! This is one of the reason why I enjoy studying here. Can't believe it is second year already!
If you have any questions, please feel free to email me or leave a comment here! I will get back to you as soon as possible.
See you next time! 😉