Hi everyone! It's me, Diana! I have missed you all! 
I hope you all have had a lovely Christmas and New Year! And that you are keeping up with all your new year's resolutions! 😉
For me, I have decided that this year, I am going to be more punctual and try to manage my time more wisely! Oh, also I  have set myself a goal that I need to go to the gym at least 2 times per week. I know.. I know.. 2 times might not seem much but I am setting myself a realistic goal and trying to match my gym schedule with my timetable. I want it to become a habit first before forcing myself to go there everyday. Do you have any new year's resolution? Have you set any goals for yourself to achieve this year?  Leave a comment and share with me so we can motivate each other!
Also, I am very sorry 🙁 that I haven't been blogging a lot for the past two months… I was really busy with exams and work. But from now on I will be updating the blog everyone Monday and answering whatever questions you might have 🙂
So here is a long list of things that I did for Christmas, New Year's Eve and CNY:
I spent Christmas and New Year's Eve with my friends here in Guildford. I went to see my cousin in London before Christmas and we did some shopping together in Covent Garden which was really nice. If you are into trying different types of Asian food, I would definitely recommend this Vietnamese restaurant which I think is very reasonably priced and the food is really good.
Pho: http://www.phocafe.co.uk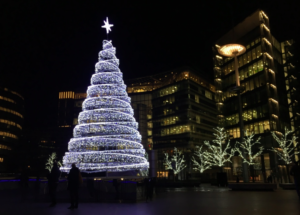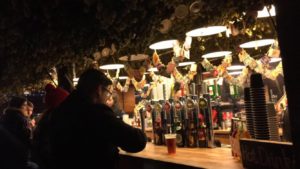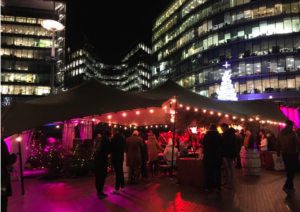 These photos are taken at the Christmas market by Tower Bridge! There were people selling foods, christmas decorations and paintings which are made by some local artists etc. There were also live band performances and music throughout the evening. I found it very enjoyable and festive! I think it would be a nice place to go with your friends, your love ones and your family.
On New Year's Eve, my friends and I had a cute get-together at their house. It was a really cute night. We played a few games and danced to the music. We had a good time! And then it all went downhill because of exams….. That was pretty stressful but I got through lol.
I had a reading week after my exams so I took the opportunity to go home to see my family and celebrate Chinese New Year with them! It was so good to be home after exams, it was nice to be able to spend some time with my family and not have to worry about assignments and exams. It was a really short stay but just enough for me to recharge and prepare myself for semester 2. How is semester 2 going so far for all of you? I hope it is going well.
My sister and I were trying to teach my 5 year old nephew some Chinese calligraphy, but my sister and I ended up writing most of them (mainly hers tbh). haha I hope you all have had a lovely time celebrating CNY and received lots of red packets!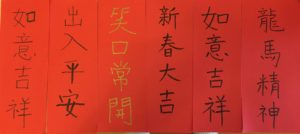 MindSoc was at Refreshers' Fair last Friday, we were so happy to meet new students and people who are interested in students' mental health and wellbeing.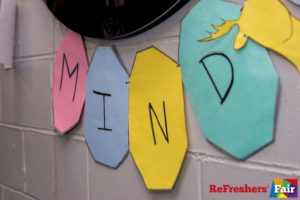 MindSoc is organising their first event for semester 2: The Big Quiz Night!
Put your brain to test at Mindsoc's Big Quiz night. Come along with friends or just turn up and join a team. Everyone is welcome! You will get the chance to meet and socialise with current members and meet the current committee team. You are also encouraged to ask us questions and share your thoughts with us! If quizzes are not your thing we will also have a selection of games for you to try out!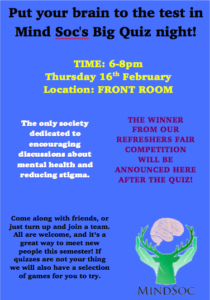 Event: https://www.facebook.com/events/1878360615773293/
I think this is it from me today. I have got so much going on at the moment but I will share them with y'all next time!
Have a good week!
Diana x