Hello everyone!
I figured that you have been reading an undergraduate's opinion most of the time. So, I had a chat with a postgraduate student and she has enthusiastically agreed to share some of her opinions about the university with you.
Meet my friend Reshma Asok Kumar.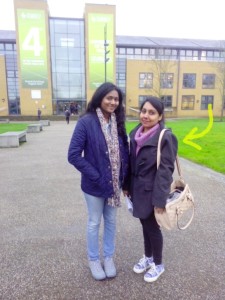 She is studying MSc Air Transport Management, which is a course about Airport operations and the aviation industry. She is originally from Kerala, India, but her family is settled in Dubai. After doing a short course in Coventry University while staying with her brother, (Coventry is a metropolitan city pretty much in the centre of England), she moved to Guildford to study at Surrey.
She lives off-campus about 2 miles from the university. Because she was late in applying for accommodation within the university, she was not able to secure a place. You may ask how she acquired a place to stay near the university, this was her reply…
"Initially I was disappointed because I wasn't able to receive an accommodation offer and hated myself for applying late…but when I visited the accommodation services at the University, they laid a couple of options before me to choose from and assisted me throughout the process. The university has partnered up with organizations outside the campus to help students who are refused accommodation inside the campus. I am now staying in a house with great facilities and the house lady is lovely, she even helps me to get my weekend shopping done. I travel to uni by bus with a bus pass purchased at the start of the academic year with student discount. The bus stop is where I met Tejasvi. We take the same bus at 8 in the morning."
Reshma's course consists of 8 modules and a dissertation to write towards the end of the course. Air Transport Fundamentals, Air Transport Market Analysis and Forecasting, Aviation E-Commerce, Aviation Finance, Airline Fleet Planning, Aviation Marketing Research, Airline Consultancy Project, Research Methods for Air Transport and Management are the modules she is studying.
"Lectures are usually conducted during the first week of the month, 9AM-5PM, and the remaining three weeks are for the dissertation preparation. So, I have finished learning my modules now, and have shifted focus to dissertation writing, which is considered to be the most important part of the course. Though I do not have plans for PhD, the university provides opportunities for acquiring PhD scholarships if the dissertation is exceptionally good, which I find quite fascinating! I have been allocated a supervisor/tutor for this year. He is extremely helpful and understands things for my point of view. The best part of having a supervisor is that they have a lot of contacts which will be very useful for my future career's networking opportunities."
Reshma says she is very content with the teaching even if she finds it stressful sometimes. She is particularly interested in the programmes conducted by guest speakers, people who have got hands-on experience in the Aviation industry. They give inspiring lectures and often talk about career prospects. These events are organized by the university's career service. Here's what she has to say about the life in surrey….
"My brother lives in London, so I wanted the university to be quite close to London. Also, the Guildford town centre is a really fun place to hang out with friends. Speaking of friends, my course contains students from different countries, rather like myself, and I would agree that Surrey is a truly international university. We often go together to the library to finish some studying because the ambience is great there. The library is so comfortable that I prefer the library to my own room when it comes to preparing for exams! There are a lot of fun societies to join and I wish I had more time."
Most of the students are involved in some kind of part-time job. So is Reshma. She was working for Homebase in Coventry and now she is working for Marks and spencer in the Guildford town centre. Her friends are also working part time and they find it easy to acquire a job within the town centre.
Reshma is putting her work together for dissertation submission which will take place during the first week of September for her course alongside preparing for exams in the last two modules.
Wish her luck!
P.S: The building in the above picture is called the Austin Pearce Building. It contains lecture theatres and IT Labs. It can almost be called 'The entrance into the university'!
Best regards,
Tejasvi