Hello!
I am happy to say that we've had almost a hundred students from India this September!
It amazing to see so many students and the campus is bubbling with energy on this beautiful sunny day! The feedback on the meet and greet service has been great so far! If anyone one of you is joining us next year, be sure to find out about the friendly and free airport pick up service organised by Surrey's International support team 🙂
Find out about it here:
http://www.surrey.ac.uk/pre_departure/meet_and_greet/
You will have to sign up for the programme online through the website, that's pretty much it.
All you have to do is fly to London. We'll take on from the airport, arrange a coach for all students and transport you to the campus, where you can collect your room keys and get settled in ~!
There are lots of support throughout your stay, but extra support during the moving in week, to make sure everyone's okay! 🙂
The International Orientation programme is for all International students starting now, and we had an amazing dinner, meeting new people and chatting to them about the life at Surrey!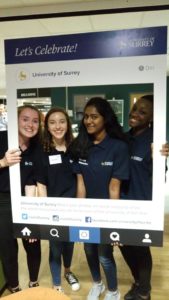 Thats all for now. Cheers
Tejasvi
If you have any questions about studying at Surrey, please feel free to 
email 
me —> india@surrey.ac.uk