Hi Guys. I'm Keerthana Ravi and I'm a postgraduate student here studying Msc International Tourism Management. I come from Andaman & Nicobar Islands in India, a beautiful and serene tourist destination. Although now this looks like an obvious choice of course for me, deciding to study tourism was an uphill task, considering I studied finance in undergraduate and worked in the same field for 3 whole years! Changing career, moving countries and stepping into unfamiliar territories – all in a span of one year has been eventful and somewhere amidst all that chaos, I'm glad I took that leap. Coming to the University of Surrey was comparatively an easier choice for me, given the excellent reputation of their school of Hospitality and Tourism Management coupled with other things like a beautiful campus, convenient location, comfortable and accessible accommodation and quality campus life.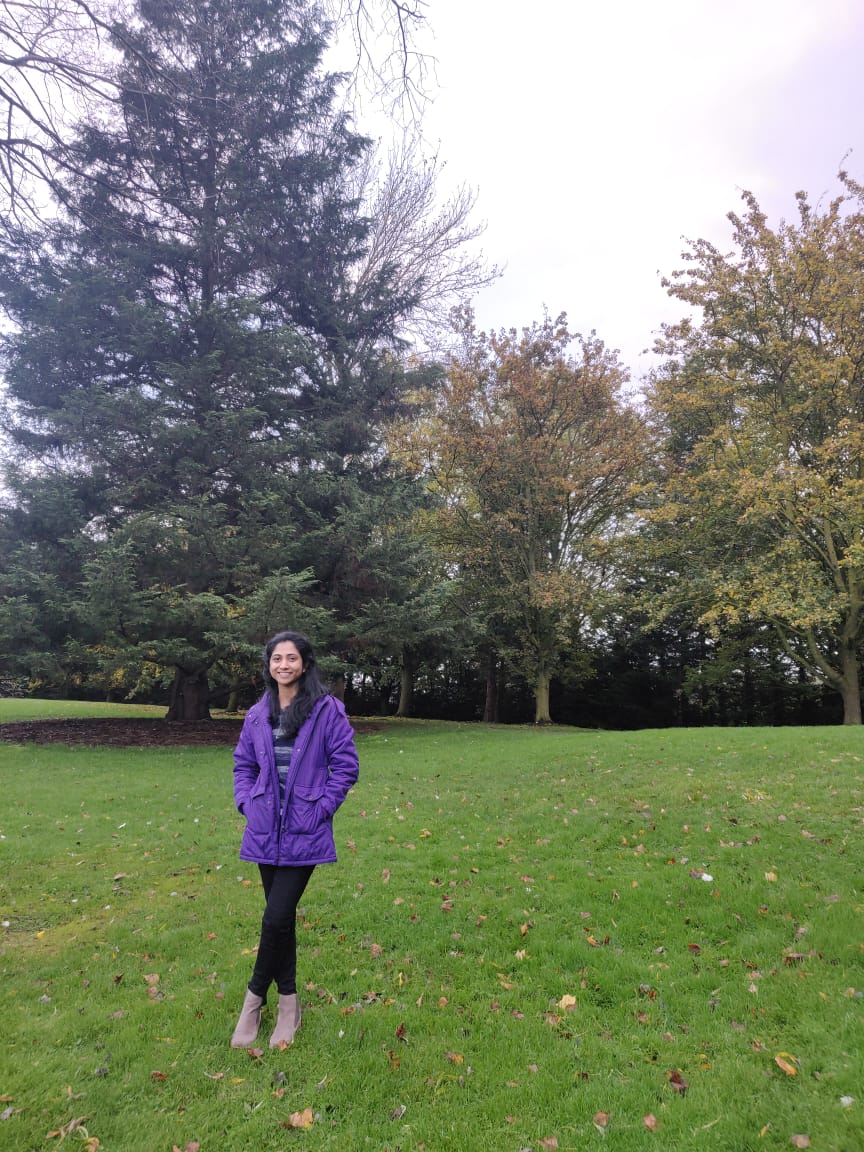 I stay at a Manor Park which is a 5-minute bus ride (20 mins walk) from the campus. Staying on campus has its perks (like being able to wake up 15 mins before class and still reach on time) but I rather prefer the privacy that comes with separation of academic and personal life. Oh and also my favorite part so far has been the Surrey Sports Park (a 5 min walk from my accommodation), a world class sports facility located near the Manor Park campus. I have always loved sports and it took me less than a minute of touring the facility to end up buying the membership. I guess I had subconsciously made that decision even before coming here :>. Though I haven't been regular to the gym yet (thanks to the cold), the facilities and classes here are amazing and there's something for everybody, from kickboxing and climbing to Pilates and yoga.
Coming from an Island, facing the famous British weather – rainy, sunny, windy within hours – has been an adventure so far :P. I'm already wrapped up in layers and they say winter is just approaching. On the hindsight, this is the first time I'm experiencing a season other than summer (credit to the Indian coastal weather) and despite the cold, autumn, with all its different shades has become my new favorite season. I'd be lying if I say I didn't miss the sun, sand and the sea. Even though I've lived away from home for quite some time, this is my first time in a different country. And what didn't happen in 9 years of hostel life in India has happened here in less than two months – I'm finally learning to cook!! and although there is still a long way to go, I guess that's the kind of independence studying abroad fosters in you. You always learn something new.
After two months here, Guildford now feels like home. Every time I return here after travelling, there's this strange sense of familiarity that I correlate with the feeling of home. All in all this has been the fastest two months of my life. From moving countries, calling a new city home to strangers becoming family, from stressing over assignments, running short of time to always finding reasons to party, it's been a whirlwind of sorts. I hope that through this blog, not only can I share a part of my journey with you, but also pause to reflect on all the memories I make here – the highs, the lows and more importantly everything in between.
Keer