We don't need to study Environmental Psychology to know how being in nature can help in many ways. One of the things that comes naturally to me after archery is hiking. Surrey is an amazing place for hikes. It is hilly and green which gives us many view-points, pleasing vistas and interesting trails. I had been looking forward to hiking since the time I moved back to the UK last October. I do not enjoy hiking alone, and nor in the winter and was looking to find somebody to go with. Hiking is fun and fairly easy and if you find somebody to go with, which I eventually did, it's worth hiking even in the winter. Here are a couple of places I explored in the last month with a few of my PhD mates.
1. Pewley Down, St. Marta's Hill, Chantry Woods
The first one was a familiar route. It's the most commonly hiked area in Guildford. I have been here a number of times and all during different seasons and varied weather conditions. It was the Pewley down – St Marta's church – Chantry Woods route. We talked as we walked and never realised doing 20k steps.
View from Chantry Woods

That's a nearby big town called Woking that managed to get all the sunshine that morning.
2. Box Hill
After piloting, we decided to go big! We went to Box Hill in Dorking which is around a 40-minute drive from Guildford. Alternatively, we could have taken a train to Dorking for 20 minutes and then another 20 minutes for a bus and walk up the hill.
The week before the Box Hill-Sunday, it rained, a LOT! And the temperatures had dropped quite a bit. Not sure if we intended to get there for sunrise or were just wanting to avoid other hikers, but we left Guildford quite early in the morning, arriving at Box Hill for about 7am right on time for the sunrise. It looked beautiful. I've never seen a sunrise in the winter anywhere in the UK. Surprisingly, the Sundays we choose to go hiking are somewhat sunny and clear (Look below for the sunrise shot from that morning).
Box Hill has many trails which are signposted well I'd say. But for some reason, we went off route and away from Box Hill briefly slipping into a National Trail stretching between Farnham and Dover called the North Downs Way. After a bit of uphill and downhill paths, slips and falls, snack and viewpoint breaks, we decided to go back to Boxhill reception for a coffee and maybe start a real trail. We wanted to do the Stepping Stones Trail as we had seen some pictures of it online earlier in the week. But because it rained a lot, the water level had risen and the stones were submerged. It was mildly disappointing to have climbed down 270 weird, uneven, large, slippery steps only to stand by the side of the submerged stones and wave at the hikers on the other side. But by this time there were many people, kids and dogs and it was nice chatting with some of them as we struggled to climb back up.
Frosty and Crunchy landscpe

What is that lighting!
I call it the Narnia Point

Nice and Sunny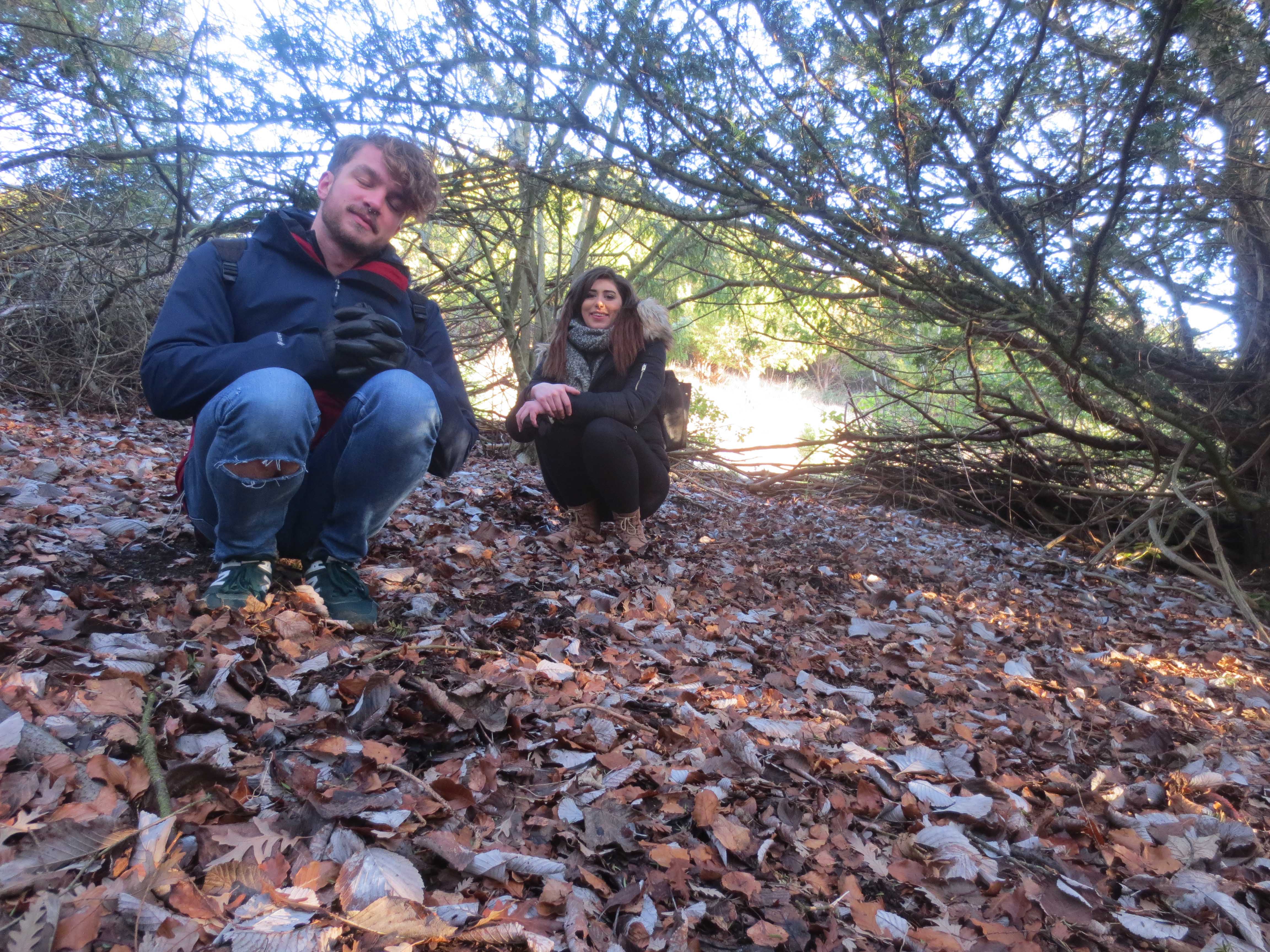 It took me half a day to scrub the mud off my boots that week BTW but it was worth it!
3. Leith Hill
The next adventure on the list was Leith Hill. It is the highest point in south-east England, also close to Dorking. Again, we drove down to the nearest car park and climbed up the hill. At the top of the hill was The Leith Hill Tower and being at the top of the tower means you are higher than The Shard in London. And if the sky is clear, you can view the Wembley arch, London Eye, Canary Wharf, Gatwick airport and much more.
Owing to Leith Hill's altitude and terrain, we did steeper climbs this time. My eyes were drawn much towards the colour scheme of the view of the hills. The short and dried red ferns almost looked like a carpet on ground from far and the green trees sticking out of the ground created a contrasting but stunning scene. And as goes with all of our hikes, we chatted, snacked, got lost, greeted strangers, admired active families, hid from horses, made way for bikers, pet some dogs, and more importantly, stopped to be in nature often and had coffee. There was also a little bit of a car getting stuck in the mud, but all was well in the end.
Leith Hill tower

Foggy weather in the morning
The Landscape was a combination of bright green moss, red dried ferns and green trees ..

..an odd and unfamiliar combination but a pleasing sight overall
Servery at the bottom of the tower

not so foggy view from the tower
Ended up in a little town by not sticking to the trail

and a pre-planned walk to this beautiful little waterfall
For somebody who is usually not a-morning-person, hiking has surprisingly got me getting up at about 6am and spending all my morning and noon at the hills. I look forward to many more adventures to come!