Hola Amigos, how is it going? Ever since I mentioned that I am doing a master's in data science, I have been receiving lots of questions regarding the course. Being one of the most popular courses among us Indians it seems only fair that I write about it. So masters in Data Science at Surrey can be a one year course or a two year course integrated with a professional postgraduate training year. First year is purely academic meaning you learn the various modules, submit assignments and course works, write exams, pretty much like what you did all those years back. For those with a placement year, you got to find a placement with an organisation and you start working with them during your second year. You would still be a student at the university meaning all the facilities and support would be there for you. As I am a February starter, I am currently in my second semester and would do semester one in September. We have 4 modules per semester that comprises of both core and elective modules. Check out this link for the details of all the modules you will be studying during your course: https://www.surrey.ac.uk/postgraduate/data-science-msc#structure.
Due to the current pandemic situation, our teaching for this semester has been what is called a "hybrid learning" model. This is a mixture of face-to-face and online learning. We have labs, lectures, and tutorials for our modules. Labs would be on campus. In the current situation labs are the best place to meet your classmates, make sure to follow the social distancing rules though. However, we did have the option of attending them online too. One of the perks of being a computer science student is that you can always attend labs and tutorials from your room 😉 all you need to do is download the software and start coding. Python and R are the key programming languages required for a Data Scientist. Almost all of our modules are based on these two languages. So if you plan on becoming a future Data Scientist, I suggest you brush up your Python and R skills. Trust me a little bit of background in these 2 languages can make your uni days a lot easier. Now this is where you might be having a question of "OMG, I have no background in coding, is data science really for me?" Well, I have classmates that come from a variety of educational background. Some of them are from statistics, maths, electronics, electrical and lots more. You don't necessarily have to be from computer science to pursue Data Science. Besides, python and R are easy to learn compared to other programming languages. Next comes the tutorials, well tutorials are hours designated for questions and to clear your doubts on topics covered in the lectures. For some modules this could also involve solving questions related to the concepts covered in lectures. Do not worry if you can't solve a task from tutorials or labs, solutions would be provided to you after each of these sessions, so that you can always make sure you got it right. Finally lectures, well we all know what those are. In hybrid model, lectures would be online. This means that recorded videos would be uploaded on Surrey Learn. Surrey Learn is your official learning platform, where you can view your course materials, upload assignments, etc. While we did miss the old-fashioned lecture halls and hour-long lectures, online lectures do have their own benefits. You could always watch a lecture whenever you have the time for it, early morning, or late night, you get to decide when to learn. You could always pause the lectures, grab a cup of coffee, go for a walk, and come back to them whenever you want. You can also binge watch them at the weekends 😉 which I highly DO NOT recommend by the way.
Course works and assessments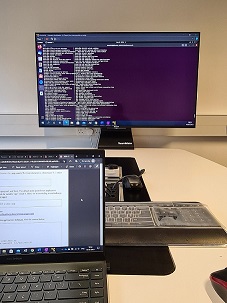 Here comes every student's nightmare. Well, you cannot get away from those as long as you are a student. Course works could be group or individual. This semester we had 2 group course works for 2 of our modules, 1 individual coursework for 1 module and 1 individual coursework along with an exam for the last module. Sounds hectic? That's because it pretty much is. Course works are designed in such way that they closely resemble to real world problems. Though this might be challenging (might be? who am I kidding, it is challenging), but this is also the fun part of the course. Maybe not so much of a fun like a night out, but still. Once you complete them, they give you this sense of confidence and satisfaction like "Wow, I did this, how hard is the next thing going to be?". This kind of makes you ready to face the industry. Besides, you always have your professors to help you. Make sure you ask them anything and everything. Doesn't matter how silly your doubts may seem, they are always ready to help. Take a look at the faculties in the Department of Computer Science here: https://www.surrey.ac.uk/department-computer-science/people/academic-staff . Read about them and you will be inspired to be one of their students 😊.
Placements
Finally, we are here, this is the part where every new student has tons of questions. Placements in UK universities are a bit different from what they are back in India. When most people hear placements, they think about companies hiring directly from campuses. Campus interviews and that sort of thing. It's a bit different in this country. At Surrey, we have a placement support team that would guide you and support you throughout your application process. They support you with tips, cv, cover letter, and LinkedIn checks. There are also options for mock interviews and one-to-one sessions where you can discuss any issues or queries you have regarding your placements. We also have our dedicated job search portal called "Surrey Pathfinder". You can find opportunities for placements, part-time jobs, vacation jobs, internships, and lots more. Companies and organisations advertise their openings in the portal. You are responsible for tailoring your application, resume and cover letter for each of the jobs that you find interesting. But remember, the placement team is always there to support you throughout the process.
Well, this blog just got a lot bigger than I imagined. But I hope this answer most of your queries regarding Data Science at Surrey. If you have any more queries regarding Data Science or any other course, please do reach us on india@surrey.ac.uk. Now, I need to catch up with my course works. Its almost the end of the semester, so have lots of deadlines coming up. Keep an eye out for my next blogs.