So, you finally soaked in that London skyline from your flight window and also managed to get over the jitters in your stomach. You are excited, but with a hundred different questions in your mind. But topping all of that is the feeling of achieving your dream. Finally! What if I tell you that I felt the same thing when I landed at Heathrow airport on the 14th of September, 2022? I could feel the chilly air as I stepped out of my flight. Most of us here already felt something similar, but for the ones who are yet to experience this, trust me, it's going to be fantastic!
Hi, I am Garima, a postgraduate student here at the University of Surrey pursuing an MSc in Investment Management and I am the newest International Student Ambassador on the team.  For my first blog, I want to share with you everything you can expect after you deboard, what was most likely a long flight. These are some things I wish I knew.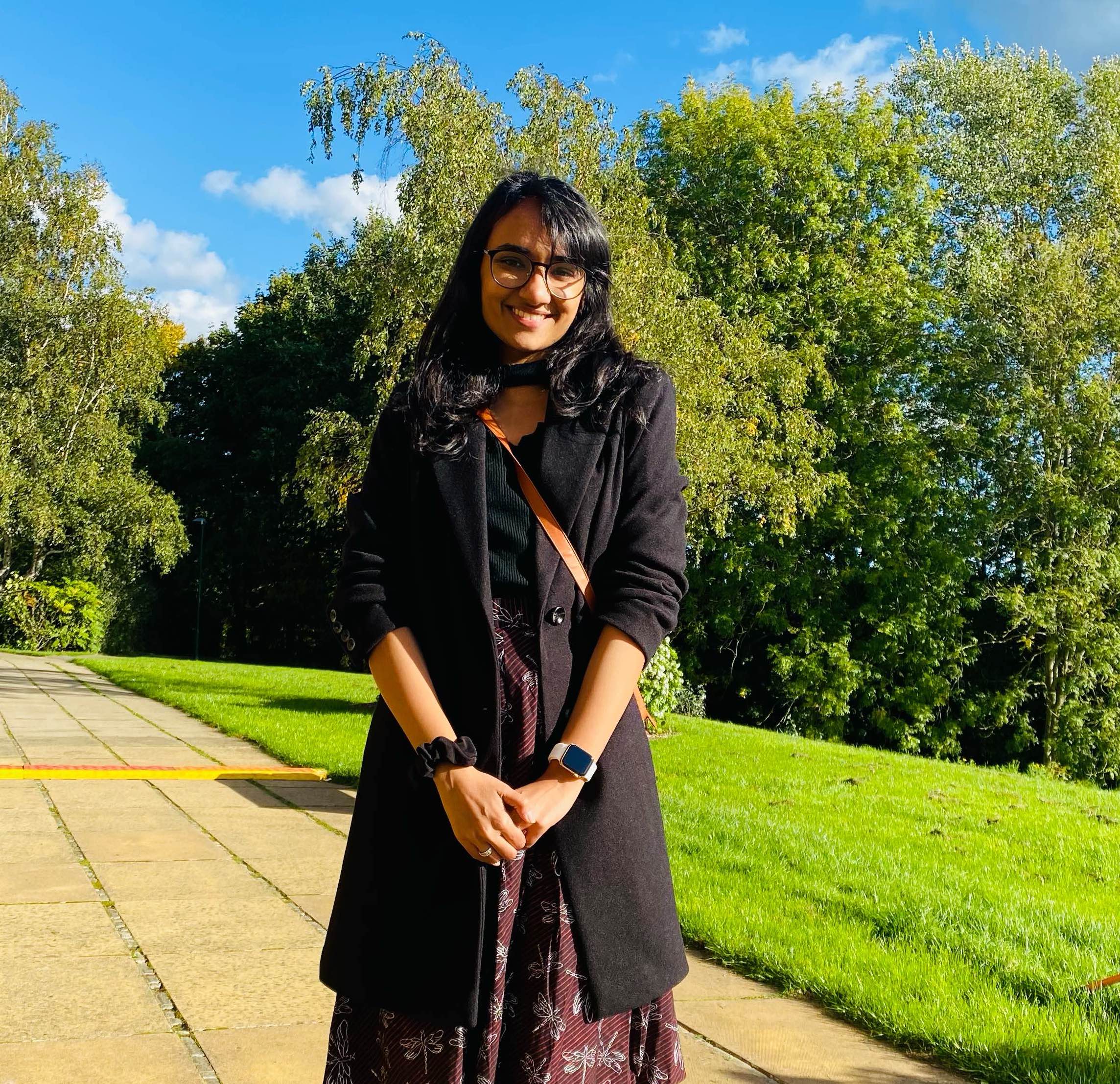 Immigration
Now, if you are one of the lucky ones, your immigration will be free of any hassle or delays. But, if lady luck is not with you, it's going to be a wild ride! Like me, who was stuck for four long hours! Brutal, I know. If you find yourself in this situation, here are some tips for you. Make sure you carry water and snacks in your hand luggage. This will come in handy during your wait. Make sure your phones are charged or carry a power bank. The last thing you want is to be stuck with no means to contact anyone. And lastly, but most importantly, make new friends. This might not feel like the ideal situation to do so, after all, you just completed a long journey and are probably frustrated with the mile-long queue but more than likely, the person standing ahead of you would be feeling the same. Say hello, and make a conversation, they might be a university student just like you.
Get your hoodies on
London can get quite chilly, especially if you are travelling from a tropical part of the world. Make sure you have a warm jacket and a scarf handy when you land at the airport. The weather can be a drastic change and the last thing you want is to fall sick right before freshers' week.
Making your way to the university
To make things easier, the university arranges a meet-and-greet service on selected days for all international students. Keep a close eye on the university website to find these days. Ideally, it should be published a few months ahead of your semester start date. I would strongly suggest planning your travel around these dates. It would be wise to make sure your flight lands at least five to six hours before the final meet and greet slot, just to make sure you don't miss the last bus in case you get stuck at immigration (like I did). If you are arriving on any other dates, or if unfortunately, you miss the bus, don't worry! There are other ways you can reach the university.
If you have less luggage, opt for RailAir bus services. You can board the bus from the bus stop at the airport and will be dropped off at Guildford station. The best way from the station would be an Uber, it will take you less than five minutes to reach the university from Guildford station.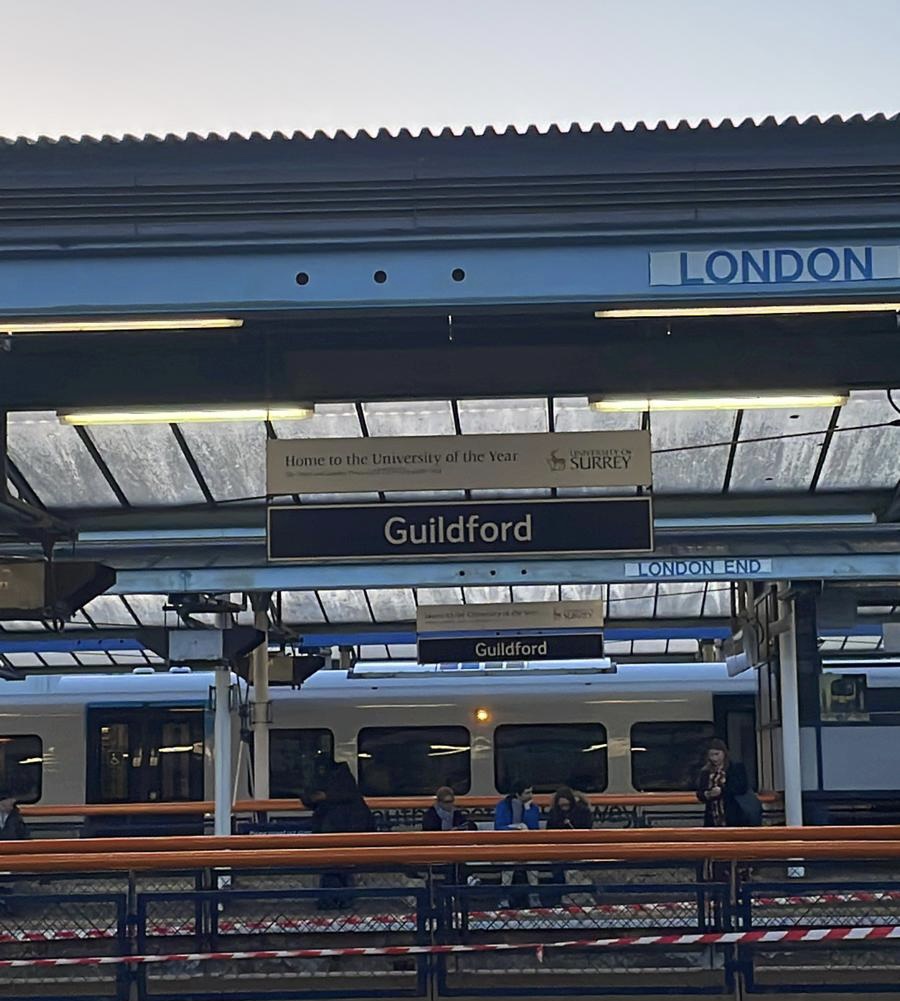 If you have more luggage, the second option you have is to get an uber from the airport. This will be a 30-minute car ride to the university and will cost you approximately 80 pounds. But before you decide to book one, there are a few things to keep in mind. Firstly, for your Uber app to work, you need to change your location on Appstore/play store to the UK, then reinstall the app. Secondly, keep in mind that Uber won't accept cash payments and you will have to register your card on the app. Folks carrying a forex card must know that it won't work on the app. So if you plan on booking an uber for yourself, make sure you have the right debit/credit card that works on the app.
If these ways don't work, your last resort will be to get a local taxi from outside the airport. But note that this will cost you a whopping 100 pounds but they accept cash, so I would highly suggest you carpool. Remember the new friend you made while in the immigration queue? Ask them if they are in a similar situation and if they can and would like to carpool with you.
Getting your room keys
If you are staying on campus and are not sure where the key-collection centre is or if you are arriving late at night, make your way to the stag hill reception. If you are arriving by the meet and greet bus, you will be dropped off here and for those who have taken a cab, make sure your destination is set as the stag hill reception. No worries, the staff here is extremely friendly and will hand you your keys after verifying your university letter and accommodation confirmation letter. The amazing international team will drop you to your accommodation if your allocated accommodation is on the stag hill campus.
Once you are in your room sit down, take a deep breath and relax. You made it! Soak in the feel of your new room, this is going to be your new home. Get some much-needed rest and plan a trip to Tesco the next day to get your groceries or even better, take the day off and explore the beautiful campus.
Know that any inconvenience or confusion on your way here can be solved by just ringing up one of our representatives. The university does provide a helpline just for you, isn't that a relief?
I hope this helps you feel more prepared to make this massive life change.
You will be seeing more such content from me in the coming months and I am so excited to be a part of this journey with you.