こんにちは。先週の話題になりますが、強力な台風が日本を直撃してすごい被害が出たというニュースをちらりと目にしました。日本にいる方、無事でしょうか。ここ最近のイギリスの天気はとても平和で、今日(昨日)も晴れて雨が降って晴れて雨が降って……を繰り返していました。
そんな今日は先週の続きでPlacement Yearのことを書こう、と思ったのですが、Placement先の企業に掲載の許可をもらうということを失念していました……(汗)
なので代わりに、最近の出来事をいくつか書いていこうと思います。
Hello. I hope everyone is doing alright. I've heard a strong typhoon attacked Japan last weekend, and it left a significant damage on every part of Japan…. Here in Guildford, the weather is, I think, relatively calm. Today (yesterday), there was a nice sunshine at 13:00, but then it suddenly started raining at 13:05. The sky got back to be sunny at 13:30 till 15:00, and grey cloud covered the sky and brought rain from 15:00. This is a typical UK weather I feel?
And today…I still remember last week I said that I would write about my placement experience. But I have forgotten to ask my placement organisation for a permission to write it here. So I now decided to write about some events happened recently for today instead.
1. Freshers' Fair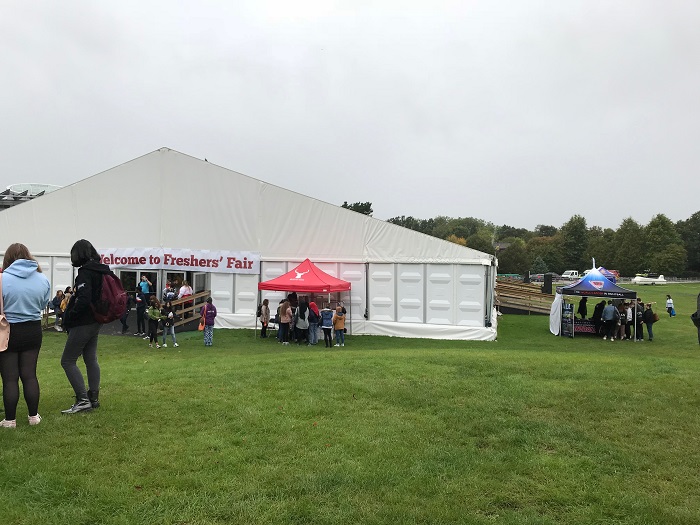 「最近」というには少し無理があるかもしれません……が、今年は10月4日にFreshers' Fairがありました! "Society"(サークル)や運動クラブ、その他色々な団体が机を出しています。Societyの一覧はStudents' Unionのページで見られますが、気になったSocietyが実際どんな雰囲気なのかを見る良いチャンスです。(とは言えすべてのSocietyがテーブルを出しているわけでもないので注意)
サリーでは毎年、Academic Weekの始まる前の週の金曜日にこのFreshers' Fairがあります。
It might be a bit hard to say "this is a recent event", but Surrey had a large event called "Freshers' Fair" on 4th October. Many societies, sports clubs and other groups promoted themselves in a big tent. Although you could see what societies are in Surrey on the Students' Union Webpage, it's still a good opportunity to see the atmosphere of the societies (although to add, not all the societies are having table there.) Freshers' Fair usually happens on Friday of Surrey Academic Week 0 (one week before the actual lectures start).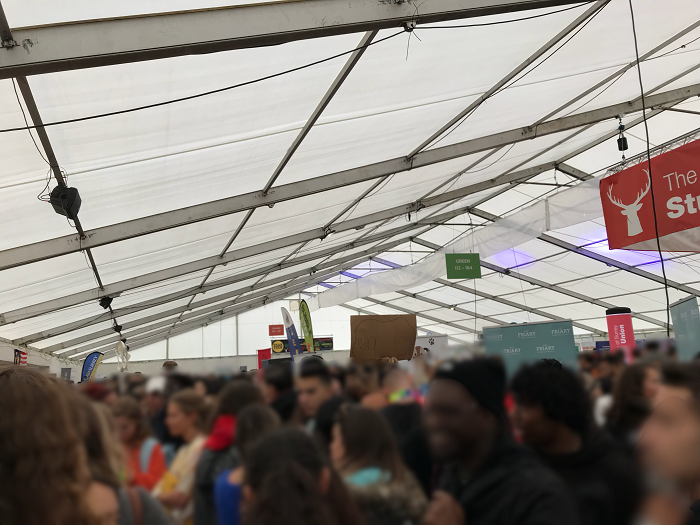 たくさんの人! 賑わっています。
There were so many people!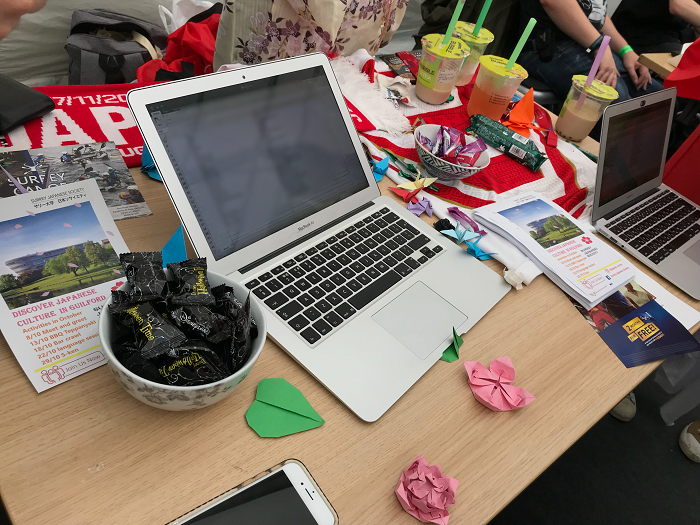 ジャパソ(Japanese Society)!
今年は新しい日本人はあまり見ていない……といったような話は聞きましたが、私がPlacementでいなかった去年も、それから今年も、アクティブに活動しているようです。 サリーに入学した際にはぜひFreshers' Fairに行ってみてください! Foundationの生徒ももちろん入れます。
Here is Japanese Society table! Although I am not in the committee anymore, I am happy to see they are very active and are planning to have many events, since I know this society since it was ratified…
So visit Freshers' Fair and probably Japanese society when you come to Surrey as a student! (promotion)
2. London!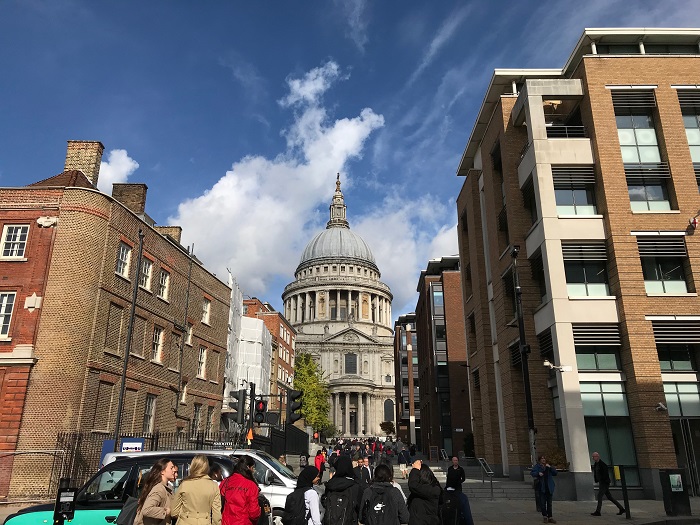 先週の水曜日、ひとりでロンドンに行ってきました。1年数カ月ぶりです。ロンドンは大好きなのでこの地に降り立つだけで嬉しい。というのとこの日は比較的晴れていて幸運でした。
この日の目的はシェイクスピア。Placementで日本にいる間にシェイクスピアのファンになってしまい、いまでは寮の部屋をハムレットで飾らないと落ち着かないほどに。(日本からこっちに来るときの荷物を割と圧迫した)(ロシア語のものは飛行機のトランスファーの時に購入)(英国文学で言うとあと新アラビア夜話も好きになったのですがそれは省略)
Last Wednesday, I went to London alone for the first time in 1 year and few months! I love London so much. Luckily, it was sunny on the day.
The purpose of the visit on that day was Shakespeare. I became a fan of Shakespeare while I was in Japan for placement, and now I feel uncomfortable if I do not have these Shakespeare's works nearby. (And these books occupied a large part of my suitcase when I was coming back to the UK!!!) (Even the Russian version was added during the transfer.)(Anyway.)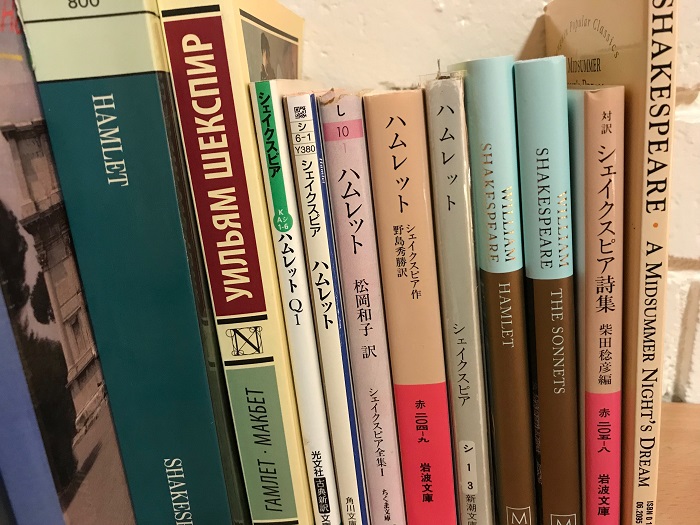 レスタースクエアのシェイクスピアさん!(下) ロンドンにシェイクスピアはたくさんいるとのことで、この日は「Caxton Hall」「レスタースクエア」「ナショナル・ポートレート・ギャラリー」「現JP Morganの建物(旧City of London School校舎)」辺りでお会いしてきました。(残念ながらウェストミンスター寺院の中までは行きませんでした)
This is the statue of Shakespeare in Leicester Square! I've heard there are many Shakespeare"s" in London, and I visited him at Caxton Hall, Leicester Square, National Portrait Gallery, and old City of London School building (now JP Morgan is there) on that day. Unfortunately, I did not go in Westminster Abbey.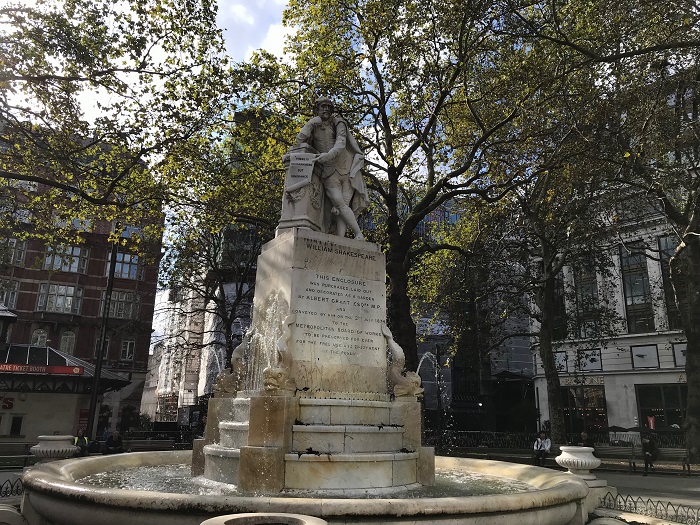 そして、Shakespeare's Globeで「夏の夜の夢(A Midsummer Night's Dream)」を見ました!
And I saw a play of "A midsummer Night's Dream" at Shakespeare's Globe!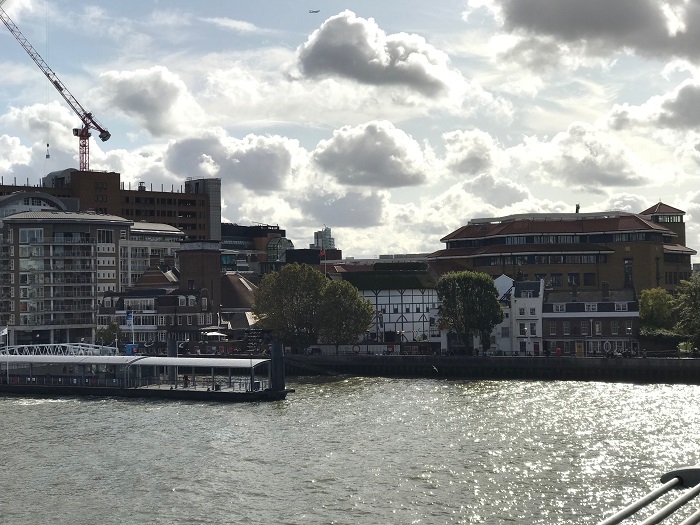 素晴らしかったです!! 最初はどうなるのかなとそわそわしていた(英語での劇が初めてだったというのと、そもそも劇自体を見るのが小学校の社会科見学振りということもあって……)ものの、本当に楽しかった。セリフはほぼほぼシェイクスピアの台本に沿っていて、でもモダンな要素も劇のなかにあるというか……現代の感覚でも親しみやすい&楽しめるようになっていました。劇って見て楽しいものなんだ! というのをとても実感しました。チケットは席によって値段が違い、私のチケットは一番安い"Yard"チケット……円形シアターの真ん中のスペース、部隊の目の前の立見席のチケットでしたが、それが£5 + オンライン予約料£2.5 = 合計£7.5でした。見終わってから「これしか払ってない……」と思ってしまった。そのくらいすごかったです。もう一度見たい。
It was amasing!! Actually, before the play, I was a bit nervous because it was the first play for me to see in English, but once it started, I really really enjoyed watching it! While the words of the characters were mostly following Shakespeare's English, there were some modernised parts as well, which made me easy to enjoy the play with a modern sense. The ticket price was based on the place of the seat; mine was the cheapest one, "Yard" ticket, which was the ticket for standing in front of the stage! It only costed me £5 + transaction fee £2.5 = £7.5. I was like "I saw such a wonderful play but I only paid this amount..!" after watching it. It was amasing.
◆16-25 Railcard◆
シェイクスピアの話ばかり書きすぎてしまったので、ロンドン旅行に絡めてもう少し実用的な内容を……。ギルフォードからロンドンに行くにはほぼほぼ電車National Railを使うことになるかと思いますが、遠くにたくさん行く! という方におすすめの割引カードがこの「16-25 Railcard」。16~25歳の学生が取得できる割引です。
1年間のものが£30、3年間のものが£70で、このカードがあればNational Railのチケットは1/3割引になります。ロンドンまでの通常の料金は、Anytimeの往復が£26.20、Off-Peak(朝10時以降Waterlooにつく)の往復が£21.30、Super Off-Peak(昼の12時以降にWaterlooにつく)の往復が£16.70。(週末のOff-Peakはまた少し違ったりするらしい。というのはともかく、)Railcardがあればそれぞれ£17.30、£14.05、£11.05です。たくさん色んな場所に行くという方は元が取れるのでぜひ。購入はオンラインでできます。パスポート情報などを入力したような何年も前の記憶。窓口や電話での購入もできるよう。 "Three easy ways to buy" のページ参照です。
I think I have written a lot about Shakespeare (hope anyone is interested in it though), so now I will write something practical. Relating to the London travel, "16-25 Railcard" is a nice discount card to recommend for 16-25 years old students who travel around the UK.
The "1 Year 16-25 Railcard" costs £30 and "3 Year 16-25 Railcard" costs £70, but you will get 1/3 discount for every travel using National Rail. The original price from Guildford to London: Anytime return is £26.20; Off-Peak (arriving at Waterloo after 10:00) return is £21.30; Super Off-Peak (arriving at Waterloo after 12:00) return is £16.70. (The weekend Off-Peak system is slightly different though.) And with this 16-25 Railcard, the price of the rail ticket will be £17.30, £14.05, and £11.05 respectively. You could buy 16-25 Railcard through online. Or there are also options to order one at a station or by phone, according to the webpage.
それでは、サリーに来ることを考えている方、聞いておきたいことがある方、sy00230@surrey.ac.ukまでお気軽にお問合せくださいませ。(中身が私なので役に立つかは大分怪しいですが……。) 本日もここまで読んでいただきありがとうございました!
Thank you for reading!