After spending two days in Guildford my mother and I took a trip to London. Before she arrived, we bought a two-together railcard which saved us about £13 pounds on the journey to London, if my memory serves me right. We got off the train at the Victoria station and then took a taxi to the hotel we were staying at because we thought it would be a better idea than going on the underground with all our luggage. Unfortunately, we were terribly wrong. It ended up taking significantly longer and costing significantly more than the underground would have.
After getting to the hotel we started planning what we would do that day. My mother was very eager to hit as many tourist spots as humanly possible but given how big and busy London is we had to figure out the most optimal day to divide them into 3 days.
Our first stop that day was Borough's market. I had heard very little about it before we got there, mainly that my mother was very eager to go because she saw some fruit tart pictures online and she wanted to try them and that my girlfriend said it was probably the most interesting place she'd been to even though it was very overwhelmed and she had no idea if it would be the same since she went before it burned down. We took the underground there (and bought oyster cards at the station because I forgot to get some beforehand). We got off at the London Bridge station and it was roughly a 5 minute walk until we found it. The market was way bigger than I expected and even though we tried to go through it all in an organized way and then decide what to eat, over an hour later we still hadn't covered even half the market and we got lost trying to find the things we were interested on. We ended up sharing a Greek wrap and an Italian sandwich and buying some Turkish delight for dessert, yogurt smoothies for later and some fig balls for my father. We got lost on the way out and ran into a Mexican restaurant which we hope to try next time my mother visits (though she questions its authenticity since it said "Tacos el Pastor" rather than "Tacos al Pastor").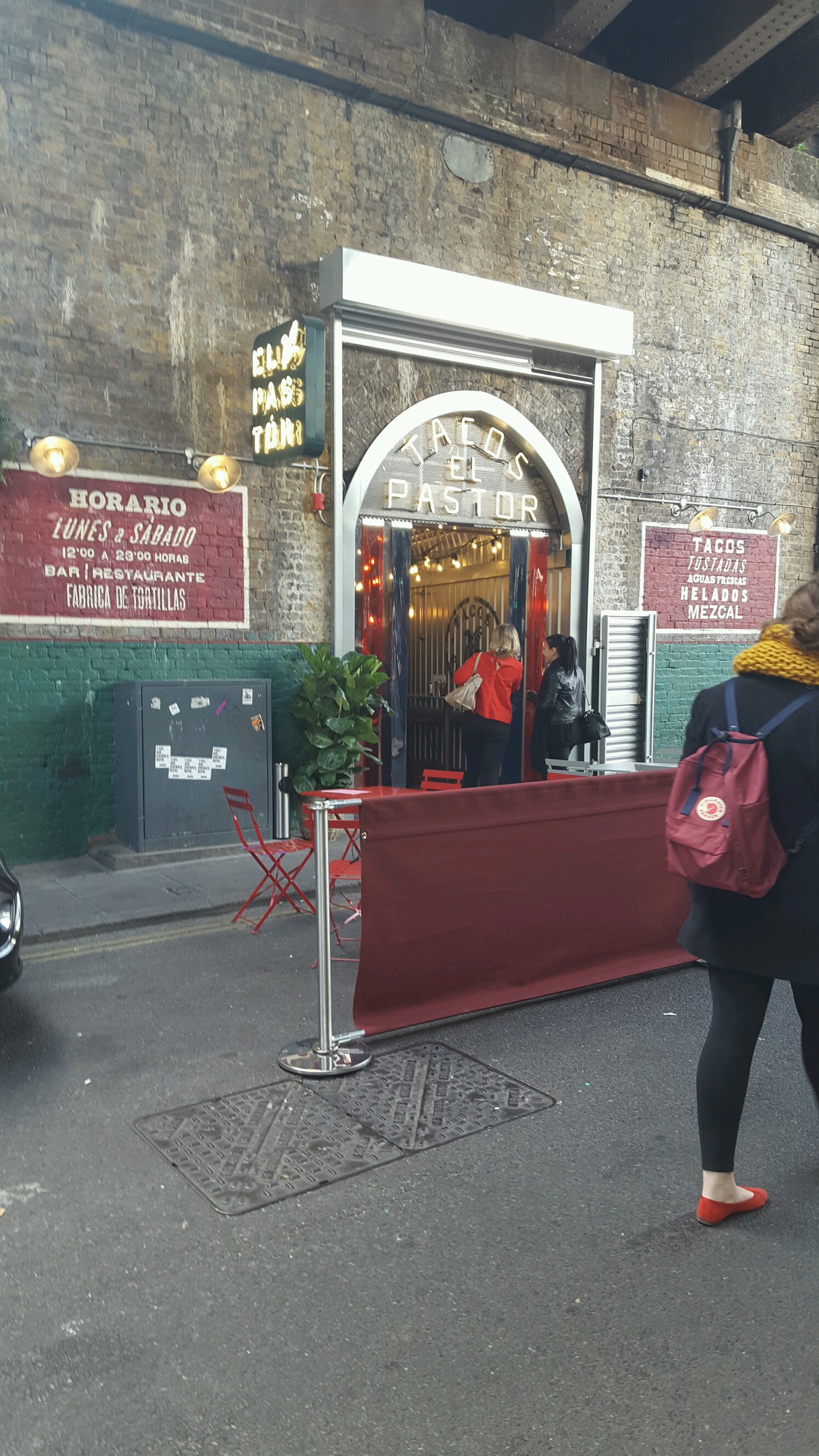 Over three hours after we got to the London Bridge station we decided to head to St. Paul's Cathedral, leaving about half the market unseen and the fruit tarts unfound. Once we got there we were told we couldn't enter (maybe we should have better planned the trip there). Since my mother really wanted to see it and there were lots of people sitting on the steps we decided to wait some time and see what happened. Luckily about 10 minutes after we arrived the doors opened for people who wanted to attend the evensong. We got the chance to look around the cathedral and light up candles. We decided to not stay for the evensong since it was getting late and we still had to go back to the hotel and decide what we were having for dinner but we later regretted that choice. For dinner we got some sandwiches from Au Bon Pain and some pastries from a French bakery called Paul's.
The next post I'll talk about our visit to Cambridge and then about the last two days we spent in London.