Hi! I'm finally back after another unplanned hiatus, it kinda feels like lately all my posts are big catch ups with promises to blog consistently but hopefully this time it will actually happen! Since my last post I finished my summer research project (or I guess, the time for the project ended, you can't really "finish" research with such a short timeframe and from my experiences so far research projects always lead to more questions than answers so I'm not really sure you can finish research at all), I went to Gendered Intelligence's super camp which was amazing, I spent a week working as a cleaning assistant at Manor Park to help get the accommodation ready for students to move in, my mother visited and we finally went to the British library (and Foyles, can't go to London without making a stop at Foyles) and then spent a few days in Madrid, I had an appointment with the Gender Clinic and was finally approved for top surgery, I started anxiety medication, I started biking and the new semester started! I will dedicate a full post to some of the things I mentioned and cover the rest of them in this post.
Trans Super Camp
There is an organisation called Gendered Intelligence that does a lot of training on gender related things and runs monthly support groups for young trans people, but they also run yearly camping trips. This year they had two trips, one for minors and one for people 18-25 (which is the one I attended). At camp there were lots of staff members and campers, amounting to around 220 trans people, what they claim is the biggest trans only event in the UK. We got a lot of information about the camp before arriving but I was still fairly scared and unsure about what to expect. When I arrived I had to check in, I was given a blue lanyard to write my name on (since I was in the blue village, the camp was divided into blue pink and purple villages), some information leaflets and I had to sign some forms and give my emergency contact etc. They did ask for my legal name on the forms and I had to provide a form of ID but that was the only time in the entire week that I needed to use either of those things. After that I had to drop off my medication to the meds team and I was lead to my hamlet (each village was divided into smaller groups which were the hamlets). There the hamlet leader gave me my tent and someone else helped me put it up. We had a big welcome campfire followed by dinner and I decided to go to sleep early. The next two days were full of workshops and activities, I spent my whole afternoons doing archery and climbing and in the mornings I read, talked to people and participated in a zine making workshop. We always had dinner with our villages and a campfire where we got information about the next day and we all had a chance to share our feelings and whatever else we wanted. The last day was a bit different, there weren't any workshops or sports going on in the morning, I spent most of that time with my hamlet working on our hamlet project – each hamlet got 3 minutes at a camp-wide campfire to present whatever they wanted to represent their time at camp, what we did was that with help from the DIY squad we built a bench, then we put our hand prints at the base and each attached a stick with our names on the back which we tied all together and we left the bench at the campsite so that a part of us could stay there and be together and we sang This Is Me from the greatest showman. We also had to do affirmations for the people at camp – just write a piece of paper saying something nice about people so that they could look at it whenever they were feeling low, we all got an envelope with them at the end of camp. We had a barbeque, the big campfire and dinner. Then the last day we had to be up early, have breakfast and be all packed up by 9am (or 10? It's been a while I don't remember) and then we had a hamlet circle where we all shared how we felt about camp and going back to our normal lives. I guess the activities might not sound like much but it was an amazing experience for me, everyone was really kind and went out of their way to make conversation, get to know people and everyone was really understanding, not everyone talked about trans related things but there was still a feeling that everyone knew and understood and that we belonged and fit in. The staff members were also really nice, some of them (including my hamlet leader) were trained on mental health, there were also listeners and lots of support available for people who needed it and I guess it kind of felt like living in an ideal world for a few days (though electricity and a bed would have been nice additions 😛 ) and it changed my life for the better, the world can often feel like a hostile unwelcoming place, now I know that there's a place that isn't like that and I can go back, plus I'd never been around so many trans people, it was really weird in a good way. Plus, I discovered biscoff spread! I have been having it with bananas basically nonstop since being at camp.
British Library and Madrid
About two weeks ago my mother came to visit again, the first day she was here we ate pasties and biked around the lake near where I live in Woking and she had her first roast dinner ever, the second day she was here we went up to London, we stopped by Foyles which was awesome as usual (I didn't buy anything but I fell in love with at least 10 books and a lunchbox that is shaped like a book, it was really cute!) and then we went to a public tour at the British Library. To be honest I was a bit disappointed at first, I was expecting something similar to the tour of the Bodleian: lots of books and bookcases and the strong feeling of wonder that comes along with that, but it was nice to get an insight on how the library works. Basically, if you want to read a book from their collection you have to register as a reader, which involves showing a proof of address and proof of identity along with a face to face interview. Once you get a library card you can go on their online catalogue and request a book, the request then gets processed, sent to the closest post so that your book can be fetched (by a human) and then placed on trays to be delivered to the right reading room where you can read your book. The books are shelved based on the size to be able to fit as many book as possible and the reading rooms are subject specific so that the librarians can help you out with subject specific questions. The British library gets one copy of every single book published in the UK, but they also have different country teams where the librarians are in charge of deciding which books to buy to add to the collection. The budget per country depends on size and how many books they produce but in any case it sounds like the perfect job, being given a ton of money to buy whatever books you want!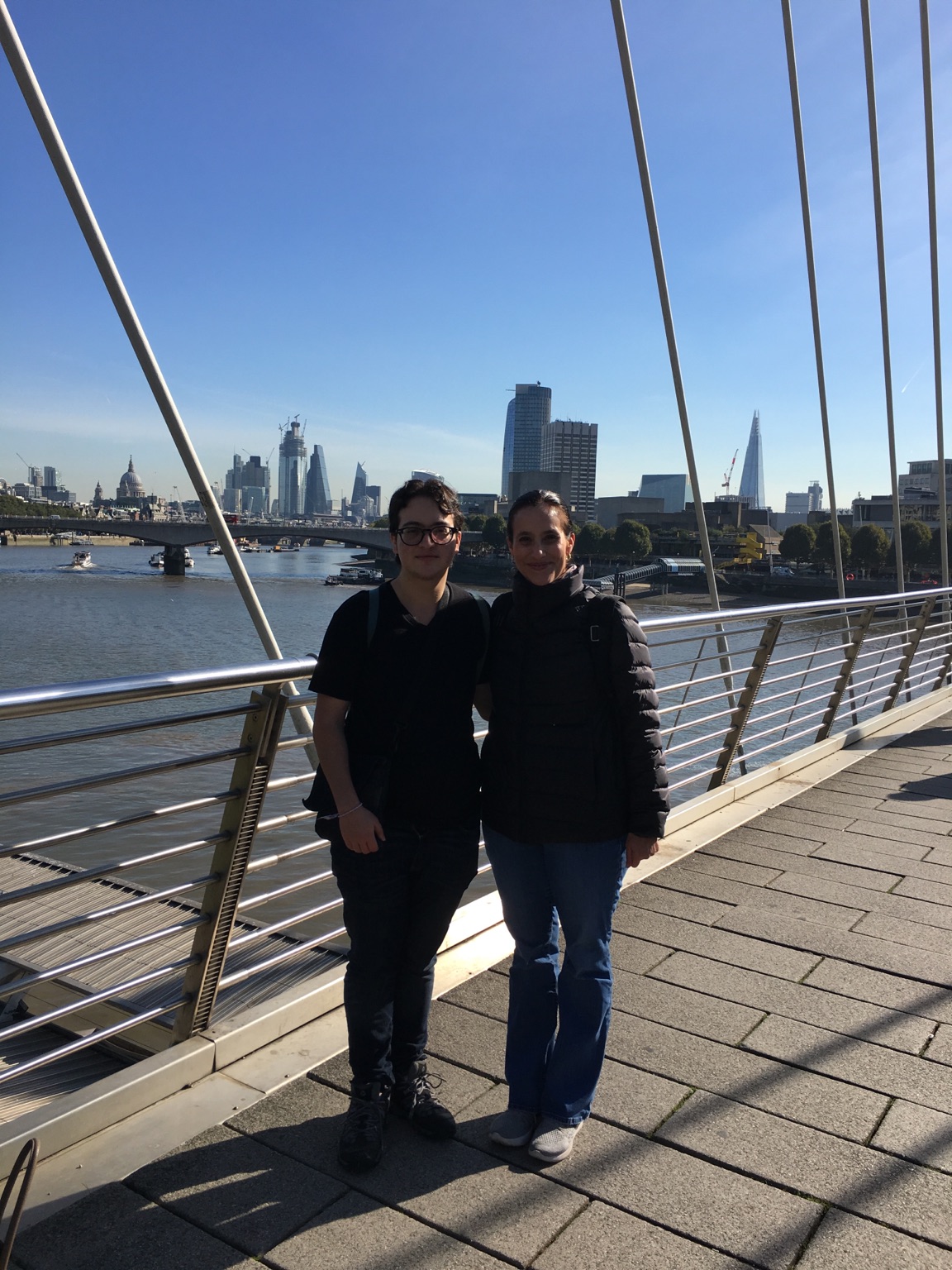 The flight to Madrid was around 2 hours, we stayed near Plaza Espana. We did some sightseeing nearby (a few markets, la puerta de Alcala, the castle, el museo del prado, probably more things that I can't remember) and we also spent a day in Toledo looking for marzipan (we found it and it was awesome, it has forever ruined all other marzipan for me which sucks because I ate it all already and I'm stuck with what I thought was one of my favourite things ever but is now not good enough to my brain, I recommend you don't try it unless you have a way to get it often). This was my first time going to Spain, which is also the first time I visit an European country that isn't the UK and my first time going to a Spanish speaking country that isn't Guatemala or Mexico (if we ignore a layover in El Salvador). It was a bit weird, I'm not sure what I expected Spain to be but it was I guess a bit like Antigua Guatemala (so fancy architecture), a bit like a small village (it was covered in small shops like you find in small villages) and a bit like a big city, like London or New York or something (though Toledo was mostly like Antigua). The people spoke way too fast which sometimes made it hard to understand and sometimes I ended up relying on the English announcements because I just couldn't make out the Spanish, and I guess the people are either really kind or really need to mind their own business (or a bit of both) – whenever my mother and I were talking and trying to figure out where to go and that kind of thing someone would inevitably interrupt us and give us directions or advice. I'm not really sure how I feel about Spain, it was home-y in a way I haven't felt anywhere else (other than maybe certain parts of SF and Berkeley) but also new and different (for example, everything was expensive as hell, and McDonalds doesn't have hashbrowns!). The food was also really heavy on my stomach but I found a new favourite ice cream and the marzipan is now one of my favourite things ever. Anyways, rant over, here's some pictures!