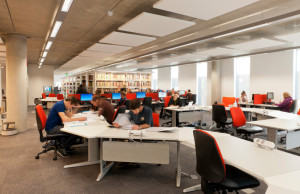 Writing a university level essay often means presenting an argument which is supported by research. Your opinion should come through in your writing, but it should be an informed opinion.
To become properly informed on the subject you are writing about you will need to do independent research. This means finding information outside of what is given to you in lectures and in reading lists. The information you find will usually take the form of books and journal articles, but may include information from reliable and relevant websites. The library provides a vast range of books, journal articles, and other resources, and specialist search tools to help you find information relevant to your topic.
An important part of research is referencing your work correctly. This means making clear which ideas in your essay are your own, and which are from information you have read. There are several different referencing styles, and many different tools to help you manage your references. You can find out more on our referencing pages.
This type of research is often new to students starting university so plenty of support is offered. Take a look at the library subject and learning pages to find out more about developing your research skills. Your Information Skills Librarian will support you to develop these skills. You will meet them when you start your course, and they will be available to support you throughout your time at Surrey.