In a short interview we ask Nadya Yakovchuk, Learning Development Advisor from the Student Personal Learning and Study Hub (SPLASH) team, to give her insights on how PGT students in particular can get the most out of the academic support on offer at Surrey.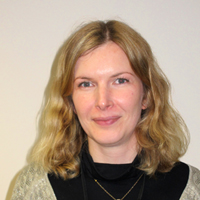 SPLASH stands for Student Personal Learning and Study Hub. It's located on the 3rd floor of the Library and has a dedicated team of Learning Development Advisers and Learning Development Librarians who provide academic and personal development support to students at Surrey.
I'm one of the Learning Development Advisers who help undergraduate and PGT students develop a range of academic skills including writing, argumentation, critiquing, evaluation, time management, presentation skills, and revision and exam techniques. I'm also the Editor-in-Chief and co-manager of the Surrey Undergraduate Research Journal.
How do students go about getting support?
We run daily drop-in sessions between 12 and 2pm Monday to Friday for any urgent queries. For more in-depth advice, students can book individual 30 min appointments through this link: https://www.surrey.ac.uk/student-personal-learning-study-hub-splash/student-academic-development/appointment-booking-form. If students aren't physically on campus, we can offer appointments by email, telephone or Skype.
Each semester we also run a programme of 'Open to All' workshops which are free and can be attended by students from any discipline. Examples of such workshops include 'Writing your literature review', 'Mastering your exam performance' and 'Referencing café'.
What support do you offer to PGTs?
In addition to the above, we have a PGT strand in our 'Open to All' programme which comprises workshops designed specifically for PGTs, for example, 'How do I know my writing is at Master's level?', 'Literature searching for Master's students' and 'Dissertation Masterclass'. We also organise an annual 'Masters Welcome to SPLASH' event at the start of each academic year.
Another resource that we offer is 'Masters Interactive' – a dedicated virtual space for PGTs on SurreyLearn, the University's virtual learning environment. Through 'Masters Interactive' PGTs can get access to bespoke on-line tutorials and resources, and invitations to PGT workshops.
Students can find out more about all the PGT support we offer by following this link:
https://www.surrey.ac.uk/student-personal-learning-study-hub-splash/student-academic-development/postgraduate-students.
What sorts of issues do many postgrads struggle with?
By far the most common questions we get asked by PGTs at the beginning of each academic year are: 'Is my work at the right level?' and 'What does Master's level writing look like?'.  Quite a few students also come for advice on information searching and engaging with the literature, as well as on time management and how to organise their study effectively.
Often students look for confirmation or reassurance that they're on the right track, and we help them develop that confidence and realise that they already have a lot of skills and can use their prior learning and/or work experience to help them succeed in their postgraduate studies.
What would your advice be for students starting out on a postgraduate degree?
Whether you're coming straight from your undergraduate degree, or you've been out of education for a while, find out about the different services the University offers so that you know where to go if you have a question or need support. It's important to think about how you're going to organise your time to fit your studies in with the other commitments you have. I'd also encourage you to meet your personal tutor in the first few days of starting out on a degree as they can make a lot of difference in helping you integrate into your department and programme of study. And most importantly, have an open mind and enjoy the experience!
What impact do you see on students who have taken advantage of academic and personal development support?
We strive to develop students as independent learners to help them make the most of their study at University and develop useful transferable skills. They become more aware of their learning, how to do well, and where to go if they require support. This is an example of the feedback we've recently received from a PGT student who's returned to study after years of working in industry:
"Having the opportunity today to place the SPLASH service into context with my studies has been wonderful and has genuinely made me feel that I am going to enjoy and ultimately be more successful during my EMBA. Amazing what an hour or so can do!"
What's it like for you personally to see students progress whilst they are at Surrey?
Helping students develop and progress is ultimately what we're here for, and I find it immensely satisfying when I witness, in a tutorial or a workshop, that light-bulb moment when a student goes 'Oh, I see…!'. It's fulfilling to see students' confidence grow and know that we make a difference!