Hi, my name is Jaz and I'm the Learning Development Team Coordinator in the Library. The Learning Development teams include the Academic Skills and Development team and Maths and Statistics Advice team, and you can find out more about the services we offer here.
Since the start of lockdown we have been working very differently, and adapting quickly to make sure we can provide you with the same quality of support as if you walked into the Learning Development Zone on Level 1 of the Library.
The team are still here and have fully adapted to this 'new normal' … and are ready for all the variations of 'new normal' that may follow!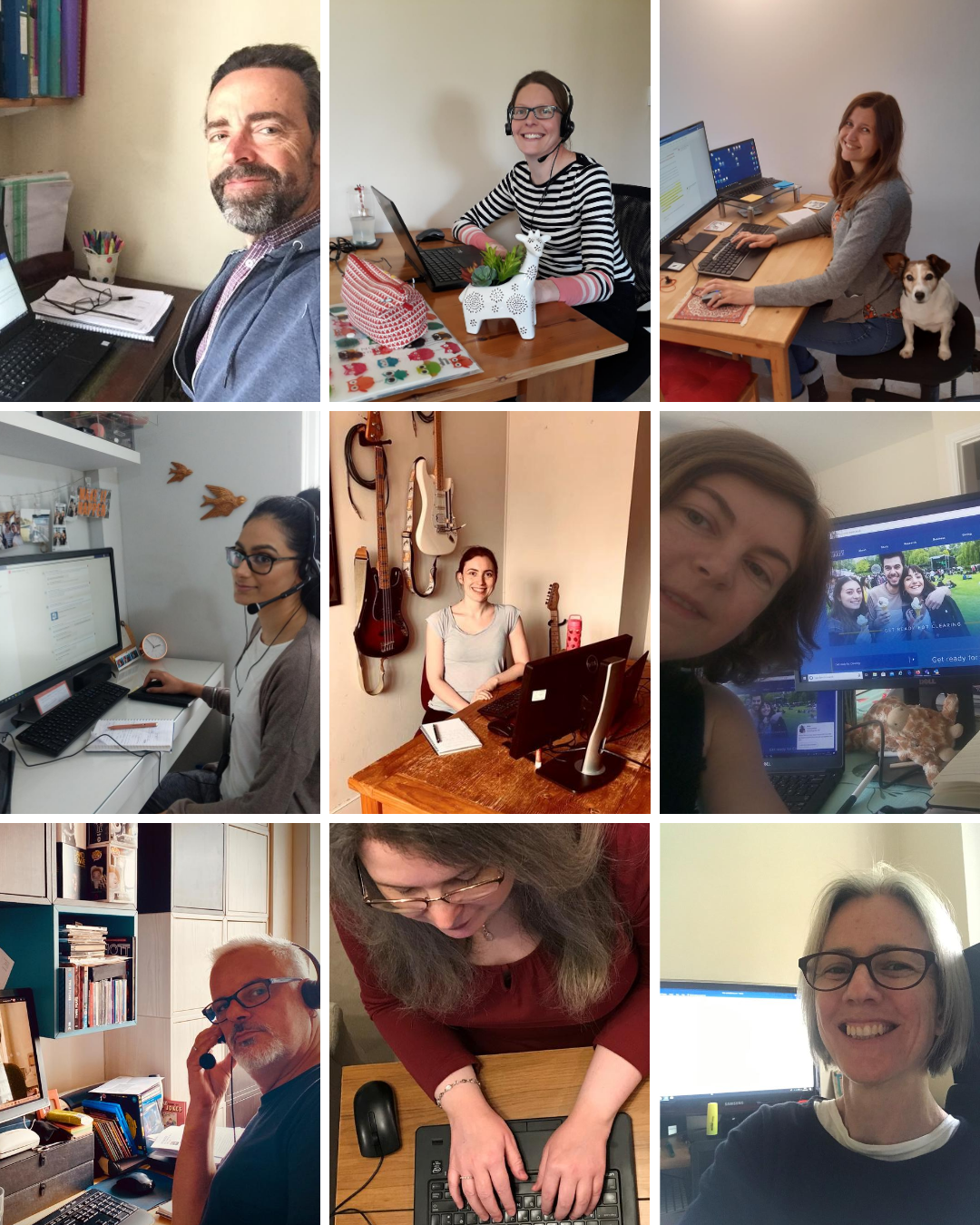 What have the Learning Development teams been doing differently?
We realise you have all been working hard remotely. We are now also moving to a hybrid way of working so that we can continue to provide advice and support for your exams and studies. Here are some of the activities we have been working on virtually:
We have been working with current students to create online study advisory guides (coming soon) to help you transition to Hybrid learning;
We have been responding to your 'quick query' study advice emails;
We moved all our one-to-one appointments online (with extra times and days);
We ran a series of themed study forums during the last exam period to support students with the change to take-home exams and other changes resulting from COVID-19;
We collaborated with students at Surrey to provide guides designed to help your transition to online study;
Working with module leaders to provide online study-supportive resources as well as co-hosting live Zoom sessions in those modules;
Collaborated with students in a series of student-led student/staff partnership projects, developing a series of study resources made by students, for students;
We recruited and trained PALS mentors for our new Peer Assisted Learning scheme (fully-trained students supporting the academic development of other students).
What have we enjoyed and learnt while working from home?
We can still support you virtually … and have learnt how this can be a very effective way of running appointments;
Your stories of how you have adapted to online learning: seeing how many of you have begun to thrive with remote working and engagement has been fantastic; some of our students were initially reluctant to use Zoom and Teams, but we've noticed increasing confidence with using these and other technology as time has gone by;
Working with students to create online study supportive resources for students;
Sharing your achievements in very different circumstances;
Being able to learn new tech alongside our students;
Despite all feeling a bit uncertain at the start, we were able to support each other (students and staff; students and students; staff and staff)! It's made us proud to be part of a student/staff learning community at Surrey.
What have we enjoyed in our spare time?
Spending time with our family and pets while working;
Home workouts;
Baking more and perfecting my banana bread recipe;
Gardening;
Taking part in team quizzes;
Not having a lengthy commute every day!
And lastly… a few words from the team themselves!
"Our students have been fantastic in how they have embraced remote working and the technology to support online engagement with their study … I always love the one-to-one appointments we have with our students, when they come for advice on all manner of aspects of their study. Seeing our students increasingly thrive with their remote learning and engagement with services like Academic Skills and Maths and Stats has been a great experience."
(Robert Walsha, Head of Learning Development, Library and Learning Services)
"It's great to be able to use MS Teams to have regular contact with other members of our teams – otherwise I might have forgotten what everyone looks like! Being able to use Zoom for one-to-one appointments is also really helpful, particularly being able to share screens so that we can better understand students' queries. Having live Zoom discussion sessions with students has also been brilliant, and it's fantastic to see students so willing to have a go and happy to try a new way of interacting with us and their studies."
(Nicola Spain, Learning Development Adviser, Library and Learning Services)
"Although it has been challenging being away from our usual workspace and each other, it has been fantastic to be able to interact with students and colleagues remotely via Zoom and Teams. It's been particularly interesting to try out new ideas and adapt interactive workshops to an online setting. I'm so grateful to the students who have been understanding and open to trying new things while we get to grips with the online environment."
(Katie Winter, Learning Development Librarian, Library and Learning Services)
"I have loved my short commute down the stairs each morning and I have not missed travelling along the A3! I do miss chats in the office and 'Wagon Wheel Wednesdays', (sharing chocolate biscuits, in case you are wondering what on earth happened on Wednesdays in my office!) However, investigating the opportunities to connect with others via Zoom and MS Teams has been great (and I haven't had to share my Wagon Wheels!) I have loved the opportunity to explore new ways of teaching in our hybrid-learning world, and I have admired the resilience and flexibility of our students in adapting to this new situation. Surrey has amazing students and staff, and I feel that our learning community will continue to thrive by working together in a kinder way into the next academic year … I may even share my Wagon Wheels again!"
(Dr Carol Spencely, Teaching Fellow in Learning Development, FEPS Foundation Year, Library and Learning Services)
Don't forget – we are here to help you!
Library Staff are here to help you, so if you have any questions, please just ask! For more information, visit our Library webpages, or chat to us via the Live Chat function.