Library and Learning Services at Surrey wanted to introduce to you some of the projects that we have been involved in as part of the wider conversations within Higher Education on decolonising and diversifying the curriculum and library collections.
We have been involved in several projects for the past 2 years working on diversifying our collections, understanding the 'Decolonise My Curriculum' movement and promoting and celebrating our diverse student community. We have been working in collaboration and in partnership with Surrey students broadening our collections as a step to ensuring the library collections speak to all voices.
We have also been raising awareness around our learning tools such as the online reading lists and how they can be used by students and academic staff to decolonise the learning materials and centre critical debate away from the established canon.
You may have heard about the Student Curator project, where for the past 2 years we have been working alongside the Students Union, the Vice President (VP) Student Support and VP Student Voice have nominated students to lead themed installations, or 'curations'. Since 2018, the Student Curator project has delivered 8 successful curations, working with individual and small groups of students. The first Student Curator was Joel Weller, who curated a display on Black History Month. Other themes have included LGBT History, Invisible Disabilities, Healthy Learning, Empowering International Women and Talking about Mental Health.
The Student Curators have had great fun and have been very creative with their projects curating physical and virtual displays in the library of books, digital resources and materials from our Archives. Library staff and students have explored the online reading list system to promote their finds. The Curators have organised interactive displays such as reaction boards and utilising library social media accounts to run Instagram stories and pose questions such as "What does it mean to be black?" and "Which black person most inspires you?". The Curators have created study playlists, collaboratively written Haiku's and provided inspirational "lucky dips". The students are also encouraged to managed a budget to purchase new book titles for library stock to enhance and develop their themes representation in the library collection. We added over 100 books to the library collections after the Black History Month displays, on recommendation from the Curators. You can explore #surreylibcurator to see more on our social media.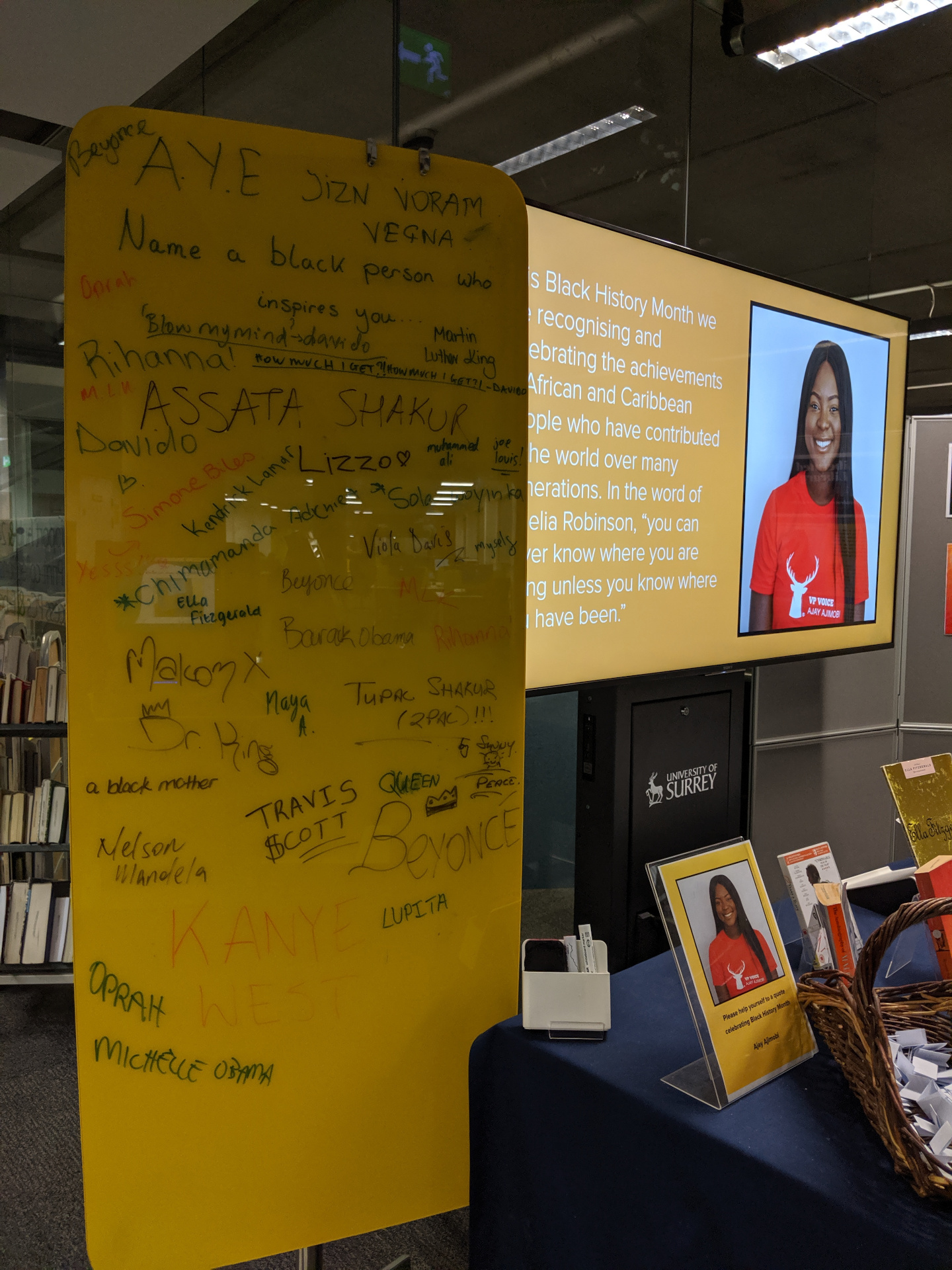 This year we have been working with one of the EduInterns Pelumi Durojaiye. She has led our engagement with the decolonising the curriculum further. She has created an Inclusive Publishers Index, to support module leaders awareness of alternative publishers. The publishers on the index specialise in publishing black authors, members of the LGBT community, feminist and gender topics and open access materials to promote publications that are not from the global north.
Pelumi has also created a student voices video capturing some of our students thoughts and reactions to diversity and the impact it has on their relationships with Surrey and she has completed a pilot reading list audit for the Department of Politics, analysing one of their reading lists, according to its gender and ethnicity balance.
Going forward we want to make sure that the Student curator project is still a medium for diversifying our collections ( even if we have to do more virtual displays this year), the library would like to create more resources for academic awareness of how to decolonise reading lists and to have that critical debate. We want to continue to raise awareness and support the debate within the institution through our work and curriculum design initiatives.
Our next blog post will be from Pelumi who has written up her experiences from attending and presenting at her first digital conference in June called "Decolonising the Academic Library" organised by University of Leicester and De Montfort University.