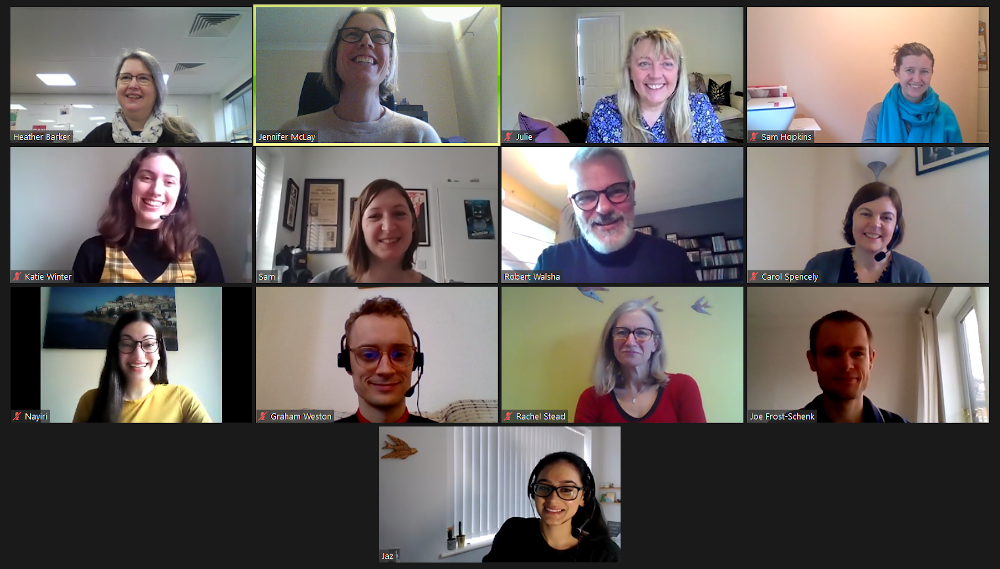 Dear Students,
We hope you are well and looking forward to the upcoming vacation.
Whilst this year has been different than expected, the Library's Learning Development team – Academic Skills and Development (AS&D) and Maths and Statistics Advice (MASA) – have appreciated all the understanding you have shown as we have all adapted to online interactions.
These have included online drop-in sessions, online one-to-one appointments and a range of online workshops to help you develop skills and confidence in areas such as research, writing, being critical and using feedback. Each time it's been great to be able to interact with you and hear about your experiences and progress. Who would have known how transferring our one-to-one support to online would have resulted in some dynamic, engaging and insightful interactions?
We hope that you will continue to keep in touch with us in the New Year, as all of the above will continue, but you may also find the 'my Learning Development at Surrey' SurreyLearn module a valuable place to start your learning.
This new and exciting module is your one-stop space that allows you to explore and develop your learning, obtain valuable support for your studies at your point of need, and find tips and suggestions on how to manage your learning in the context of the new Hybrid learning environment. You will also find online resources, guides and tutorials on a range of topics: MASA have created a varied suite of online maths and statistic tutorials designed to assist all students with related queries. The A to Z resource page will help you access the extensive resources available. Plus our new guide on 'Planning and managing your studies' included in the Hybrid learning environment page.
The module also contains:
· Information about online workshops, but also dedicated resources and discussion forums to ask questions, queries and concerns about the topics being discussed. All comments can be anonymous, and we strongly encourage you to join in with the discussions as the tips, strategies and ideas may come from the team or from other students' experiences. The workshops include: research and referencing, being critical, dissertations and final year projects, exams and revision, and using feedback.
· Information about development opportunities: Including our two peer assisted mentoring schemes, PALS (Peer Assisted Learning Scheme) and PAWS (Peer Assisted Writing Scheme). Where you can become a mentor to first- and second-year undergraduate students or apply to become a mentee and develop your learning via trained peer support. Click here for more information on the mentoring schemes and to apply for semester 2.
· Information about Peer-to-Peer Maths and Statistics Advice: A weekly session that is run by fellow students fully trained and supported by the MASA team. These sessions are primarily designed for those students who are in their foundation or first year of study. If you have a mathematical query and would like to talk to a fellow student, then this is the place to come! Check out how to join here.
· Information about Sprint: This is a women's personal development programme which is free and open to all female undergraduates at Surrey. We were fortunate that Sprint was able to go ahead online with 10 of our students successfully progressing with the programme during Semester 1. The next Sprint programme starts in February 2021. Click here to find out more…
Other up and coming activities and things to look out for
Journal club is a new initiative facilitated by AS&D and MASA starting in 2021. This will be an opportunity to get together with other students to discuss journal articles and improve your critical reading and analysis skills. There will also be opportunities for participants to develop leadership, decision-making and organisation skills as there will be the chance to choose articles and lead discussions. Find out more at my Learning Development at Surrey
The Maths and Statistics team will be offering a range of workshops open to all students to help them to develop confidence in maths or statistics in semester two, which will include topics such as Preparing for employers' Numerical Reasoning tests; Introduction to Data Analysis; Introduction to R; Introduction to SPSS; Introduction to Questionnaire Design. Find out more…
Staying connected
Reflecting on the year has shown us the importance of keeping connected. We believe making time to meet informally supports our Team's wellbeing and is something we strongly encourage all students to do. 😊 For us, this has meant meeting virtually for cyber coffees and holding online quiz sessions, with questions on a range of topics including maths ones set by the MASA team! We will be meeting up virtually before we leave for Christmas with mince pies. Have a think about ways you can stay connected socially with your friends and course mates over the vacation period and don't forget that the Learning Development team will be available to support you in your academic studies in the New Year.
With all good wishes for the winter break and New Year,
The LD team