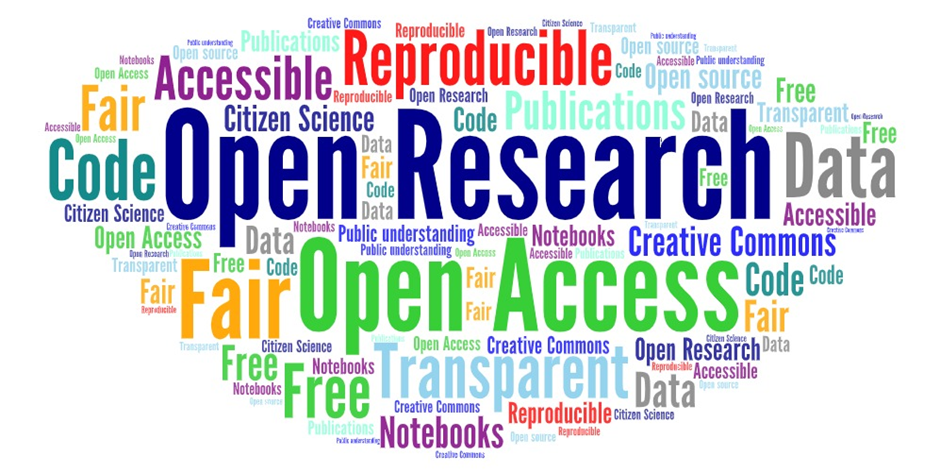 'Open research' is about making knowledge freely available, transparent and collaborative, so that anyone in the world can access, benefit from and build on it. It is about by-passing paywalls and legal barriers so that scholarly works—journal published articles, conference papers, books, theses—can be easily discovered, read and shared. It is about making, not just the publications, but also the underpinning methods, procedures, software, research data and early versions of manuscripts as available and transparent as possible, encouraging open dialogue and collaboration. Above all, it is about striving to foster an equitable and inclusive research and education culture.
The Open Research team supports the University in opening its research to the world. Whether you are a member of staff, a postgraduate researcher or a student, we offer you support, advice and training to help you find and use open materials in your research, learning and teaching; openly disseminate your publications and theses; manage and share your research data; make your research more discoverable and visible; and understand and use research metrics in a responsible way.
While in lockdown, we have continued both to offer this support and to help advance Open Research further. Our team has been working entirely remotely; the medium of open research practice is, after all, digital. However, as you all know, working remotely while in lockdown does have its challenges: feeling isolated, 'online meeting fatigue' and juggling work and caring responsibilities to name a few. Despite this, and despite losing two key posts that have not been replaced, we end this year feeling proud that:
We have put in place a new open access repository for your research.
We have continued to make your research papers, doctoral theses and other research openly available in the repository; to support open access publishing; and to answer your queries on all things 'Open Research'. For those of you involved in the next Research Excellence Framework (REF) exercise, this also means that we have continued to ensure high levels of compliance with their open access policy.
Working with the Library's Content team, we continue to put in place a number of publisher agreements to make sure that you have free or affordable access to the literature you need, and affordable publication options to make your work open access.
We have continued to run training sessions on Zoom. We recently paired up with the Engagement Librarians for your Faculty to support dialogue on various topics of interest to you.
We have developed a new online Open Research module. The final version will be available in the new year, but in the meantime you can see what it's all about here. We also worked with the Academic Skills and Development team to develop a resource on Open Access for students.
We have continued to support the University's research strategy and the global Open Research agenda through tailored reports, the drafting of policies and position papers, funder consultations and participation in national and international Open Research initiatives. In October, we proudly published the University's Open Research Position Statement that marks our commitment to openness.
As you are reading this, vaccines are being distributed, highlighting the tremendous global effort that has been put in Covid-19 research in the last months. It has been extraordinary to see early versions of papers, data, genetic sequencing and open source tools being shared promptly and openly across continents, institutions and research labs. But open online sharing of scholarly knowledge and resources has not just contributed to our rapid understanding of COVID-19; it has played a key role in making your own research, learning and teaching possible at a time when universities and their libraries were required to stay closed. When a problem needs to be solved for the public good, barriers to sharing knowledge can be overcome.
With this year coming to a close, we would like to thank those of you who have engaged with open research practice and reach out to any of you who wish to find out more. Contact us at openresearch@surrey.ac.uk.