Hi there everyone!
I'm sure everyone's super busy with class tests and revision for the upcoming examinations in January; all the best!
Meanwhile, I'm just returned from my amazing holiday in Germany, which included visiting lots of German Christmas Markets and having Gluhwein; which is German for mulled wine.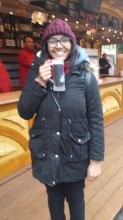 This is the first time I've used the InterRail pass. For those who have never heard of InterRail, it's a pass, which allows you to travel on participating trains, buses and ferries. There are two types of passes; One Country Pass & the Global Pass. It then varies in prices according to how many days of travel one would wish to use it for. It's very convenient as there's no additional cost as everything is included when purchasing the pass. There's even an app for both Android and IOS systems and has lots of information such as train timetables, discounts & maps. The best part of the app; its accessible even without WIFI! Another highlight is that Malaysian students who have a visa can travel using the InterRail pass. For more information, check out the official website
I travelled to quite a few cities, namely Goslar, Gottingen, Frankfurt, Karlsruhe & Stuttgart. I think my favourite was most definitely Karlsruhe. It was a quaint town; lots of greenery and most incredible, a zoo right in the middle of the town center! We saw giraffes, chimpanzees, lions but most surprisingly, 3 polar bears!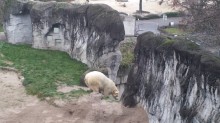 The highlights of my trip was definitely visiting the Christmas Markets as well as experiencing knee-deep snow for the first time! Below is my attempt at building a snowman; I like to call her my snowsquare instead.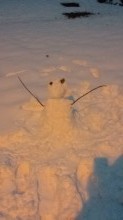 The German Markets were amazing; I must have visited 7 different ones and still was taken aback but its wonderful atmosphere and different German cuisines.
My favourite meal would have to be Currywurst which is steamed, then fried sausage whole or less often cut into slices and seasoned with curry ketchup, a sauce based on spiced ketchup and topped with curry powder. I have a sweet tooth & love all kinds of chocolates so it's no surprise that I tried lots of unique desserts while visiting the Christmas Markets 🙂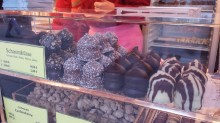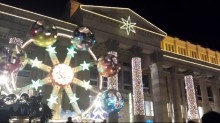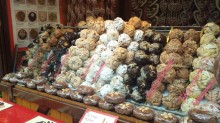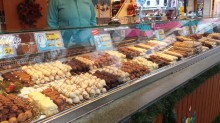 I also managed to practice the few sentences I knew in German, namely Sprechen Sie Englisch bitter, which translated to, 'Do you speak English please?' The locals were really helpful even if they couldn't speak English very well. After a while, certain words became second nature especially considering most of the menus in restaurants did not have English translations. I did end up guessing my meal most nights but 9/10 times, I still enjoyed my meal!
All in all, it was an amazing albiet tiring holiday and I loved every second of it! Here i am already itching to plan my next holiday even though I've only been back for 3 weeks. Maybe my next holiday will be to somewhere sunny. Everyone who knows me, knows how much i miss getting my daily dose of Vitamin D.
That's all from me now!
Till next time; selamat tinggal!