Happy 2017 everyone!
I've just returned back to university after spending Christmas, New Year's & my birthday in Malaysia. It was so good to be back home: with family, amazing food and continuous sunshine. I've definitely become 10 shades darker after just 2+ weeks in Malaysian weather.
Whilst at home, my family and I went for a short-getaway to Goldcoast, Sepang Goldcoast that is :p The chalets are shaped in a palm tree which is very pretty at night as all of the chalets are lit up at night. The hotel had an infinity pool as well which was pretty cool: I enjoyed my cocktail whilst enjoying the sea view. It was lovely to be by the beachside and have seafood for breakfast, lunch and dinner. Seafood is pretty expensive in England so I basically ate my bodyweight in prawns, fish and crabs.
It was also wonderful to be with my family to ring in the New Year. We went over to a family friend's house where we had a great view of the fireworks from KLCC As this trip back to Malaysia was mainly a study break, my birthday was pretty low-key. I spent the day with my mum before enjoying a delicious Sri Lankan meal with my family for dinner. My mum baked her amazingly delicious chocolate cake which   was gone by the next day!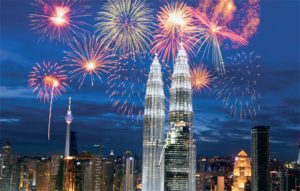 Turning 23 was definitely weird. I remember joining University back in Sept 2013 and thinking that I'd be graduating in 2017 at 23 which seemed so long away. But here we are now, 6 months before I'll be leaving Surrey University. I'll definitely be savoring these last few months before embarking into the real world and having to adult 😮
First semester exams begin soon, in about a week's time so everyone is in full revision-preparation mode. I'll definitely be at the Sports Park lots in hopes that I can relieve some of the stress that has already set in. Final year results contribute to 65% of the degree so there's a lot riding on the upcoming exams.
Till next time: Selamat tinggal! x