Here comes to an end of the first week of exam. I had only 1 exam in the first week and then the next one in on the 27th. About 10 days in between. Hmm…So here comes the question : to travel or not to travel? (think think think…)
Revision…..? Work…..? Stay in the library for the next 10 days.
Well, of course not!
I packed and off I went, SCOTLAND! Wellllllll, to be precise, I was actually going to a debate competition. So I just kinda make it a highland trip as well.
Scotland The Beaut.
I was a bit fighting on myself whether should I stay home to revise or travel to have a break from piles of notes. But the more I look online into Scotland, the more I am tempted. So the decision was made and a wilder one came up as well – cycle, in the WINTER. I tried to ask some coursemates to travel with me, but apparently cycling in the winter did not impress them. If there is anyone who said yes, that is definitely true love! Ha!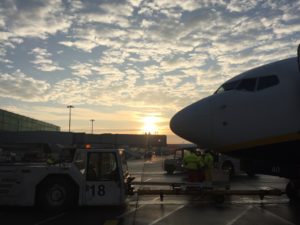 First arrive in Glasgow and rented a bike. Cycle all the way from Glasgow to Lock Lomond. There is this cycling path called Clyde and Lock Lomond Cycleway, which is almost traffic-free so it is definitely safe for cycling, even if you are a beginner.  The photo below is the so called Loch Lomond. Took a small break over here, but once I have stopped cycling, it starts to get cold. So I kinda stopped for only about 5 minutes.
Since it is winter, it got dark quite early and I don't think it is safe for me anymore to continue my cycling to Fort William (I booked my accommodation in Fort William tho, so i definitely need to make my way there!). And, guess what, I hitchhike! Well, I was terribly worried.
There wasn't a lot of traffic.
I was bringing a bike along. (More difficult to hitchhike)
How if there is a bad guy?
But it was too cold for me to think about it so I just took the car anyhow. He was a lovely Scottish old man, driving a small van to Fort William to visit his friends. We shared a lot of cultural stories again and I struggled to understand his accent too. So we kinda make fun of our different accent too! Guess my prayer has been heard, that I was so lucky, so so so lucky to have someone to go to the same way as mine. And making sure I arrive safe and sound. It was so nerve-wracking that I wasn't able to think of taking photos, which I should have. But the feeling of unknown, being comfortable with uncertainties and dealing with it, then the relief of knowing that you will be safe under a kind elderly's company. The transition of these emotions could never been told from pictures unless you have once experience it. Of course, I would not encourage you to do so for safety reason. It was just me that have a wild heart to bear any consequences of my inconsiderable actions.
But my bravery did not end here. After checking into the youth hostel, I was taking a rest in the common room until a group of Americans approached me. Perks of staying i youth hostel! You make friends at random, and they are from every part of the world. They were going a hike in the pitch dark and offered me to come along. And, without a second doubt, I said yes. (What was I thinking that time though?) So we hiked to dont-know-where. What is the feeling about hiking in the dark?
Scary. (One of them keep telling ghost stories)
Freezing. (I swear I gonna layered up more next time)
Nothing. (I see nothing. I want my majestic aerial view mannnnnn)
But it was tons of fun and excitement vibe around us even though we just know each other an hour ago!
Woke up the second day with ache all over my body. Esp my thighs from miles of cycling and hiking. (mama~~~~)
———- Isle of Skye ———-
Rugged landscapes, picturesque fishing villages and medieval castles….. The place that is nearest to the sky. I think this is the most romantic description to a place I have ever heard. Perhaps if I say my prayer in Isle of Skye, God will hear it more possibly considering it is nearer? Haha! The weather wasn't particularly great but me too managed to got some photos!
The natural settings will awed you to making a 'wow' basically everywhere. You could find your inner peace in here after some hiking or even just simply staring to the ocean. *Tranquility at its best*. Anyone who would like to travel might need to make sure they plan the time well. As it is literally a remote area, the public transport is not frequent if you miss one then you'd need to wait for another 3 hours. (That's what I have experienced which I ended up almost turing into an ice cube. =.=)
Old Man of Storr
Kilt Rock
Lealt Falls
3 top destinations but there are more! Because I missed the bus, I only made to them three! The lucky part is that, it was foggy and nothing could be seen. so I actually did not miss out that much! But not having enough time to explore the whole island was such a shame, but it is also a decent excuse for me to return here in the summer!!!
Lora is the owner/person-in-charge of  the hostel SYHA. She is so friendly and passionate. She made effort to talk to people who travels alone and try to form bonds between hosteliers too! This hostel even offer a car sharing policy! Cute isn't it?
pls: isle of skye is truly remote. Please don't expect your data network works there. I did not manage to google map to find my way to hostel. The tourist info centre is just around the corner, and I managed to make friends with the receptionists there too. They are too lovely I can't help!
Considering there are more stories behind, which is kinda the highlight of this trip. Stay tuned and I shall update you next week to tell you more about them! To lure your wild heart too! Ha!