Hey guys! Happy Chinese New Year! May this year of Rooster bring more love, joy, peace and prosperity for all of you that are reading this! 🙂
This is officially my last post so I would really love to say thank you for all the readers out there for following my posts till now. 🙂 its been really an honour and pleasure to be able to come to University of Surrey, and also becoming part of the international student recruitment team as an international student ambassador. All these wonderful memories will be deeply engraved in my heart forever. 🙂 Anyways, for those of you that are still interested in following my stories please continue to support me at my personal blog- missadelinelivingherlife, or follow me on Instagram at ad3line_koo.
Okay back to the main topic today. And so, after staying in UK for 1 year and 4 months, my study visa is expiring soon so I need to leave the country. There's so many good memories, friends and places that I will truly miss and I was really sad when time is up and I need to go. To cheer up myself abit and to reward myself after working really hard for the past few months, I've decided to make a trip to Norway, Sweden and Estonia! And since I'm already on my way and is in Norway now, I'll focus more on Trondheim, Norway in this post. If you guys are still interested to know more on my trip in Oslo, Stockholm or Estonia, remember to follow my personal blog and Instagram as stated above! 😛
Visiting Norway is like a dream come true as I wouldn't believe I'll be able to make it here even few months ago. Norway is the most expensive country in the world and thus I never thought I could earn enough money and afford coming for trip a here. It really feels so different and amazing when you actually spend your own money doing things you love without the need of taking money from your parents! And so for me, I do really have a great sense of achievement and feeling that I'm an official grown up when I am actually able to support myself while I'm in London, and even able to saved up enough for a trip to the Scandinavian countries and Baltic country for a total of 18 days! 🙂
And so, I started planning for the trip since November last year as I was so excited! This is the first time I'm going on a solo trip so it really feels like an adventure. The brief itinerary that I planned was to start off by flying to Trondheim from London Gatwick Airport by taking Norwegian Airlines, take a train down to Oslo, and then another train to Stockholm, and then a 40 hours return cruise to Tallinn, Estonia and spend the remaining days in Stockholm before flying back from Stockholm to London Heathrow Airport by SAS Airlines. I actually chose Trondheim, Norway as my first stop as I have a college friend (Losshenee) who is currently studying her Masters degree here in Norwegian University of Science and Technology, or Norges Teknisk-Naturvitenskapelige Universitet (NTNU) in Norwegian. I haven't met her since we finished our A-Levels almost 7 years ago so it was really great to be able to meet up and catch up again! And I actually decided to stay for 8 days just in Trondheim to fully explore the place and also just to spend more time with her. 🙂
On the day of departure, I was still working in office for half day as there was just so much more to do in office and I really want to wrap up everything nicely before I leave. Boss was really caring and she was worried I wouldn't have time for lunch before departing to airport and thus she bought all of us lunch! Yay! And also because it was Chinese New Year (CNY) soon, she also gave me an angpao (red packet that was given usually by people who are married to kids or young people as blessings) so I was really touched as I haven't received one since last year as I spent Chinese New Year last year in UK as well.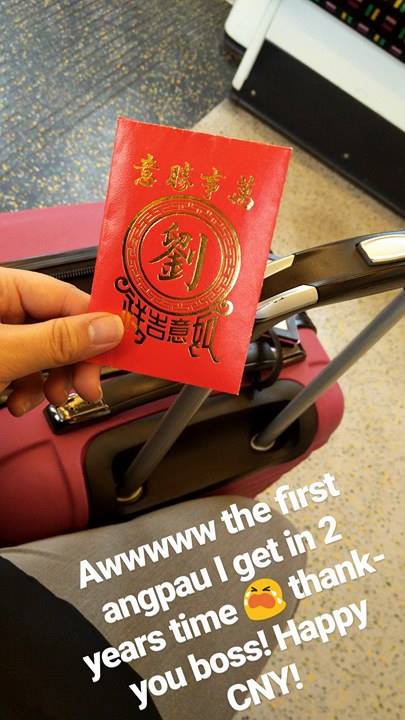 So I left Harrow at about 2.30pm and depart to London Victoria to catch my coach to Gatwick Airport. I reached London Victoria at about 3.15pm which I have sufficient time to collect my booked Norwegian Kroners and Swedish Kroners at BestForeignExchange.com (Thomas Exchange Global). This is the best foreign exchange I can find in London and it gives very good rate especially online so you can reserve your currency via their website in the link above through the Fast Track Collection Branch Order service.
And then I headed to Gatwick Airport, got into my Norwegian Airline flight (first time having free Wi-Fi onboard, so atas (meaning high class 😛 ), and poom, after 2.5 hours of flight I'm here in Trondheim, Norway! Got in the Varnes Express Airport bus which transport me directly to Moholt Student Village where my friend is staying. 🙂 As it's already midnight when I arrive, I just chit chat and catch up with my friend before we go to bed. 🙂 And oh, Losshenee's flatmate- Ana was so sweet that she let me stayed in her room during my stay while she went off and stayed with her boyfriend- Henri so I got a whole room to myself! Thank you so much Ana and Henri! 🙂
So on the second day of arrival, it was CNY eve and it was a big thing for Chinese! And so, Losshenee introduced me to her other Malaysian friends and we went for a CNY celebration dinner organised by the Chinese Christian group in a nearby church. The people there are really friendly, food are really nice and they even have a game session which is really fun! It was really a great night out and I felt really at home which helps in easing the homesickness especially during this festive season. 🙂
And also, I get to do Yee Sang (a Malaysian-Singaporean tradition, aka prosperity toss whereby its a CNY dish consist of strips of raw fish, mixed with shredded vegetables and a variety of sauces and condiments, among other ingredients and you toss it while speaking prosperity and blessings to welcome the new year) with my friends this year! It's very common back home and we do that for every year but I haven't done it since I left home. Losshenee and her friend Cherrie is so creative that they decide to make yee sang out of ingredients that we can get here, ie: bihun (rice vermicelli), carrot, coloured peppers, bean sprouts, corn and of course the famous Norwegian salmon mixed with thai chilli sauce and soy sauce and it turns out to be amazing! Losshenee also invited her international friends to join in and all of us had alot of fun doing the prosperity toss! 🙂
Ohhhhh I was also there when they shopped for the ingredients in the local supermarket and  I was definitely SHOCKED by the prices of the stuffs here in Norway. I've always known that Norway is an expensive country but I never imagined it was THAT EXPENSIVE even compared to UK. So guys out there back home or in UK, don't complaint cause everything is much affordable back home. I was also super craving for IKEA meatballs as I haven't had that since coming to UK. Well I know there's one near Surrey (kind of near but still far as its in South Croydon) so I've never been there. Since IKEA is from Sweden which is just neighbouring Norway, I wanted to try out the meatballs badly and my friend brought me to the nearby IKEA. The meatballs are definitely the YUMMMMS, and well I think its really slightly better than the ones back home 😛 , but its SOOOOO expensive as well! 🙁
And then the rest few days its all ab0ut sightseeing in Trondheim. There's a few places that is a MUST VISIT during your stay here so I'll slowly introduce them below followed by photos.
Nidaros Cathedral and Archbishop's Palace Museum
The Nidaros Cathedral, or Nidarosdomen in Norwegian is the largest and northenmost medieval gothic church in Northern Europe full of history. The church was built over the burial site of St Olav, which is the King of Norway in the 11th century. The interior design of the church was really grand and beautiful and many tourists actually came to Trondheim just to see the church! The Archbishop's Palace is just beside the church and is also worth visiting if you have the time. The Crown Regalia was on exhibition in the museum when I was visiting and being a fan of royal families, I visited the museum together and get to see the crowns that were on display (they look so stunning!) and understand a brief history of the royal family of Norway. Nidaros Cathedral is also the church where the coronation of King took place whereby the coronation of the current King and Queen of Norway, King Harald V and Queen Sonja were also held here in year 1991!
Price:
The Combined Ticket for all 3 places: The Archbishop Palace's Museum –Nidaros Cathedral – The Crown Regalia
Adults: 180NOK, Children (6-15 years old): 80NOK, Students: 100NOK, Family (2 adult 3 children) 440NOK
Single ticket to Nidaros Cathedral OR The Archbishop Palace's Museum OR The Crown Regalia
Adults: 90NOK, Children (6-15 years old): 40NOK, Students: 50NOK, Family (2 adult 3 children) 220NOK
Nidaros Cathedral opening times: Monday – Saturday: 09:00-14:00, Sunday: 09:00-17:00
The Archbishop Palace's Museum & The Crown Regalia: Monday CLOSED, Tue-Fri 11:00-14:00, Sat: 11:00-15:00, Sun: 12:00-16:00
Kristiansten Fortress
Kristiansten Fortress or also known as Kristiansten Festning is located on the east side of Trondheim and was built after a fire broke out in Trondheim in 1968 as part of the plan to fortified the city and also protect the east side of Trondheim from taken down by enemy. I didn't get to visit the interior part of the fortress as it only opens in Summer, but the fortress ground is open whole year round and its free of charge!
The Old Town Bridge (Gamle Bybro) & Bakklandet Coloured Wooden Houses
The Old Town Bridge is also known as the bridge/portal of happiness whereby Losshenee told me that there's a believe here that you will find your love of the life on the bridge! 😛 Anyways, besides the romantic believe, the bridge connects the city to the Bakklandet area (full of cafes and unique boutiques), which is lined with beautiful coloured wooden houses by the river. It's one of the most photographed area in Trondheim and is definitely worth the visit!
Tyholt Tower (Tyholttårnet)
This is one of the tallest tower in Trondheim and there is a rotating restaurant (Egon Restaurant) which is located at 74meters above ground which grant you and extensive view of 360 degrees of Trondheim. They offer a pizza buffet whereby you can help yourself with unlimited pizza while enjoying the view with only 110NOK per person, which is considered really good here when the living expenses here are so so so expensive! But of course if you can afford more, they also serve proper ala carte cuisine so you can really enjoy good food, good wine and good view!
Opening hours: Monday – Thursday: 10:00-23:00, Friday – Saturday: 10:00-23:30, Sunday: 11:00-22:00
So that's all about what I've done till now in Trondheim. I'll be moving on to Oslo and the rest of my journey on Friday and I'm really excited for what is coming up and so for all of you that are still interested in my stories, just follow me on my personal blog or Instagram as I won't be updating here anymore. Do take care and I wish all of you a very good and blessed year ahead, hope to see you guys again in some time or some part of the world! BYEEEEEEEEE!
Love xx
Adeline
p/s: for all my friends that are celebrating CNY: once again 新年快乐,万事如意,身体健康,合家平安!恭喜恭喜!