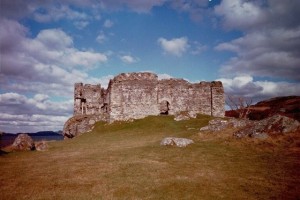 From the four-hundred-year span of our Leverhulme-funded project, 'Women's Poetry in Ireland, Scotland and Wales', more than two hundred Gaelic songs attributed to female poets have survived. The earliest of these, some of which are attributable to named poets from the fifteenth and sixteenth centuries, provide an intriguing glimpse of women's lives in the Gàidhealtachd, i.e. the Gaelic-speaking regions of Scotland. (The following post is taken from a lecture presented in July 2015 at the Glasgow Women's Library, a recording of which, as well as full details of the project's overall span, is available on our website).
The first thing to note is that unlike Lowland Scots poetry, where the majority of pre-1700 examples were composed by women of the upper class, neither one's age nor one's rank appears to have affected the likelihood that Gaelic-speaking women did or could compose poetry. Women of most ages and most social classes are represented by the surviving corpus, and if many of these items are anonymous, others can be associated securely with women whose names have also been preserved. In the Gaelic tradition, prior to around 1600, the ability to compose verse depended more upon one's proximity to other poets, thus one's exposure to training in the styles and techniques which characterize the so-called Classical Gaelic period, circa 1200‒1600. During this time the production of poetry was confined largely to hereditary families of trained poets praising a series of patrons at different stages of their career, whether in battle, marriage or death. Perhaps surprisingly, formal education of this kind was not denied to women, although its accessibility would appear to have been restricted to the close kin of known male poets, whose works have survived together in the pages of duanaireadh (family books). Many of these poems are addressed to members of their composer's families, to their husbands, children or friends, but many more offer praise of their chieftains, advice for their clan in times of conflict, or undisguised criticism of the contemporary status quo. Songs of elegy and commemoration for the dead were especially important, some representing the private realm of personal grief, others the public commemoration of a celebrated individual.
The earliest datable song composed by a woman in the Gàidhealtachd is an elegy, addressed by its subject's wife, Aithbhreac inghean Coirceadail, to her husband Niall Óg MacNeill. Niall was probably the constable of Castle Sween in Knapdale, and his death occurred sometime in the 1470s when he was still fairly young. His widow's lament has some conventional aspects, such as praise of the MacNeill's lineage and the hospitality offered freely in their home,  but it begins with a more unusual focus for her grief – a rosary, formerly Niall's, on which her eye has come to rest: –
A phaidrin do dhúisg mo dhéar,
Ionmhain méar do bhitheadh ort;
Ionmhain cridhe fáilteach fial
'gá raibhe riamh gus a nocht.
O rosary which roused my tear,
Dear the finger that held you;
Dear the joyful, generous heart
To whom you belonged until tonight.
She addresses the beads directly, recalling the numerous times before his death that she saw them clasped in Niall's hand. She addresses Christ, regretting that He has stripped the MacNeills of their champion, who was her own 'beloved companion' too, and she addresses His mother, Mary, asking for her protection now that her husband's earthly support has been withdrawn. Her lament is sincere, restrained and representative of the longer-term consequences of losing her husband – it conveys great pain, but does not contain the same immediacy of her initial response to news of his death which we have found elsewhere, usually when the poet's subject died as the result of violence.
The poem to Niall Óg was copied into the pages of a manuscript known as the Book of the Dean of Lismore, the earliest and probably most important collection of Gaelic poetry to have survived from the medieval period – it was completed during the 1540s, and contains poems which originated in Gaelic-speaking Ireland as well.
In addition to the lament for Niall Óg the Book of the Dean contains three poems which were probably the work of Iseabal, wife of the first earl of Argyll, who died around 1510.
There is a transition of some 30 years between the written poems in the manuscript and Iseabail's probable lifespan, not to mention about 60 years between the death of Niall Óg and the time that his widow's lament was being included. Unless a poem makes reference to persons or events which can be dated securely from other sources, it can be very difficult to suggest exactly when a particular item was composed, or of course by whom it was written. The Book of the Dean labels all four poems with the names of their composers, but they are undated, and Iseabal's three songs are not grouped together. Their separation suggests that the book's compiler was concerned more with keeping different types of poems together rather than the work of the same authors, although Iseabal is not the only poet to have more than one of their compositions included.
The poem on p. 251 of the book – 'Éistibh a luchd an tighe-se' ('Listen, o people of this house'), attributed to 'Contissa Ergadien Issobell' – follows another song attributed to Donnchadh Campbell of Glenorchy, Iseabal's kinsman, who died at the battle of Flodden in 1513 and was also a noted poet. Iseabal's poem follows one of Donnchadh's compositions which begins 'A shagairt na hamhsóige' ('O priest with the kept-woman'), making fun of the cleric who is more obsessed with the charms of his female companion than with doing his job. Both of these contain graphic descriptions of sex-besotted men-of-the-cloth, but it is extremely unlikely that we, or their contemporary audience, were intended to take them seriously – for a start, we mustn't forget that the Dean of Lismore himself was the highest-ranking cleric in Argyll. Whereas Donnchadh's poem criticizes the priest for neglecting his parochial duties and liaising with inappropriate women, Iseabal's praises his considerable skills in this regard ('Éistibh… re scél na mbod bríoghmhar, / do shanntaich mo chridhe-sa', 'Listen… to the tale of the vigorous prick, / which has made my heart hunger'), and it is probable that both poems were composed at the same time as part of a family joke and poetic contest.
We are very fortunate in being able to attach names and probable dates to all four of the female-authored compositions in the Book of the Dean, which are also the only four items from the span of our project datable to the fifteenth or very early sixteenth centuries. Only another ten or eleven poems belong to the later 1500s, and only four of these may be linked to named authors. Mòr, or Marion Campbell, daughter of Donnchadh Campbell of Glen Lyon, is the most important of these, as well as the most prolific, with three items to her name. Items 1 & 2 probably survived in the oral tradition from the 1560s until they were written down in the collection of James Maclagan, minister of Blair Atholl, at the end of the eighteenth century, but neither one seems to have been well-known.  The third, on the other hand, more commonly known as 'Grioghal Cridhe', was and is extremely popular, with several surviving written copies but also sung within the oral tradition to the present day.
Whilst its composition had long been associated with Griogair's wife, especially since it was published as such in 1813, it wasn't until 1999 that Marion herself was confirmed as this wife and as the author of the text on which the popular song was based. Composed shortly after Griogair's execution in 1570, it is a powerful lament for his life and for his relationship with Marion since the couple first met, probably in 1562 when the Campbells and MacGregors were already engaged in a violent feud concerning possession of the lands of Glen Strae in Breadalbane. Marion and Griogair probably attempted to elope, but were prevented from doing so and preparations were made for her marriage to another man, only for Marion to refuse her consent – behaviour which was just as radical as it sounds in the 1560s and which led to a period of imprisonment, during which she composed the first of her poems, arranged as a conversation between herself and her absent sweetheart. She and Griogair were married eventually around 1566, when the feud was temporarily suspended – it was probably meant to strengthen the extremely shaky alliance between the clans, but failed to prevent Marion's own father and his kinsman Colin Campbell, chieftain of Glen Orchy, from pursuing the couple into exile for the next three years.
Nonetheless, Marion's poem celebrates her happiness in Griogair's company even 'roaming wood and heather' and 'driving the cattle to the glen', rather than living in barren comfort with the man of her family's earlier choice – he is named only as the 'Baron of the meadow', and seems to have been the same man who would become her second husband shortly after Griogair's death. Concerning Griogair's execution on April 7 1570, Marion states that: 'Chuir iad a cheann air ploc daraich / 'S dhòirt iad 'fhuil mu làr; / Nam biodh agamsa an-sin cupan / Dh'òlainn dhith mo shàth ('they placed his head on a block of oak, and spilt his blood on the ground; had I but had a cup there I'd have drunk of it my fill'). Whereas the wish to consume blood from a loved one's corpse is relatively common in lament poetry – and is supported by the historical record – Marion intends to make use here of a cup rather than her own hands in order to collect it. The foreign object introduces an element of distance from the scene described, and probably supports the suggestion that she was not present at the time – she was heavily pregnant with the couple's second son, to whom 'Grioghal Cridhe' is ostensibly addressed.
To add an even sadder postscript to their relationship, both of their children would also die whilst still young men, Iain at the battle of Glen Fruin in 1603 and Alasdair upon the scaffold in Edinburgh the following year. The date of Marion's own death is uncertain, so we do not know whether she endured the ordeal of their deaths as well as their father's, but poetry addressed to either one has not survived.
In the survival (and continued popularity) of 'Grioghal Cridhe', as well as many of our female-authored songs from Gaelic Scotland, it is important to acknowledge the invaluable contribution of the oral tradition. The earliest printed anthology of Gaelic verse was Alasdair MacDonald's Ais-Eiridh na Sean Chánoin Albannaich ('The resurrection of the ancient Scottish language') in 1751, and the earliest to contain the work of women writers too was his son Ranald's volume, Comh-chruinneachidh Orannaigh Gaidhealach (usually known as the Eigg Collection), in 1776. Women's poems were also recorded by Rev. Ewan MacDiarmid and James MacLagan at the close of the eighteenth century (manuscripts now held in Glasgow University Library), but we are otherwise indebted heavily to collections made much more recently. At the beginning of the twentieth century, scholars such as Father Allan MacDonald of Eriskay and Margery Kennedy-Fraser focused upon the process of waulking, or fulling of home-made woollen cloth to a regular beat, and the songs which were sung in accompaniment. Many of these, however, make no reference to waulking, or to other daily activities, and it is probable that many of them originated elsewhere and were adapted to suit the occasions on which they were sung. This could mean extending their length with frequent repetition of certain verses or the addition of choruses with largely meaningless collections of vocables – the equivalent of 'la la la' – as well as moulding their earlier rhythm and rhyme to facilitate keeping time as the singers worked. As a result, and due to the usual lack of dates, locations or even names attached to the characters of a particular song, we are rarely in a position to be certain of any real-life events or persons which may once have inspired it, and are all the more privileged, as in the case of 'Grioghal Cridhe', to catch the occasional glimpse of women's lives in the later-medieval Gàidhealtachd.
The Gaelic tradition is also notable for the fact that there is little difference between the types of poetry composed by female poets and the types of verse composed by their male counterparts – women's compositions are no more likely to grieve for lost loved ones or to pine for callous former sweethearts, and no less likely to rejoice in the defeat of their enemies or to dwell at length upon the gruesome realities of the battlefield. Indeed, without additional context it is virtually impossible to label anonymous poetry as more likely to be a woman's creation than a man's. Moreover, techniques which served to obscure a song's meaning in circumstances of particular significance or even danger to its composer belong equally to the work of male as well as female poets. The occasional complaint that their gender forbids them from behaving in anger or from taking revenge for a loved one's death is the only suggestion that women poets felt themselves disadvantaged in comparison to men; otherwise, they could and did make reference to events of the gravest national significance as well as to their private circumstances, and they could and did compose poetry at all.
Further reading
Watson, W. J. (1937). Scottish verse from the Book of the Dean of Lismore. Edinburgh.
MacGregor, M. (2006). 'The view from Fortingall: The worlds of the Book of the Dean of Lismore', Scottish Gaelic Studies 22; pp. 35‒85.
MacGregor, Martin. (1999). '"Surely one of the greatest poems ever made in Britain": The lament for Griogair Ruadh MacGregor of Glen Strae and its historical background', in The Polar Twins, eds. Cowan, E.J. and D. Gifford; pp. 114–53. Edinburgh.
MacGregor, Martin & Kate Louise Mathis. (forthcoming, 2016). 'Tha mulad air m' inntinn / In my mind there is sorrow: A third poem by Marion Campbell of Glen Lyon', Aiste 5.
Gillies, W. (2006). 'Gaelic traditional women's songs', in Alba Litteraria: New essays on Scottish literature, ed. FAZZINI, M.; pp. 163‒76.
Campbell, J. L. & Francis Collinson. (1969, 1977 & 1981). Hebridean Folksongs: Waulking songs from Barra, South Uist, Eriskay and Benbecula. Oxford.