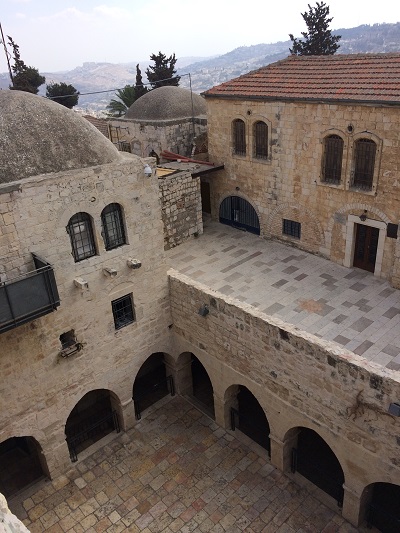 The remains of the Franciscan monastery at Mount Zion, Jerusalem, which was the 'headquarters' of medieval European pilgrimage to the Holy Land. Photograph by Anthony Bale.
During her difficult journey from her home in Norfolk to Jerusalem in the spring of 1414, the medieval mystic Margery Kempe was persistently bullied by her co-pilgrims. According to her account, they cut her clothes short, refused to eat with her, stole her money, and disbelieved her accounts of her visionary communication. Kempe and her party spent ten weeks at Venice before they sailed for Jaffa. Here, Kempe made her way back into the pilgrimage group, although not without friction: she was only allowed to dine with them after making an agreement "to sit still and to make merry" at dinner, rather than weep and wail and talk about God. However, things weren't so straightforward:
Sythyn it happyd, as this creatur sat at mete wyth hir felawshep, that sche rehersyd a text of a Gospel lych as sche had leryd befortyme wyth other goode wordys. And anon hir felawshep seyd sche had brokyn comenawnt. And sche seyd, "Ya, serys, forsothe I may no lengar hold yow comenawnt, for I must nedys speke of my Lord Jhesu Crist thow al this world had forbodyn it me" (The Book of Margery Kempe, book I, chapter 27).
[Later, it happened, as this creature sat dining with her companions, that she repeated a text of the Gospel that she had learned beforehand along with other good sentences. So then her companions said that she had broken the agreement. And she said, "Yes, sirs, in truth I can no longer keep the agreement, for I really must speak of my Lord Jesus Christ, even though the whole world has forbidden me to do so."]
There's much of interest here, especially Kempe's strategy of resistance to the "comenawnt" she has made with the other pilgrims. But the aspect I want to explore in this blog-post concerns the clause "sche rehersyd a text of a Gospel lych as sche had leryd befortyme wyth other goode wordys."
Kempe's moment at Venice connects with my larger research project around Kempe's journey: that of the role of books and reading during the later medieval pilgrimages to Jerusalem, Rome, and Venice. The use of the word "reherysed' suggests a learnt repetition and it is clear that she had "leryd" the "goode wordys" at some point previously. Referring thus to memorised citation, Kempe suggests that she was travelling without a bible, and that her speechifying is based on a recall of "text" that she had encountered before.
Elsewhere in The Book of Margery Kempe, books are notably portable, motile objects. Kempe's first semi-miracle occurs as she is holding a book, as a kind of protective talisman, when in her church at St Margaret's (Lynn) a beam crashes down onto her but she remains unharmed. Later, on her pilgrimage, a priest is accused of stealing Kempe's sheet, but he swore "by the book in his hand" that the sheet is his; whilst it's not clear what this book is, it was probably a portable bible, breviary, psalter, or book of hours. Elsewhere, an example of Kempe's wisdom occurs around a porthose – a portiforium or breviary – that a hapless monk is nearly conned into buying from a crooked young man who claims to be from Pentney Abbey. One of Kempe's most arresting visions is of "an angel, all dressed in white as if it were a little child, bearing a huge book in front of him"; Kempe identifies this heavenly book as The Book of Life (as described in Rev. 17:8), and it contains the Trinity, all "done in gold", with Kempe's name written at the foot of the Trinity. More generally, the scenes of reading and writing of drafts of The Book of Margery Kempe itself attest to a volume being passed around between various people in and around Lynn, and a range of remembered texts – by Bridget of Sweden, Jacques de Vitry, Richard Rolle, and others – constitutes key parts of Kempe's narrative. So one gains from The Book of Margery Kempe the sense of a world busy with mobile, trafficked, and remembered books.
Clear evidence of pilgrims taking books with them on their international pilgrimages is rare. Pilgrims sometimes affixed pilgrim badges to their books, although this may have been done before, during, or after the pilgrimage. There was a library for clerical pilgrims at the Franciscan monastery at Mount Zion in Jerusalem, and at least one manuscript (now Versailles, Bibliothèque Municipale, Lebaudy MS L.097), was copied there before being brought home; its scribe wrote in it that he had copied the manuscript, which contains a variety of religious writings about the Holy Land, at Mount Zion on the 24th January 1471.
Venice and Rome were centres of the European book trade, and it's likely that pilgrims encountered all kinds of text there, from scholarly tomes to cheap text-based souvenirs like ribbons and indulgences. Other pilgrims may have taken travel guides with them; my work on one such book – a copy of Mandeville's Travels now in Chetham's Library in Manchester – is forthcoming in Studies in the Age of Chaucer, and suggests that a London merchant, Sir Edmund Wighton (d. 1483), took his copy of Mandeville to the Holy Land and all the way to the Crimea with him. As Kathryne Beebe has described, the German pilgrim Felix Fabri wrote notes about his pilgrimage on wax tablets as he travelled, and wrote them up when he returned home.
Our picture of travelling books remains patchy. As The Book of Margery Kempe shows, books could be intensely physical objects but could also be immaterial, memorized and metaphorical objects. Books, for Kempe, seem to have been iconic, even, by her own account, she could not or did not read and she could not write. In Venice, as Kempe "rehersyd" her "text", she draws our attention to a kind of literacy that was rooted in books, but not dependent on their physical presence.