I am one of those people. I celebrate Halloween on the 31st of October and then I put on Christmas music and decorations on the 1st of November.
Christmas excites me, and I don't know why. My family isn't Christian, we don't even have a tree, and nobody really exchanges gifts. All we do as a family is take advantage of the holidays to spend some time together (which I suppose is what Christmas really is about). But Christmas still excites me. Maybe its the fact that its the end of the year, maybe its the fact that I see snow when I look outside (this only applies to Calgary, and not the UK). Most importantly, however, its how everyone is simply in a good, jolly mood this time of the year.
So, I get excited every year when those lights go on and the carols start playing. It means winter break is near, it means I can go home to visit my family and friends. It means that its finally winter, which is my favourite season
Every year, Guildford celebrates the annual 'Christmas lights switch on' where literally, the decorations switch on for the first time. Tonight is the night, and obviously, I will be going with some friends to witness it all.
There will be music and entertainment in town starting 2pm, a balcony show at 6pm and finally, the switching on of the lights at 7pm (also, fireworks!) It's free entry, which means us students on a budget can take full advantage of it! High Street is one of my favourite places to be in town and its all the more exciting to see it lit up for the holidays. I didn't get to go last year, so I'm determined to make the most of it this year!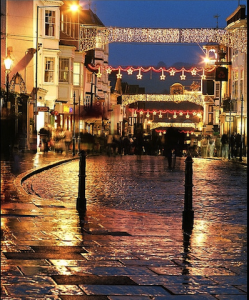 London, as always is also decorated for Christmas. I enjoy going there every year just to see the lights on Oxford and Regent Streets. Coincidentally, I was in London just yesterday to spend some time with a friend and generally enjoy the end to a very hectic, coursework filled week.
(Terribly photos I know, but it was the best I could do…. really)
So if I was you, I would grab a bunch of folks and go into town today to take a night off and enjoy some festivities. November is a stressful month in terms of deadlines and exams for most of us, so it doesn't hurt to take a break!
It's beginning to look a lot like Christmas!!