Hello! The second term has finally started this week so I thought I would reminisce on my reading week – that was like any break, too short. It is interesting that we call this week of break reading read as we are between semesters and therefore have no reading but hey, I'll take it! As I have mentioned in a previous blog, my cousin/best friend and I planned a trip to Paris for our break and I am so glad we did because we had a really wonderful time.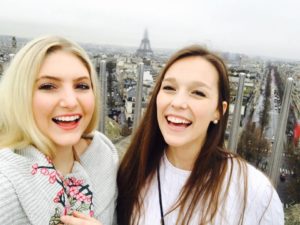 Victoria and I decided on Paris as it is only a 40 min plane ride out from Gatwick airport which in turn is only a 40 min train ride. We also decided that we would try out an Airbnb accommodation for this trip. We ended up booking with a gentleman that lives just outside of Paris in Nanterre. Most travel bloggers will tell you that staying in the city core or the "arrondissements" nearer to the center is better to save time, however, given that we were a three minute walk from the main metro line (or the RER) we were less than 15 minutes away from most major tourist attractions. As we stayed 6 days (4 of actual touring) we decided to invest in a Navigo travel pass which cost around 30 Euros and included all of our metro and bus transportation for the week. I recommend this pass to anyone who is staying longer than 4 days as it prevents you from having to wait in line, saves you money and really just brings you ease of mind when travelling through Paris. I was amazingly surprised at how fast and easy it was to travel by metro in Paris. We were also very happy with our decision to stay with an Airbnb host. Our host was really kind as he included breakfast every morning (amazing home made bread and croissants with coffee) and helped us plan our day to day excursions. Furthermore, he offered us a traditional french meal on our first night called a Raclette which is delicious melted cheese with potatoes and pickles. Having a main point of contact in Paris was a really great thing to have and I am so grateful for our host.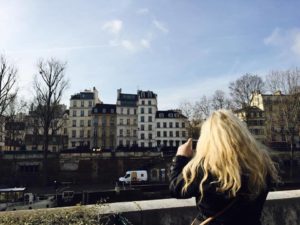 In four days Victoria and I were able to check off everything we wanted to see off of our list. We started our first day climbing the Arc de Triomphe which gives you an amazing view on the city and is the perfect vantage point to get your bearings on the top tourist attractions. Then, we went to Montmartre where we visited the Sacre-Coeur Basilica and walked around the lovely streets surrounding the area. After, we headed to the Eiffel Tower, took some pictures, and walked along the Seine river where we had amazing views of the Tower. We did quite a bit of walking that day to see the Pont Alexandre III and Les Invalides before stopping at a cafe. We then returned to the Eiffel Tower as we awaited our evening restaurant reservation. After dinner we decided to take the Seine river cruise which gave us a different view on many of the main Parisian attractions.
We got an early start to our second day as we wanted to skip the lines at the Notre-Dame Cathedral which is a stunning building from the outside and really interesting on the inside. It is also a really beautiful part of the city. We then spent most of our afternoon at the Louvre museum which is quite spectacular and has so much to offer. Everyone had recommended that we go into the Louvre with a game plan, so we decided to follow the Da Vinci Code plot in order to view some really incredible pieces and get some interesting information on how the movies interpretations were quite different from the academics. You can find the link here: http://www.louvre.fr/en/routes/da-vinci-code. Victoria and I then had one of the most amazing dinners I think I've ever had at La Brasserie du Louvre – it was delicious!
On our third day, we decided to visit Disneyland Paris as we are both big Disney fans. We had a really great time walking around the parks and riding different attractions. We also spent part of the evening in the Disney village where we did some shopping and had some food at Earl of Sandwich which is a great spot for some decently priced sandwiches if you want to avoid the Disney markups.
On our last day of touring we decided to head to the Palace of Versailles. Unfortunately we had scheduled a guided tour which apparently is really worth it, but missed it so we had to tour ourselves which still ended up being really fun. The Palace is really quite breathtaking and worth the hike out. The metro there and back is partly above ground which gives you quite a nice and different view of Paris. In the evening our host invited us to an Orchestra practice which Victoria and I were so excited for. We got to really see the importance of the conductor which was quite special. We then strolled down Avenue des Champs Lysees where there is a lot of high end shopping.
On top of the great sightseeing, Victoria and I were fortunate enough to have some great food. We knew we wanted to try as many French pastries as we could which include croissants, pain au chocolat, macaroons, eclairs, baguettes, and more. So instead of describing them to you I thought I would include a few pictures.
Despite the gray weather, Victoria and I had a really wonderful trip to Paris. Some things that I would recommend are looking into an Airbnb host and getting the Navigo travel pass for zone 1-5, as previously mentioned. I would also recommend trying to find local grocery stores and cafes outside of the tourist areas as you will often find some hidden treasures and more authentic food. Furthermore, make sure to bring your BRP card (or British Resident Card) as this will allow you to enter almost all the attractions for free (such as the Louvre and l'Arc de Triomphe).
Hopefully this blog will encourage you to plan a trip of your own to Paris as the city has so much to offer and that some of the tips will prove useful to some.
Cheers!