Hello again! Today I wanted to talk a bit about combating homesickness while studying away from home.
What I have found to work best for me in terms of dealing with school blues, is first and foremost creating a schedule and filling that schedule with plans. Don't get me wrong, I love myself a good evening staying in and watching a movie but I've found that when I have too much time to myself it can make me long for home. Here are some of things I've attempted to stay in a positive mood.
Joining the Women's Football Club has helped me build a good schedule and has gotten me out of the house 3 to 4 times a week, socializing and moving. Even if it is not a sports club, I recommend joining any type of club or group as there are plenty of options on campus and this will get you socializing.
I've also made an effort to socialize with my flatmates and organize activities with them as well. This has helped us maintain good communication and makes for a positive living space.
I've found that even going out for a coffee with a classmate or friends once a week really helps take your mind off of work or the longing for home for a bit.
I have also noticed that switching up my study space from my room, to the coffee shop and the library helps in not feeling too restless by staying put in one spot for too long.
A big element that has helped me has been signing up to the Student's Union's day trips and planning other trips throughout the year. This has helped me get excited about the country I now live in and helps look forward to different activities.
Sending mail home has also been something that I get excited about and in some ways has helped at times with my semester blues. Which goes hand in hand with staying in contact with friends and family back home, even if that means scheduling some call times given the time-change. It always feels good to see a familiar face.
While being here, my cousin Gabrielle has often told me to get excited about the little things. At first I didn't think much of it, but I've soon come to realize that given that we live in quite a small space it is often the little things that brighten up your day. For example, the other day we found these amazing hair products on sale which were infused with maple syrup (so Canadian eh?) and Gabrielle was right, every time I use the products it smells so delicious – a little thing that makes me happy, haha!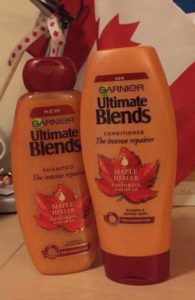 Of course, homesickness isn't something that I am constantly feeling. On the contrary, I feel incredibly fortunate to have this experience and be able to explore a little more of the world! But I do also know that sometimes you simply long for home and its easier to just stay in your room and feel down – but it is the things that I have mentioned above that have helped me stay in a positive frame of mind and realize that my studying at Surrey is temporary and therefore trying to make the most out of everyday is really important!
Hopefully some of these techniques will help you or someone you know that might be going through a bit of the studying away from home blues.
Cheers!