Hello! As I am soon going to complete my tenth trip across to pond to get from home to school, or vice-versa, I thought I would list out all the things I try to do to be as comfortable as possible on the journey over and how I deal with jet lag.
I typically travel with 1 or 2 larger bags that I check-in, a backpack that I stow in the overhead bin, and a larger handbag that I stow beneath the seat in front of me. As Air Canada and Westjet do not typically weigh carry-on bags, I tend to put my textbooks in my backpack. Though heavy, this allows me to put more in my large suitcases. In my hand bag, I will typically have:
wallet with passport
phone
laptop
earphones
earplugs
neck pillow
large scarf that I use as a blanket
granola bars and other small snacks
refillable water bottle
small stand (sort of like a pop-socket) for my phone
deodorant
hand sanitizer
if I am leaving Canada to come here then I normally will buy a Tim Hortons bagel and muffin
As you probably know, it can get really cold on planes, the aircraft is full of germs, and you get very dehydrated. I normally will wear a t-shirt with a sweater and a large scarf allowing me to manage my temperature better. Although it is inconvenient to have to use the aircraft toilets, trying to drink as much water as possible is a good idea. I also try to eat a little bit throughout the flight so that I can eat at a reasonable time once I land. In either Country I try to not sleep until a reasonable time and eat at the times I am meant to in that time zone so that I can avoid jet lag. I've not had too much trouble with jet lag up until now except sometimes being hungry at odd times.

I typically fly with Westjet as their flights are often cheaper than Air Canada, so I thought I would share with you the differences I've experienced flying with the two airlines.
Air Canada:
often expensive
from Ottawa will often have direct flights
meals, snacks, and free wine
larger seats
TV
blanket and pillow
arrives and leaves from Heathrow which is harder to get to from Guildford if you don't want to spend on a taxi
Westjet:
often averaging 300CAD$ cheaper than Air Canada
tight seats
from Ottawa will often have a layover in Toronto, Halifax or St-John's
no food except a small snack and some fizzy drinks
no TV but app that has free movies and TV shows
no blanket or pillow
arrives and leaves from Gatwick which is very convenient as there is a direct train from Guildford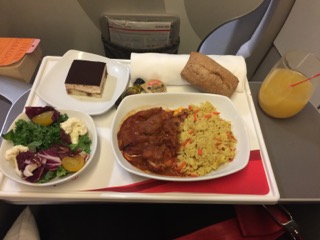 Hopefully this blog can help you be a little more comfortable on your flights to and from England and can maybe even help you choose which airline to fly with.
Cheers!