"…and on the third day, he rose again."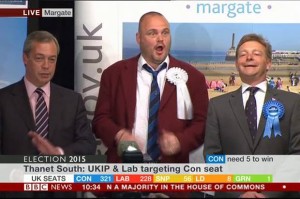 Last week was both a triumph and a disappointment for UKIP. On the one hand, they secured almost 4 million votes in the General Election, a performance almost unsurpassed for a third party in the UK. On the other, the inequities of the electoral system meant that those votes only translated into a single seat. More problematically still, that seat was Clacton, and not Thanet South.
Prior to the election, Nigel Farage had been very clear: failure to win Thanet South would mean that he would step down, since he could not credible lead a party with parliamentary representation if he himself did not have a seat. This was repeated several times, enough to confirm that it was not a slip of the tongue, but a definite personal policy. It reflected both his public confidence about the party's breakthrough in the election and his long-running dislike of running a political party.

Those with longer memories will recall 2010, when Farage stepped down as leader to contest Buckingham, citing an inability to do both jobs at the same time. His failure and that of his replacement, Lord Pearson, brought him quickly back into the fold. But even before that, Farage had long resisted the pressure to take over the leadership, preferring instead the libero role of media terrier and back-stage influencer: his election in 1999 to the European Parliament has long provided him with an alternative power and resource base.
Thus, no one should have been surprised that Farage followed through on May 8th, stepping down almost within the hour of being beaten into second place in Thanet.
More surprising was the jujitsu move of announcing that he would take the summer to rest and relax, before considering whether to stand again in a leadership contest in the autumn. I'll admit that I kicked myself a bit at this point, for not seeing this as a way around his commitment to resign. It all made sense, in that even if there weren't the seats, there were the votes and with the unexpected arrival of a Tory single-party government, a referendum on the EU was also now on the cards. In short, the prefect situation for Farage, bar that one small problem of his absence from Parliament.
Through the weekend there has been discussion of who might take over. Suzanne Evans had been proposed as interim leader, and was one of a handful of potential candidates. Perhaps tellingly, none of them made a big push to sell themselves, either to the media or to the party. Douglas Carswell – once again, the only UKIP MP – popped up to remind everyone that he had absolutely no interest in the job. Evans herself talked about the strength in depth of the possible candidates. But nothing comparable to Labour's exertions, or even the LibDems.
Now, today, the big(ger) twist.
The party's NEC released a statement saying:
"As promised Nigel Farage tendered his official resignation as leader of UKIP to the NEC. This offer was unanimously rejected by the NEC members who produced overwhelmingly evidence that the UKIP membership did not want Nigel to go.

"The NEC also concluded that UKIP's general election campaign had been a great success. We have fought a positive campaign with a very good manifesto and despite relentless, negative attacks and anastonishing last minute swing to the Conservatives over fear of the SNP, that in these circumstances, 4 million votes was an extraordinary achievement.
"On that basis Mr Farage withdrew his resignation and will remain leader of UKIP. In addition the NEC recognised that the referendum campaign has already begun this week and we need our best team to fight that campaign led by Nigel. He has therefore been persuaded by the NEC to withdraw his resignation and remains leader of UKIP."
Typos (and a curiosity about what that 'evidence' might be) aside, the statement is very telling about the situation of the party right now.
Firstly, it calls into question the values that UKIP has fought on, of being different to other parties. It looks like a slippery way out of the situation: the NEC refusing his resignation, Farage changing his mind, expediency over principle. It is a gift to political opponents.
Secondly, it highlights the lack of options open to the party. Without Farage, they still lack anyone who is able to replace him. For all the growth in membership and the efforts to build more of a senior team (at least in terms of spokesmen), Farage remains indelibly linked to the party's image. One might have imagined him taking a more independent role in the referendum campaign, but the party would have struggled enormously without him. The failure to get anyone apart from the one man who has been vociferous about not wanting to lead the party into the Commons means that will only continue.
Thirdly, it exposes the fragility more generally of the party. About a year ago, I wrote a piece wondering whether UKIP could survive 2015: the likely lack of representation, the absence of opportunities for making a mark. I've come back to this several times since, but today I find myself closer to sticking with that view than for a long while.
Momentum is a precious thing in politics, as much as it exists at all. The period since 2013 has been incredibly strong for UKIP, but without the bodies in Parliament to show for it, that momentum will be hard to maintain. Farage's media charms cannot and will not last forever. Even the EU referendum risks pigeonholing the party back into its old form as a single-issue party, something it's tried hard to combat. If Cameron does draw things out, then matters become even worse, as everyone struggles to interest the public in the details of a renegotiation.
Nothing last forever, and today's events are only likely to make matters more difficult for both Farage and UKIP.