If you are thinking about doing a PhD, you could start by trying to answer some of these questions:
Why do you want to do it?
What do you think a PhD is and what will it get you? There are two parts to this – thinking about the ultimate goal for this endeavour, and asking yourself if PhD is the best way to go about it. Once you have had a good think about it and can confidently say doing a PhD is the right decision, it'll be easier to find answers for the following questions.
What is it about?
Are you passionate about researching, want to fill a gap in knowledge in your field, get into academia, avoid doing a job for a few years, want to work independently, improve your employability? There are many reasons why one would consider doing a PhD. But it is important you are clear and truthful about your goals to yourselves if not anybody else. It plays an utterly crucial role in reminding you why your PhD is important if and when you get stuck in between. I am doing a PhD for two reasons: 1. to improve employability 2. to use this time, space and resource to design a research project that brings architecture and psychology together that helps towards my career goals.
Where?
University, department, research group, researchers, research culture, people, city and culture, are all an important part of your research environment. As an environmental psychologist, I can boldly say that the physical environment you choose affects your work quite a bit. The work environment and the research culture also plays a big role in shaping and driving your research. Surrey was the obvious choice for me – I wanted to continue to be a part of the Environmental Psychology department and research group. And then there was the familiarity of the place and department and more importantly, not having to get used to a new place and culture again. I was really keen on doing it here and didn't realise until only recently that doing it under my supervisor was equally important to me – which brings us to my next point.
Who under?
Cannot stress how important is to have a good supervisor-PhD student relationship. It is possible to complete a PhD without a good supervisor, or without good supervision – but having a good supervisor can do wonders! For me, I never realised until only recently, that doing a PhD under my current supervisor was very important for me – as important as doing the PhD itself. A PhD can be a slow and difficult process. Especially so in the beginning when you are trying to find a direction for your research. Typically you'll need more help at the beginning. A supervisor's support in every way possible – PhD and otherwise will be valuable. My PhD supervisor was also my MSc dissertation supervisor.
How will you fund it?
For some of us, this is the single most important part of the application process. How will I get people to pay me to conduct research for them for around 3 years? Will I get a stipend? Can I apply for external funding? Do I need to a part-time job and how will it affect my PhD? Should my PhD be part-time if that's what works best for me? All of these questions will pop into your head and it's better to have a think about it as you think about your PhD topic and research proposals. I couldn't have done a PhD without funding. I am partially funded by the Doctoral college at our university and my fees are reduced from international to UK/EU rates. Best way to explain is – I am now equivalent to a self-funded home student paying home fees and rent and living expenses. It took me about 10 months to sort out my fee reduction funding – it was only slightly a bit of a pain! So it is best to apply well in advance and be aware of the deadlines. Funding opportunities and offers vary largely between fields, universities and funding bodies and their priorities.
To sum it up here's what I think the process is like once you have a basic idea of a research topic: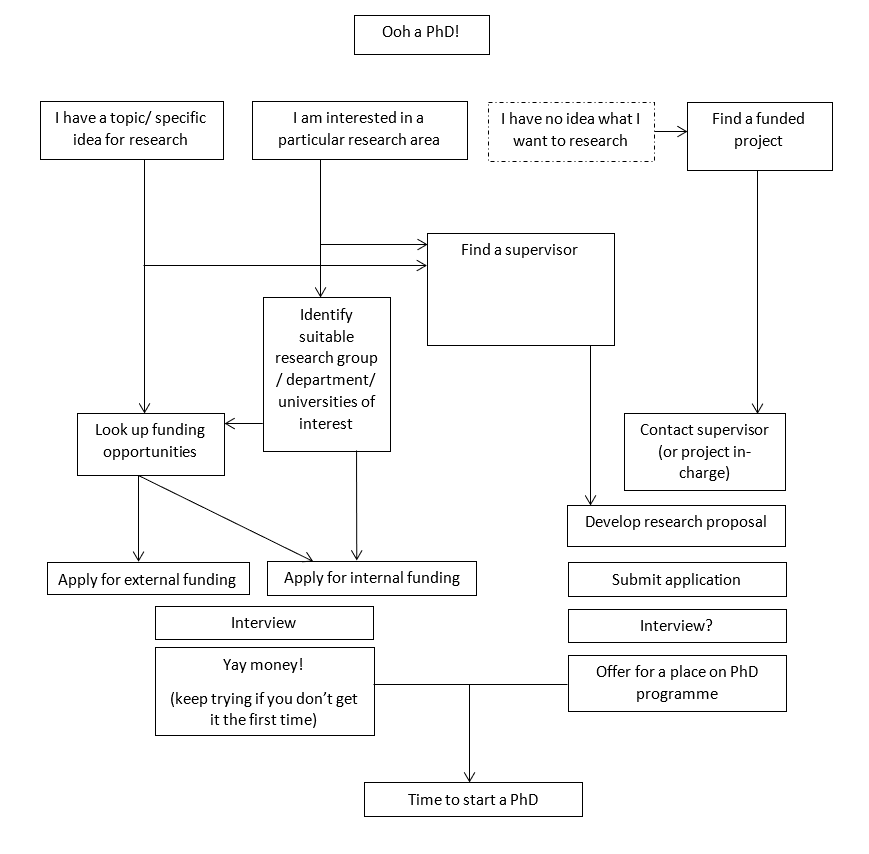 Making an application to do a PhD at Surrey was a very simple, straight-forward process done online. You would need to have identified a supervisor and contacted them with a research idea or proposal. Or, the university will identify one for you. Once you know they are willing to take you on, you would develop your research proposal with them and submit it online. At this point you'll need to know how you are funding yourself to mention on the application. Funding applications are always submitted separately.