Many people don't realise that as a postgraduate student, you can access the Disability and Neurodiversity team (D&N) here at Surrey. As a current PhD student with an invisible disability who has benefited enormously from the support I get through D&N, I wanted to run through the process for accessing these services here at Surrey.
What 'counts' as a disability?
A lot of people ask this question, especially those who are worried that their condition isn't severe enough to constitute a 'disability'. I've been there and totally understand this concern. It's hard to navigate these services when you're not clear on the definitions of the words used and where they have stigma attached. This is one of the reasons why D&N was renamed to include 'neurodiversity' recently—more inclusive language makes it more accessible to those who don't identify with the word 'disability'.
According to the Equality Act of 2010, a disability is defined as 'a physical or mental impairment that has a 'substantial' and 'long-term' negative effect on your ability to do normal daily activities.' So, this can be anything from chronic illnesses to vision impairment to neurodevelopmental conditions like autism. It also includes mental health conditions. I want to emphasise that last point because many people are missing out on the support they deserve because they don't know it's even available to them. I should have been accessing disability support prior to my autism diagnosis because I had mental illnesses but I didn't even know it was available to me.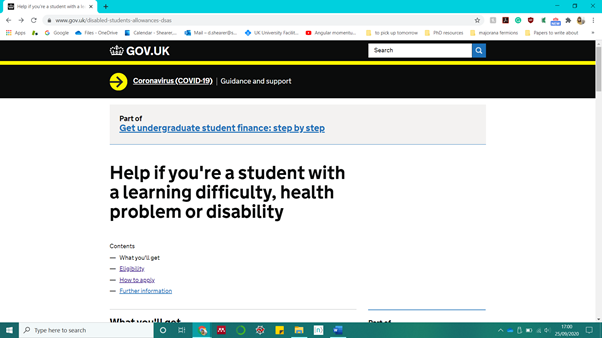 Applying for Disabled Students' Allowance
There is no shame in seeking additional support. The truth is that it's there and not enough people who are eligible apply. In fact, the BBC reported last year that over half of eligible students miss out on Disabled Students' Allowance because students simply had never heard of it or didn't realise they could access it—and this includes postgraduate students. Disabled Students' Allowance (DSAs) are for students with a 'mental health problem, long term illness or any other disability'. So, if your condition impacts on your day-to-day life then you're eligible. Unfortunately, DSAs are only available to those who have an official diagnosis of their condition and you will need to disclose and share your diagnosis as evidence.
Accessing disability support can make such a difference to your university experience and enable you to thrive here. This has certainly been the case for me since I started my doctorate programme back in 2018. So, if you're unsure of whether you 'count' or not, don't hesitate to reach out to the lovely people at D&N because they can advise you, help you seek a diagnosis, and help you apply for Disabled Students' Allowance if you're eligible.
The postgraduate application form for DSA is quite extensive so I always take it very slowly. You can find the form you need (there's an online or paper version) on the DSA website which also has more information on the scheme. Once you've applied the first-time round, you'll undergo a 'needs assessment'. This is nothing to worry about at all—they just want to see what kinds of support might help you. In response to COVID-19, online needs assessments are now available too.
After your assessment, you'll be sent confirmation of your DSAs from your funding body (which may be Student Finance or your Research Council) and asked to connect with your disability advisor at the university. They'll help you sort out your support and are your main contact for DSA-related things at the university.
What kind of support can I expect?
There are a variety of support options available through DSAs to suit the myriad of needs and disabilities out there. You can find out more about this on the DSA and the D&N websites. Although things like exam adjustments don't really apply to postgraduates, there is still plenty of support available for us.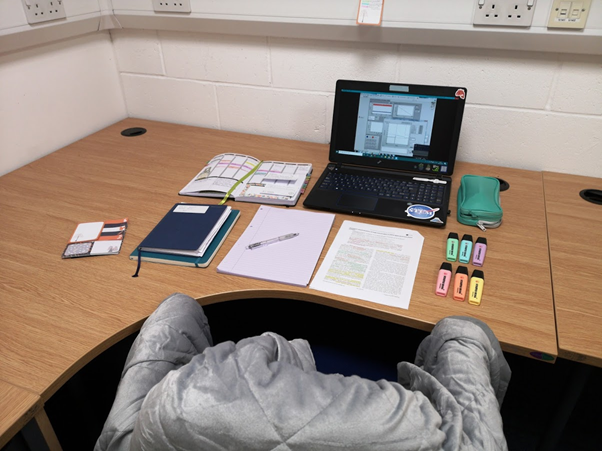 As somebody with sensory, communication and processing differences, the thing I've benefited from the most is my specialist mentor who I see for an hour most weeks. We use this time to work through autism-related challenges I encounter as a PhD student. Through these sessions, I've been able to navigate things like reasonable adjustments both in the office and for my confirmation viva as well as foster communication methods with my supervisor that suit both of us. I can honestly say that through specialist mentoring I have developed new-found confidence in my self-advocacy abilities as well as discovering new techniques to manage my disability which I will take forward with me in life and into further employment. As well as this, I now have a much greater understanding of how my disability impacts me so I can now articulate this to others much more effectively than I used to be able to.
So, if you've read this and think you might benefit from support or guidance from the disability and neurodiversity team, I encourage you to pursue it further. It might be just what you need to flourish as a postgraduate student!