From MPhys to PhD
I've been a Surrey student for quite a while now. I first started my integrated Master's degree in physics back in 2014 and haven't left since! Back when I was applying for my first degree, Surrey was my first choice of university despite it having the lowest grade requirements of the courses I applied to. This was due to a couple of factors. Firstly, I was drawn to Surrey's emphasis on employability with the research placement built into the degree which gave me the opportunity to work in an industry setting while doing long-distance modules. Secondly, I was really interested in the research taking place in Surrey's physics department, particularly the interdisciplinary work going on at the Advanced Technology Institute—more on that later.
Towards the end of my MPhys degree, I decided that I wanted to pursue a PhD in the field of quantum technology. I had experienced this field first-hand during my master's placement where I was designing and testing semiconductor-based lasers for telecommunications down optical fibres. This got me hooked on experimental quantum physics research. I wanted to further develop my research skills so that I could eventually get a job in quantum technology research where I was confident in my abilities. My colleagues from my industry placement also encouraged me to get a PhD and their confidence in me really drove me to apply.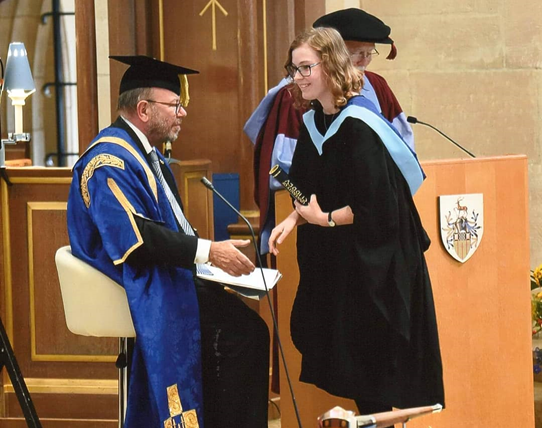 So, I applied for several PhD projects focused on quantum technology from around the UK. I was offered interviews everywhere I applied but, in the end, I decided to stay at Surrey. After graduating from my MPhys in the summer, I started my PhD in October of that year at the ATI and with the physics department.
The Advanced Technology Institute
One of the main reasons for my decision to stay at Surrey was the draw of the Advanced Technology Institute. The ATI is one of the research centres on campus which focuses on research in quantum information, nanotechnology, energy and advanced materials. It brings together research from a variety of disciplines throughout the Faculty of Engineering and Physical Sciences. So even though I'm primarily a physicist, I get to work alongside engineers, materials scientists, biologists and chemists. This means I get to draw on a huge spread of expertise. Collaboration is one of the most important aspects of scientific research, in my opinion, so the ATI is well suited to advancing knowledge through research.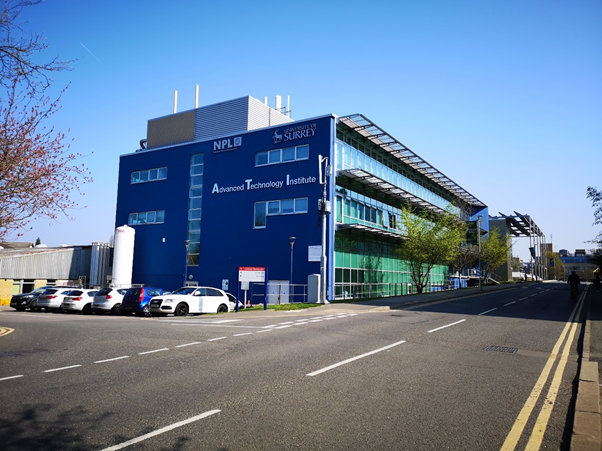 The ATI has strong links with industry, including a long-standing partnership with the National Physical Laboratory. I've was even able to visit the High Field Magnet Laboratory in the Netherlands back in February to carry out some experiments using their facilities thanks to the links that the ATI has to other labs.
The outside of FELIX HFML

Inside the lab we were using
We also have numerous experimental facilities on site such as the focused ion beam, our cleanroom facilities, laser laboratories, spintronics laboratory, and the printed electronics laboratory. Access to these facilities has meant that I've been able to develop my expertise in using a variety of experimental equipment including learning how to use the scanning electron microscope and operating our split-coil superconducting solenoid (which I use for the majority of my experiments).
The plasma focused ion beam

The spintronics laboratory
Although the ATI can feel like its own separate entity at times, I like the atmosphere that's more akin to an industry laboratory than an academic lab. Everyone is really friendly and happy to help out on projects or collaborate. I've learnt so much from my colleagues who come from slightly different backgrounds, such as electrical engineering. The separate, self-contained building just means I have to make a bit more of an effort to connect with the physics department such as attending coffee mornings (which are virtual at the moment).
I'm now heading into the third year of my PhD and thoroughly enjoying my time at the ATI. My project is fascinating (I research the electron spin in III-V semiconductors for spin injection applications), and I have the opportunity to work with colleagues from different disciplines on a regular basis.