Being a PhD student can be tough at times. One of the main reasons for this is the pressure in academia to 'publish or perish'. But it doesn't have to be this way. I think that by pushing back on the culture of overwork in academia, we can do great research while maintaining our mental wellbeing.
Making space for rest
It's taken me a few years to fully appreciate how important it is to set clear work boundaries. This has of course been more challenging given the impact of the pandemic and the fact we are working from home more. I find it much easier to 'switch off' from work when I've had to do my commute home.
I recently made a change to start working in a room that isn't my bedroom and it's made such a difference. I now have a much clearer workspace at home which helps me transition into rest time at the end of the day and at the weekends. This means that there's only one room in the house that I associate with work now which allows me to get 'in the zone' and to make that work-life division a bit clearer—work happens in the home office and nowhere else at home.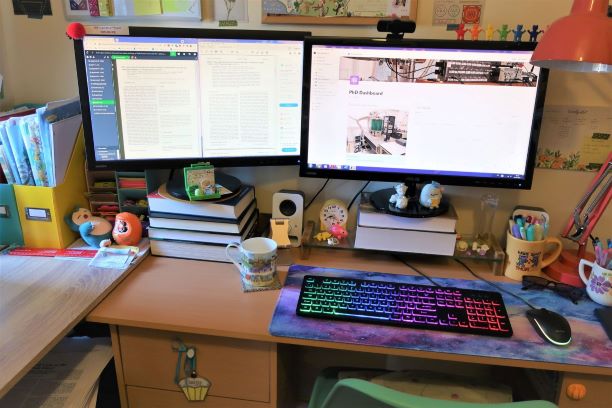 Communicating boundaries
Communication with your supervisor is one of the key aspects of a successful PhD and work boundaries are something that comes into this too. You may sometimes have to work on the weekends if you have an experiment to do and equipment booked, but I always try to keep my weekends as work-free as I can.
One of the best ways to keep this time as rest time is to not look at or respond to work emails. I use a website blocking app to prevent me from being able to access my emails over the weekend as it's hard for me to resist the urge to 'just check it' in my downtime. My supervisor knows that unless I'm booked in for lab time, I'm not available over the weekend. This helps me truly disconnect for those two days so I can come to my work the next week fully refreshed and ready to go.
Make time for yourself
At the end of the day, the key output of a PhD is the researcher that you become. It may seem like your publications and thesis are the most important thing but to me, it's all about training to be a good researcher so that I can go on to have a research-focused career. So, it makes no sense to me to complete my PhD but at the expense of my mental wellbeing. I suffer from a few mental illnesses and have done since my teenage years, so I was aware going into my PhD that this was something I needed to be careful about managing. There have been a couple of blips, but on the whole, my mental health is currently better than it has been in many, many years.
Resting when I need to and not overworking is a significant factor in maintaining this. Over the years, it's become clear that I can't work to a high standard when I'm in a mental health 'slump' and that making time for myself can prevent that. I try to make sure that I use my weekends and evenings to talk to friends and family as well as indulging in my hobbies. My hobbies tend to be fairly relaxing which helps me recharge after a long day of research.
Baking bread

Knitting

Gardening

Baking cake
Getting the right balance
Balance is what it all comes down to. I think there is something to the saying 'work hard, play hard'—by giving it my all during the workday and allowing space for rest outside of that, I've been able to cultivate a productive PhD work pattern. This will vary depending on the individual, so I'd encourage you to experiment with what work patterns work best for you. For me, it's a 9-5ish workday but you may find that working later in the day maximises your productivity. By finding your own work methods, you can thrive as a PGR.