I work in AGT's Research Department, which focuses on EU-funded research projects. Since the start of my internship, I have worked in a project called IoTCrawler.
What is IoTCrawler?
It is a three-year-old EU-funded project which started in February 2018 and focuses on creating a search engine for IoT devices and data, often described as a "Google for the Internet of Things".
My main task since I started has been working on AGT's first steps in IoTCrawler, this has included:
Hands-on research
Documentation of findings
Development of prototypes and demonstrators for the project
Development of important software for AGT's IoTCrawler contribution
This means I have played an important role within the department and the project. However, I felt confident every step as I received help from my colleagues and supervisor any time I asked for it, helping me learn a lot in a very short period of time.
What I have learned on placement
After working in this department for half a year I have learned a lot more than I thought I could in such a short period, mainly thanks to my colleagues and my supervisor. I am now better at managing my time and making predictions on appropriate deadlines for deliverables and have a better understanding of how development teams work.
Most importantly, in the technical side I have had the opportunity to learn about the Semantic Web (Machine-readable representation of data, commonly used to model the real world in a way that is understandable to humans and machines) and its related technologies such as triple stores and ontology design; widely-used technologies such as Amazon Web Services and Amazon Alexa, Docker; and Web Development Frameworks. This has allowed me to further develop many skills acquired at university. Furthermore, in my role within the team I have become more comfortable with the role of Full Stack Developer as it has allowed me to do a bit of everything, from front-end to back-end.
Taking the demo to Vienna
I had been working on a demo for the last few months to showcase IoTCrawler. I am really proud of what I achieved and so is my supervisor. We decided to take the demo to the ICT 2018 event (a European Research and Innovation event) in Vienna.

This was a great experience since it was an event full of innovations and a lot of enthusiastic teams of developers and researchers. I got to meet many of the people working in the IoTCrawler project from other companies and universities working in the field such as Universidad de Murcia (Spain), Aarhus University (Denmark), Siemens AG Österreich (Austria), Odin Solutions S.L (Spain), and our own University of Surrey.
We also had discussions with them about the project and a variety of other relevant topics including their views on technology, work-life balance, culture and job opportunities in different European and international countries.
The demo run smoothly throughout the three-day event, and we had interesting conversations with potential customers, politicians, and other academics and researchers who were curious about technology and our implementation. A more in-depth explanation of the demo, with an example of user interaction using Amazon Alexa, can be seen in the official IoTCrawler youtube channel.
Making the most of what Vienna has to offer

The free time we had every day after the event and the entire weekend we used it for sightseeing in Vienna. We had a great time going to museums and palaces, trying local and international food, and a classical concert which was eclipsed by a "Jazz Keller", an informal "Jazz basement" for gigs from local bands while people enjoy drinks.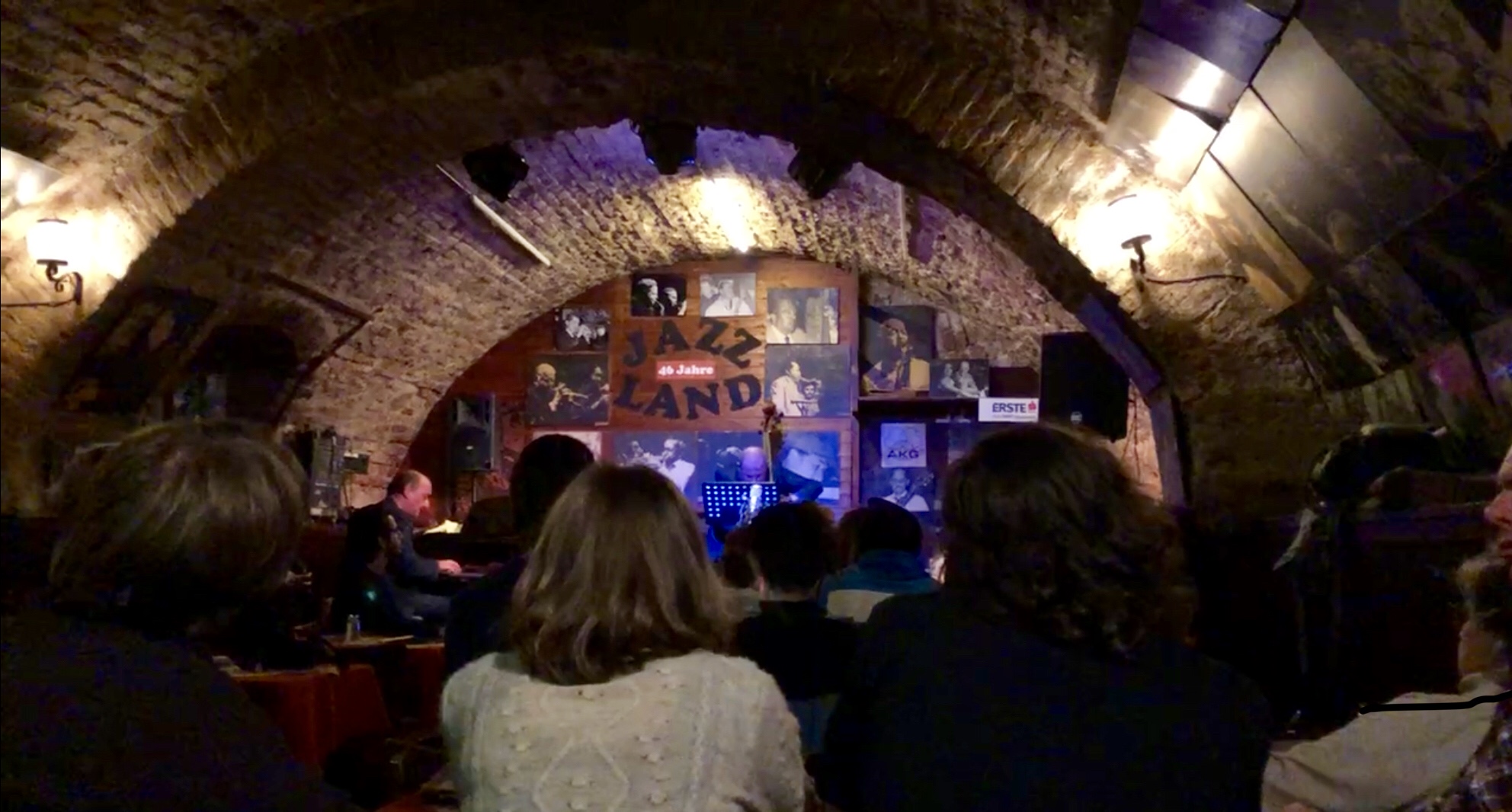 Conclusion
 It has been a great experience coming from the Canary Islands to study Computer Science in the United Kingdom and now doing my placement in Germany.  This is something I would not have been able to do in a Spanish university.
The university has given me many tools, including the necessary training to make the most out of these kinds of opportunities, as well as other experiences among which stand out including being a course representative and presiding and conducting the Jazz Orchestra, to name a few.
Next year, back to England to finish my degree and then who knows what my next stop will be.