Hi, my name is Alex Koukouravas; I'm a Welsh Biochemistry Student, currently working in Singapore for a Government-owned research agency called A*Star in the Bioinformatics institute as a part of the Antigen and Product Development lab (APD) led by Dr Samuel Gan. I'm going to try to summarise a crazy 6 months of placement into this blog…
Both my girlfriend and I secured placements in Singapore but in different companies. We were both really excited as my girlfriend had only received her visa 10 days before we left the UK!
The first few months
The first week or two were a mix of euphoria and fear. It was exciting but also difficult at the same time. Every single thing was new – from climate, food, culture, starting to work and finding accommodation… The realism of long work hours and adapting to different cultures was stressful but allowed for a lot of learning. Work started slowly with not a lot of jobs to complete but, after I started getting into the flow of working, my main project became very busy and rewarding as we got results quickly and within 2 months I had drafted and co-authored a paper.

A challenging research project
After these euphoric few months, things started to really slow down. I then realised how lucky I was to have such a rewarding experience as my first project but now a longer and harder project was handed to me, leading to a sharp learning curve. I had to understand and analyse half a million sequences from reused data and come up with a plan for a research project, of which I'm still in the midst of now.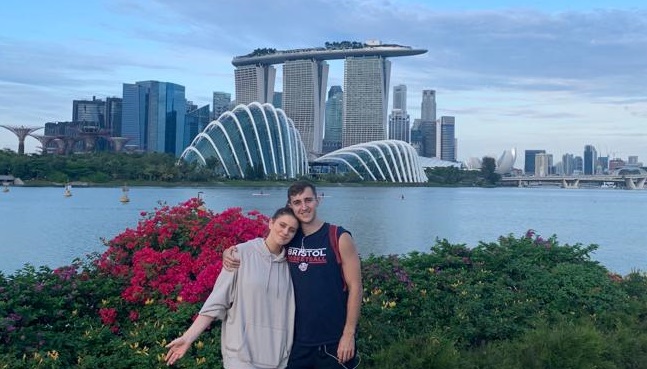 Downtime in Singapore
Weekends and time off have truly felt like a holiday, there are so many things to do in this small country, never resulting in a boring second. I would definitely recommend people to come to work or to visit. It has been the perfect balance of working hard and enjoying the time off. We explored everything to make sure we exposed ourselves to as much as possible. One big thing I love about Singapore is how diverse the areas, people and experiences are – from beaches to skylines to multiple large ethnic groups living together. This truly unique experience has broadened my understanding and I have learned so much about different cultures and people.
Opportunities to travel
Singapore has been a great travel hub as we've explored Kuala Lumpur, Langkawi, Penang, Bali, Bantam and Bintan all of which were amazing. We've felt very lucky to gain these experiences, some of which we experienced by ourselves and some with friends and family.
How to avoid pitfalls when living overseas
One mistake we made was with our housing agreement; we assumed we could have a friend stay for a couple of days, therefore, didn't think we needed to ask the landlord (which was a mistake in hindsight). The landlord took exception to this and after trying to solve the situation we ended up having to forfeit our deposit! My tips to avoid this type of issue are to always maintain open communication with your landlord and notify him/her early about potential issues. Furthermore double-check the tenancy agreement and don't assume anything; this is especially true in different cultures.
My advice for current 2nd years
Set clear goals of what you want to get out of the experience. It will help you to define or understand exactly what you want and could make you more motivated.
Thanks for reading!! Alex (and Emily)