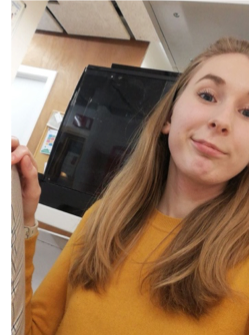 My name is Rose and I'm an International Politics student, currently on my placement year. At the moment I'm working at CONCORD Europe in Brussels, and here are some things about placement I learned early on.
1. Start as early as you can
Do yourself a favour and start looking as early as possible. I only started sending out applications in February, which although may not seem like such a late start, it definitely did not help to manage the workload. Securing a placement early saves you having to deal with the paperwork and admin when you're already working. Try getting things like CV and cover letter draft sorted in the first semester and send out as many applications as you can.
2. Keep your expectations in check
Both while looking for a placement and when starting work, keep your expectations realistic. The less time you have left to find a placement, the more your expectations decrease. Sending out your applications early means you have the time to be picky about which opportunities you approach. The chances are you are not going to find an offer of the perfect placement that checks all your boxes. Keep in mind the job description rarely encompasses all the tasks you will be dealing with so even if the placement is not your dream come true, there are bound to be surprises you will enjoy.
3. Expect the unexpected
The truth is, for good or bad, your placement will provide you with experiences and opportunities you did not expect. It is key to try and remain as flexible as possible, especially at the beginning of your placement, as it's the time both you and your supervisors are testing the waters to see how you fit within the team and how best put your talents to use.
4. Starting out
Getting used to the rhythm and the working structures of your new workplace will take some time. Try to learn as much about the roles of other people and the procedures in place as quickly as you can. This will allow you to be more independent in your work and save your supervisor handholding you for longer than necessary. But within all that remember that whatever the expectations are, you should be the one to communicate when you feel like the workload is too little or too much. You are there to help them do their job and if you are overstretched that won't help anyone. It is your ability to be flexible and adapt that will show your supervisor you're up for the task.
5. It's your job
Don't expect too much from others. You are the primary person responsible for finding your placement. Although there might be people helping you out along the way, it all ultimately comes down to the effort you put into it, so make sure you give it as much of your attention as you can where possible.