Hi everyone! I'm Katey, a psychology student and I've written about my placement at City Year UK!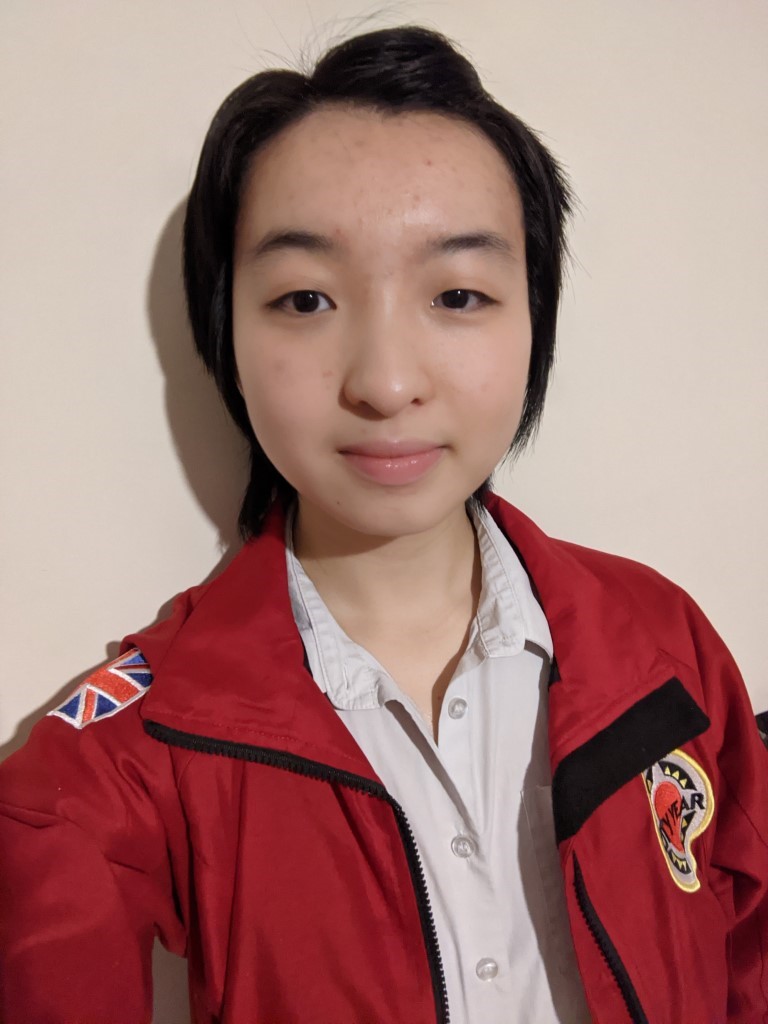 First of all, City Year is a social action charity that works to reduce educational inequality. They work in three different countries (USA, UK, and South Africa), and in the UK there are three bases (Greater Manchester, West Midlands, and London). I am part of the London 2020/21 cohort and I volunteer as a mentor in a primary school from Mondays to Thursdays.
What does being a primary school mentor involve?
I support the academic achievement, behaviour, and social and emotional development of pupils. I also have a 'focus list' of 10 pupils who I stage interventions with to support these pupils in these areas. I meet up with them and take them out of their lessons to work on personalised goals chosen by themselves and the teacher. In addition to time spent with my class, I also am out on break and lunch duties with the Year 3s unless it is raining heavily and it is Wet Play.
Most mornings, between 9am and 10am, our team of six 18-25-year olds also do reading with the Year 2s and 1s. We each have a group of children reading at a specific level and we help them read, as well as asking questions to make sure they understand the book. For the Year 1s only, they do activities on top of this to learn how to spell new words and rearrange words to create a sentence.
Furthermore, on alternating weeks each of us look after and play games with children from a specific year group either at Breakfast Club or Extended Day. Therefore, three of us go to Breakfast Club for one week, whereas the other three teammates go to Extended Day for one week, then we switch. My full timetable is displayed below: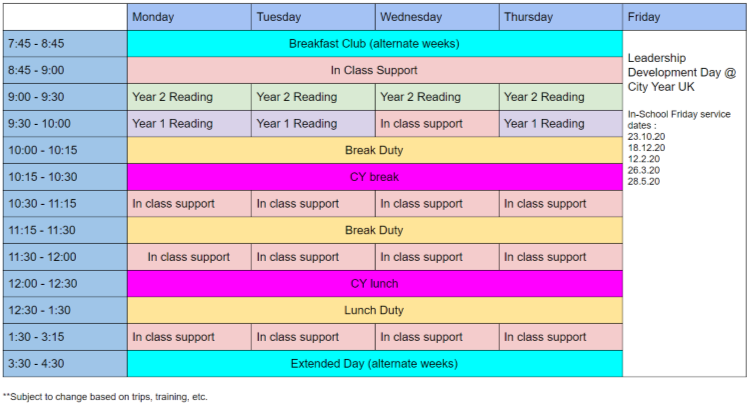 What are Leadership Development Days?
Our Fridays are called Leadership Development Days and some of the things we do include:
Learning about school-specific skills from our Impact Officers (work supervisors),
Spending time with our professional mentors,
Utilising our critical thinking skills during reflection and discussion meetings,
And learning about other professional skills and frameworks from City Year's corporate supporters.
On the last day of every half term, we are back in school for one Friday, and in our spare time we can also use an e-learning website to learn skills targeted towards working in the charity sector.
What have I learnt about children and schools?
I realised the extent of the pressure young children are under due to lockdowns. A recent piece of research in The No More Marking Blog showed that Year 7 pupils in 2020 are studying at the level of Year 5s in 2019. These findings really emphasise the importance of the work I am doing now.
You can contact me on LinkedIn to find out more.